TunnelBear and NordVPN are two leading virtual network providers in the race for the best VPNs in the world. Both of them are known for providing top-notch security and amazing connection speed, but which one is better out of them? To come to a conclusion, we need to compare TunnelBear vs NordVPN 2023 on the basis of their features and pricing. But before heading towards the NordVPN vs TunnelBear comparison, let's have a look at the background of these two VPN service providers.
Overview To TunnelBear Vs NordVPN
TunnelBear
TunnelBear is Canada based VPN service provider. It was founded by Daniel Kaldor and Ryan Dochuk in 2011, but in 2018 MacAfee acquired it. This VPN can work on Android, Windows, macOS, iOS, and Linux systems. Besides, you can also use it as a browser extension on Chrome and Firefox.
NordVPN
NordVPN is a VPN service provider based in Panama and was initially released by NordVPN s.a. in February 2012. It is considered one of the most secure and fast VPN in the industry that also provides NordVPN coupon code for discount deals. To promote online security and more transparency in the VPN industry, it also founded the 'VPN Trust Initiative'. This VPN is compatible with Windows, Android, iOS, macOS, Linux, and Android TVs. Besides, you can use it on routers, consoles, or as a browser extension.
In the later section, we have compared the major features that are offered by these to VPN service providers.
---
Comparison Of Features Offered By TunnelBear Vs NordVPN
Before choosing a great quality VPN, there are a lot of features and benefits of VPN that one should look for. Here, we have compared these two VPN brands on the basis of various features offered by them:
Security And Privacy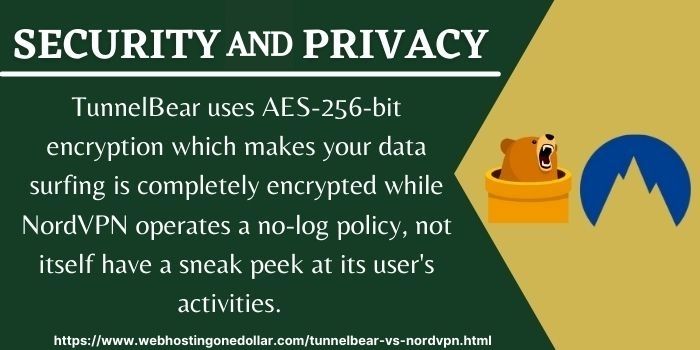 TunnelBear uses AES-256-bit encryption, which makes your data surfing completely encrypted and untraceable. It also uses OpenVPN, IPSec, and IKEv2 for safely routing your data. It also doesn't save your online activities and keeps all your browsing activities private. TunnelBear provides you with a hoax IP Address that guarantees that your privacy needs are met. The only disadvantage of using TunnelBear is that it is based in Canada, which is a part of the 5 Eyes surveillance alliance.
NordVPN operates with a no-log policy and doesn't even allow itself to have a sneak peek at its user's activities. This makes it a trustworthy name to back upon. It also provides next-generation AES-256-bit encryption to its users making it even more secure. It also has the double VPN feature which encrypts the network not once but twice, keeping it safe from hackers and intruders. The major protocols used by NordVPN are NordLynx, WireGuard, OpenVPN that are considered safe. It is also based in the British Virgin Islands that doesn't come under the jurisdiction of any major country.
So, in terms of security and privacy, both NordVPN vs TunnelBear stood beside each other.
Breaking Geo-Barriers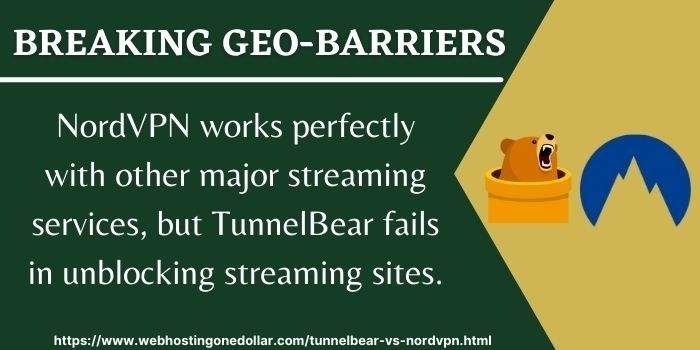 With the use of TunnelBear, you can easily bypass Geographical restrictions on the internet. Some countries put a ban on various websites and make them inaccessible from that region. With the help of TunnelBear, you can easily have access to all the banned content as well. However, TunnelBear VPN fails in accessing some of the major streaming sites like Netflix, Prime Videos, etc.
Conversely, NordVPN is considered one of the best VPN for streaming many geo-restricted sites. It can easily unblock the major streaming services including Netflix, Amazon Prime, Hulu, BBC iPlayer, etc. Besides, it is also one of those VPNs that can bypass the great Chinese Firewall.
So, in terms of bypassing geo-restrictions, NordVPN easily overpowers the TunnelBear VPN.
Speed Of The VPN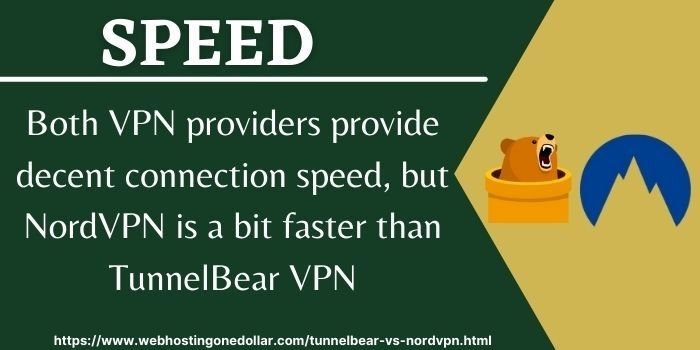 Many VPN service providers boast to provide amazing speed, but most of them don't fair up to the expectations.
The average download speed of TunnelBear is known to be about 50Mbps, and it has also many times touched the mark of 68 Mbps, which makes it one of the fastest VPNs in the world.
Compared to TunnelBear, NordVPN providers quite better connection speed. Its average download speed is around 87 Mbps that is really great. This ensures that while using NordVPN you might never or very rarely experience buffering or throttling.
So, both TunnelBear and NordVPN provide quite decent connection speeds to their users. However, the speed provided by NordVPN is quite better than TunnelBear VPN.
Server Range Of The VPN
Both TunnelBear vs NordVPN have their servers situated in multiple counties. But, if you want to stream more diversified content then it is better to go with NordVPN.
TunnelBear has not officially disclosed the number of servers that it has. Although, by using it, you can access the content of around 41 countries. Compared to NordVPN that has over 5200 servers in 59 countries, it is quite low.
Customer Support
The supports of NordVPN is quite helpful and you can contact them 24/7 through live chat or emails. Besides, it also comes with lots of informative articles that you can use for solving minor issues.
The support of TunnelBear is also helpful but there isn't an option to get instant resolutions. You can only contact its support team through mail.
So, these are the major features of NordVPN vs TunnelBear. Apart from these features, you may find some extra features like a Kill Switch, DNS leakage protection, etc. Below, we have discussed some of the drawbacks that you might face with both NordVPN and TunnelBear VPN.
---
Drawbacks Of TunnelBear Vs NordVPN
Limitations Of TunnelBear VPN
With all of its benefits, there are some shortcomings related to TunnelBear as well. It comes with a free version but the monthly cap of that version is 500 MB, which is very low. Moreover, its services come short because of its unreachability in locations like Russia, Turkey, Africa, and the Middle East, as TunnelBear leaves them out. Also, it excludes P2P sharing and BitTorrent out of its purview.
Limitations Of NordVPN
Though NordVPN is a great VPN with lots of features, it only supports torrenting in some of the regions, making its scope a bit limited. In countries such as Malaysia, its speeds are also compromised. Sometimes, the app and server connections come out to be slow and the OpenVPN protocol of NordVPN is not much of a user-friendly.
---
Price Of TunnelBear And NordVPN
Both TunnelBear and NordVPN provide almost the same kinds of plans including all the above-mentioned features. The basic monthly plan of TunnelBear costs around $9.99/month and provides 5 simultaneous connections. Whereas, the basis costing of NordVPN is $11.95/month and provides 6 simultaneous connections.
Conclusion To NordVPN Vs TunnelBear VPN Comparison
So, in this comparison between TunnelBear vs NordVPN, we compared their various aspects. Both provide adequate speeds, but the regional variations in their servers differ. Yet it depends on you, which feature attracts you the most, making one of the more favorable to you. NordVPN provides value for money, but if you want a VPN for a short period, then choosing TunnelBear can be cost-efficient for you.
Also Read: Hola VPN Vs ExpressVPN