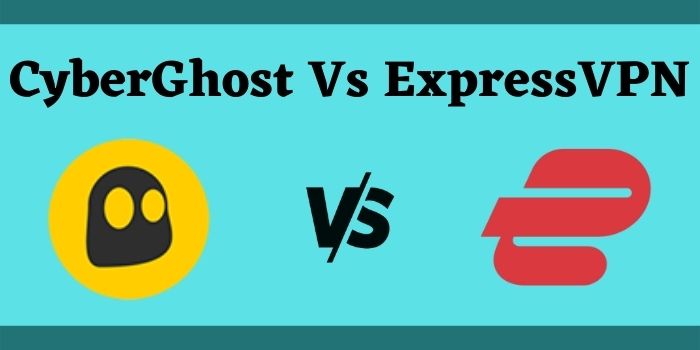 CyberGhost and ExpressVPN are two widely known VPN service providers. So, in terms of brand recognition, it looks like, we don't share doubts regarding these two VPNs. Well, today, in this article, we are going to dive deep to know enough about CyberGhost vs ExpressVPN 2023. We conducted extensive tests and background research to make sure that our readers can make an informed decision after reading this.
For initiating this detailed comparison between ExpressVPN vs CyberGhost, we will discuss both similarities and dissimilarities.
What Do We See Common In CyberGhost VPN And ExpressVPN?
There are certain areas where both these VPNs provide equally to the users. These are:
Good For Netflix
Who doesn't want to do "Netflix and chill"? But whenever we try to explore beyond our regional library, using a VPN, we get that infamous error message. Netflix abhors all VPN services but ExpressVPN and CyberGhost are among those few VPN service providers that let you stream Netflix. Both of them also allow you to unblock multiple Netflix libraries.
No Obligation To Share Data With Surveillance Groups
Five eyes, Nine Eyes, and 14 eyes are the members of the surveillance alliances that keep vigilance of the data traffic. We know that ExpressVPN is based in the British Virgin Islands and CyberGhost is originated from Romania. That means neither of them is obligated to share data with the government, so our data remains secure.
Kill Switches
Both CyberGhost vs ExpressVPN come with Kill Switch features. So, if your connection to the VPN is lots, your internet connection will automatically be disconnected.
High-End Security
ExpressVPN vs CyberGhost offer AES-256 encryption that is the highest standard in the market. The same kind of encryption is even used by many banking agencies for securing user data. Besides, both of them also use some of the best VPN protocols like WireGuard, OpenVPN, etc. For providing better security, ExpressVPN also uses the Lightway protocol.
Split Tunneling
Split Tunneling is an amazing feature that lets users choose when they don't need all their internet traffic to route through the VPN. With CyberGhost and ExpressVPN, you can only opt for that particular streaming app to route through VPN, everything else is not affected. Also, this means no reduction in speed in your work at the home network.
Live Chat Service
No matter how good a product is, having a good customer service aspect makes it more reliable to users. Users expect a prompt solution with good behavior. Both our VPNs manage very well in that. Both of them offer live chat support so that users can reach out whenever they feel any problems.
So, these are the major similarities that you may find between ExpressVPN vs CyberGhost.
Comparing The Differences Between CyberGhost Vs ExpressVPN
In this section of this comparison, we will be discussing the major dissimilarities that you may find between CyberGhost vs ExpressVPN. But at first, we should check the background of these two VPN service providers.
Background Of CyberGhost And ExpressVPN
ExpressVPN has a clean track record when it comes to background checks. It is based in the British Virgin Islands, which doesn't have any data retention obligation as it doesn't belong to the surveillance alliances.
Unlike ExpressVPN, CyberGhost is not fully impeccable when it comes to checking demons from the past. CyberGhost, although started as a Romanian VPN service, was acquired by Crossrider in 2017. Crossrider (presently Kape) is the company that is notorious for inventing malware and affecting devices through software bundles previously. So it is obvious how shady the whole thing has been so far, though CyberGhost still lists its jurisdiction as Romania.
Privacy And Security
One of the major reasons why people think of buying a subscription to a VPN service is the privacy that VPN offers. Around 40 percent of VPN users opt for a VPN service only for privacy.
CyberGhost claims a lot of potential in this field but we noticed some serious issues in it.
We discovered that the website of CyberGhost uses invasive tracking measures or more elaborately, there were session recording scripts for Hotjar which means everything visitors do gets recorded.

There is a native adblocker claimed by CyberGhost but it seems the adblocker is not as effective as it should be. Whenever you land on an HTTPS website, the adblocker doesn't work.
Coming to ExpressVPN's privacy features, it is observed that
ExpressVPN is one of the few no-logs VPN services that have been audited by an independent third party.

ExpressVPN though uses Google Analytics like CyberGhost, there are no invasive session recording scripts like Hotjar as were seen in the case of CyberGhost.
Considering all the analysis we can state that ExpressVPN ensures solid security and privacy without any hiccups.
Number Of Servers
This part is a little bit tricky if you consider numbers to tally their performance. What we need to look at is the ratio of servers to countries instead of the number of locations or the number of servers alone.
Now coming to what both of them offer in this aspect. ExpressVPN offers 3000+ servers in 94 countries and CyberGhost offers around 6900 servers in 90 countries.
This data shows that CyberGhost VPN has exceeded ExpressVPN in terms of the number of servers. But ExpressVPN covers more countries. This means no matter how many servers CyberGhost has, it lets you pick between 90 countries. This is also subjective as people near those countries will find CyberGhost more effective.
Overall it is a draw if you compare ExpressVPN and CyberGhost in terms of the servers they offer.
IP Addresses Security
Masking your IP address plays a big role in ensuring your privacy and protection online. Trackers, governments, nefarious parties look for patterns to get access to systems that are vulnerable or accessing unauthorized pages.
CyberGhost further unsettled us when we found out that it is storing users' IP addresses and timestamps of connections. In their defense, they are storing IP addresses in an anonymized format. But here is the catch, CyberGhost doesn't use dynamic IP addresses. It means it makes users wear the same cloak every time they use the internet. As we mentioned above, trackers look for patterns, and using the same mask every day makes their job pretty easy to track you.
In the case of ExpressVPN, it uses dynamic IP whenever we connect so ExpressVPN wins in this aspect.
Speeds Of VPN
For analyzing the speed of these two VPN service providers, we conducted our research online. We read reviews and collected the scores that people, all over the globe have shared from time to time. Here is what we got.
Location
ExpressVPN
CyberGhost
Seattle

56Mbps

37Mbps

Los Angeles

87Mbps

59Mbps

New York

91Mbps

84Mbps

UK

93Mbps

72Mb

ps
The stats that we shared might vary in reality, but we can guarantee that the average will lie somewhere close to them. From that, we can easily conclude that between ExpressVPN vs CyberGhost, ExpressVPN is better in terms of speed.
Streaming Performance
Streaming geo-blocked content is the main reason why most people are using VPN these days.
CyberGhost brings with it some nifty features such as giving users the freedom to choose servers to have the best experience in a particular streaming platform. This fact shows that some servers won't work well with different streaming apps. We tested the dedicated servers like the US server for Netflix. But to our surprise, it occasionally offers network buffering, declining speeds, and worst in some cases when even the dedicated US server got blocked by Netflix.
ExpressVPN is known for its easy-to-use options. The advantage of ExpressVPN is that all its servers can bypass any geo-blocks for any service. We also found no issue regarding blocking on any occasions, no speed issues.
So, choosing ExpressVPN over CyberGhost will be worth it for you if you are looking particularly looking for a VPN for streaming.
Torrenting And P2P Sharing
When it comes to torrenting, the performances are very close. Both CyberGhost and ExpressVPN does well enough in this case. However, we conducted testing too. Before discussing what we found out, let's take note that, unlike ExpressVPN, CyberGhost uses smart filters or specialized servers which are tailor-made for torrenting, just like for streaming. Extratorrents on the other hand uses fewer servers but all of them are optimized for torrenting. Now let's look at how the tests turn out.
The specialized server of CyberGhost:

2-5 MB/s (16-40 Mbps); Not more than 5MB/s

ExpressVPN: 6-15 MB/s (48-120 Mbps)
Though the above result shows ExpressVPN having an edge over CyberGhost, it may not be conclusive because of the reasons mentioned above. As we noticed that, performance-wise, none of them displayed any major issues or struggles.
Simultaneous Connections And Supported Devices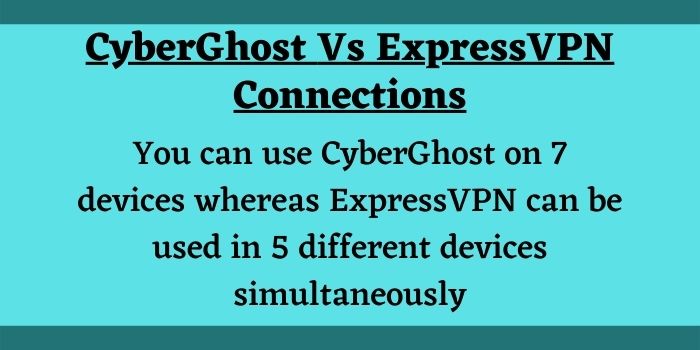 CyberGhost lets us connect to up to seven devices under a single subscription whereas, ExpressVPN allows five. This shows that when it comes to simultaneous connections, CyberGhost takes the hat from ExpressVPN.
However, if we consider the total number of logins then we find that ExpressVPN allows unlimited devices that can connect to the VPN at different intervals. CyberGhost doesn't allow such exceptions in such cases. No matter, simultaneous or not, you are capped to seven devices only.
Apps On Various Platforms
ExpressVPN can run on Windows, macOS, Linux, Android, iOS. Not only that, it has native apps for routers, Android TVs, Fire devices. It has browser extensions in Chrome and Firefox.
CyberGhost Can run on Windows, macOS, Linux, Android, iOS, but it doesn't have native apps for other devices like routers, TVs, etc. Having support for browser extensions in both Chrome and Firefox, it seems CyberGhost doesn't lie far behind.
Overall, both ExpressVPN vs CyberGhost are doing good on all platforms with all their assigned tasks.
So, these are the major differences that you may find with both CyberGhost vs ExpressVPN.
Also Read:
How Much Does ExpressVPN Vs CyberGhost Costs?
Above, we finished the analysis of the two VPNs and now we are looking at the cost of getting all those features. Overall CyberGhost comes cheaper than ExpressVPN. Although, during the time of the ExpressVPN Black Friday sale, you can purchase it at an affordable cost. ExpressVPN gives the best server for PUBG that helps the users to easily play their favorite game from anywhere without any restrictions.
Then again with the headstarts in most of the features, ExpressVPN becomes the one-stop option with a bit on the dear side. However, if your finances nevertheless don't hold their ground, you may go with CyberGhost.
Support Offered By ExpressVPN And CyberGhost VPN
As you are paying for one of these two VPNs, you must be considering the scenarios where you might need help regarding a technical flaw or help to connect to a specific server, maybe changing protocols or configuring the VPN on your router. This shows how important customer support is for a VPN service. What we experienced is that both of them support live chat support but in the case of CyberGhost, the chat support is available for certain hours. Except that, email support or ticketing system of both the VPN service is good enough.
CyberGhost Vs ExpressVPN: The Bottom Line
Through this comparison between these two VPN services provides, we tried to put everything in front of you. Overall, both these service providers are good and provide powerful security features. But when it comes to streaming, you will ExpressVPN way useful than the former.
So, it is totally up to you which VPN between CyberGhost vs ExpressVPN you choose. If you have a tight budget, then you may surely go with CyberGhost. But if you want to get an uninterrupted surfing experience then choosing ExpressVPN can be worth it for you.