Tiktok is a worldwide popular social media platform, owned by Chinese company Bytedance. You can make and share a variety of short videos on TikTok that has a duration from fifteen seconds to three minutes. 
It has 100 million monthly active users in the US (Source). Since this video-sharing platform is getting popular, there is some impact of TikTok on Youth which this app is leaving on its users. Let's find out how TikTok is affecting our lives.
What Is The Main Purpose Of Tiktok?
TikTok is a short video-sharing platform. Users use this application to create, share and explore short videos with unique content. The main purpose of TikTok is to provide entertainment and the opportunity to express themselves by creating entertaining videos to share them across the TikTok community.
---
What Are The Impact Of Tik Tok On Youth?
TikTok is popular among the younger generation due to its attractive content, including comedy, acting, lip-syncing, and other videos. Besides this, it is impacting its users positively as well as negatively. 
Let's talk about the positive and negative effects of TikTok and how it is affecting the life of today's youth in both ways.
---
The Positive Impact Of Tik Tok On Youth
As the number of TikTok download increasing day by day, it has positively affected millions of users in various ways. Below are some of the good effects of TikTok.
Entertainment
TikTok is a great source of entertainment for those who want to stay entertained. It offers various kind of videos that includes comedy, dance, acting, singing, etc. Additionally, users create videos and challenge others to recreate to have fun with. 
Opportunities
The major Positive impact of Tiktok on youth is that it has provided opportunities to its users. Millions of users are using this platform to showcase their talent. Also, various content creators are professionally using this Platform and earning good money by showcasing their talent in just a 3-minute video. So if you have a talent, you can also use TikTok to gain name and fame.
Popularity
TikTok is a great platform to get famous quickly. If you are good at something or know some unique trick to get something done, show it on TikTok. Any TikTok user can create a video doing anything appropriate and legal can help them get immense popularity.
Learning
Various industry experts have also joined this social media platform. They create TikTok videos and share them with users. It allows users to learn new things from the experts without paying a single buck.
---
The Negative Impact Of Tiktok On Youth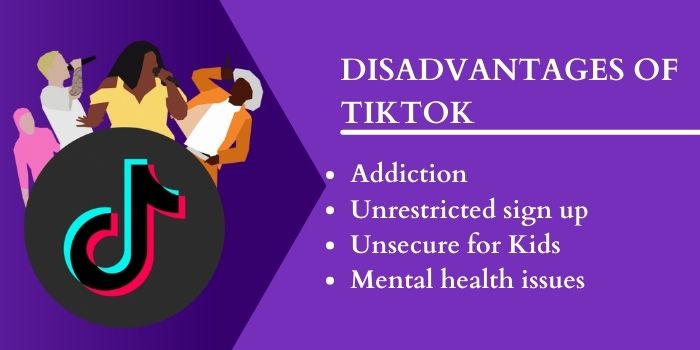 Just like any other social media platform, there is some negative impact of TikTok on society, which we should be aware of. Also, Tiktok Impact On Culture should be in our consideration.
Addiction
TikTok is developed to be addictive as its algorithm shows you videos of your tastes only. You won't feel bored scrolling and watching unlimited videos on TikTok. That's why we have seen thousands of TikTok addictive users these days that hamper their social and personal life. Also, the effect of TikTok on students is not good as addiction to this platform is hampering their studies. You can figure out which video platform is better Youtube vs TikTok for youth. 
Unsecure
Due to no restrictions on joining this platform, anyone can easily sign up for TikTok. Therefore, We have seen various cases of strangers sending threatful messages to children and creating harmful situations.
Mental health issues
The effects of TikTok on mental health are one of the biggest concerns these days for parents. Instead of using this platform to spread positivity, many users use TikTok for bullying. In recent times, people have started using social media platforms to criticize other people including TikTok. This leads to a bad effect on the mental health of users. In some scenarios, this leads to life-threatening situations.
---
Is TikTok A Bad Influence On Kids?
The answer to this question depends on which type of video a kid is watching and how much time he is spending on this social media platform. TikTok has various inappropriate videos that can harm a kid's social and mental behavior. However, many tutorials and teaching videos are also there which helps a kid to learn new things. Also if your kid spends too much time watching videos, he could become an addictive TikTok user. So we would recommend you limit the screen time of your kid.
Also Check: Best Vlog Editing Software
---
Do You Get Paid For Tiktok?
Yes, but not everyone gets paid for TikTok videos. However, TikTok itself doesn't pay anything to anyone but many famous TikTok users with huge audiences get paid from the sponsors to promote their product or company through their TikTok videos.
Final Verdict
Overall, TikTok is a great platform to entertain yourself or to showcase your uniqueness to other TikTok users. Also, you can find thousands of learning and tips videos to explore new things. However, you just need to be careful about the bad impact of TikTok on youth to prevent any unwanted scenarios.
Related Articles As Per Your Interest