Kaspersky VPN Review: Is Kaspersky VPN Safe to Use?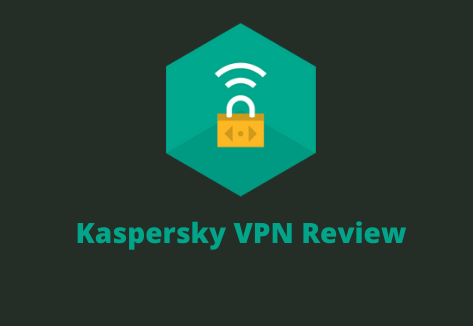 Kaspersky VPN Review: Is Kaspersky VPN Safe to Use?
Kaspersky is well-known for its antivirus software with top-notch security features aims to protect from online threats. The company has launched its own VPN, secure connection that provides security to its users over the internet. Likewise, Kaspersky VPN provides you with privacy protection while browsing online. It helps to protect you from online threats & enables geo-blocking content. Let's read in detail Kaspersky VPN Review.
What Is Kaspersky VPN Secure Connection? | Kaspersky VPN Review
Kaspersky VPN Secure Connection allows you to create a secure connection over the internet. For example, It's very useful when you're in a coffee shop & reading your confidential emails using public Wi-Fi, VPN allows you to keep your IP hidden and keep your private info secure. A VPN creates an encrypted data so that no one can access the actual data.
Features of Kaspersky VPN
The features of this VPN is quite impressive, some of the main features are highlighted below:
Speed: The speed of Kaspersky VPN is good & is great for basic VPN users.
Servers: It will let you access around 18 countries server with premium plans.
Privacy Protection: It will hide your IP address so that you'll get protection against your privacy. Also, it doesn't keep your log activities.
Unlimited Data: The data is limited to 200 MB per day with the free plan. You'll get unlimited data with premium versions.
Additional Features: Advanced options let you access some more features like you can set to automatically to change the virtual locations according to your needs. You can also pre-set different locations for different websites.
How Safe Is Kaspersky VPN Secure Connection?
Like other trustworthy products from Kaspersky, Kaspersky VPN is a reliable and stable product.  Kaspersky VPN uses military-grade 256-bit encryption with DNS leak protection from your ISP, So you get the good protection against online threat. The company also has a no-log policy. That means the company don't log into your browsing activity. However, it doesn't have a kill switch. Read this Kaspersky VPN review to know all its features.
Pros & Cons of Kaspersky Secure Connection VPN
Kaspersky VPN Secure Connection has many advantages & disadvantages which I think is important to share with you. Some of the main are listed below: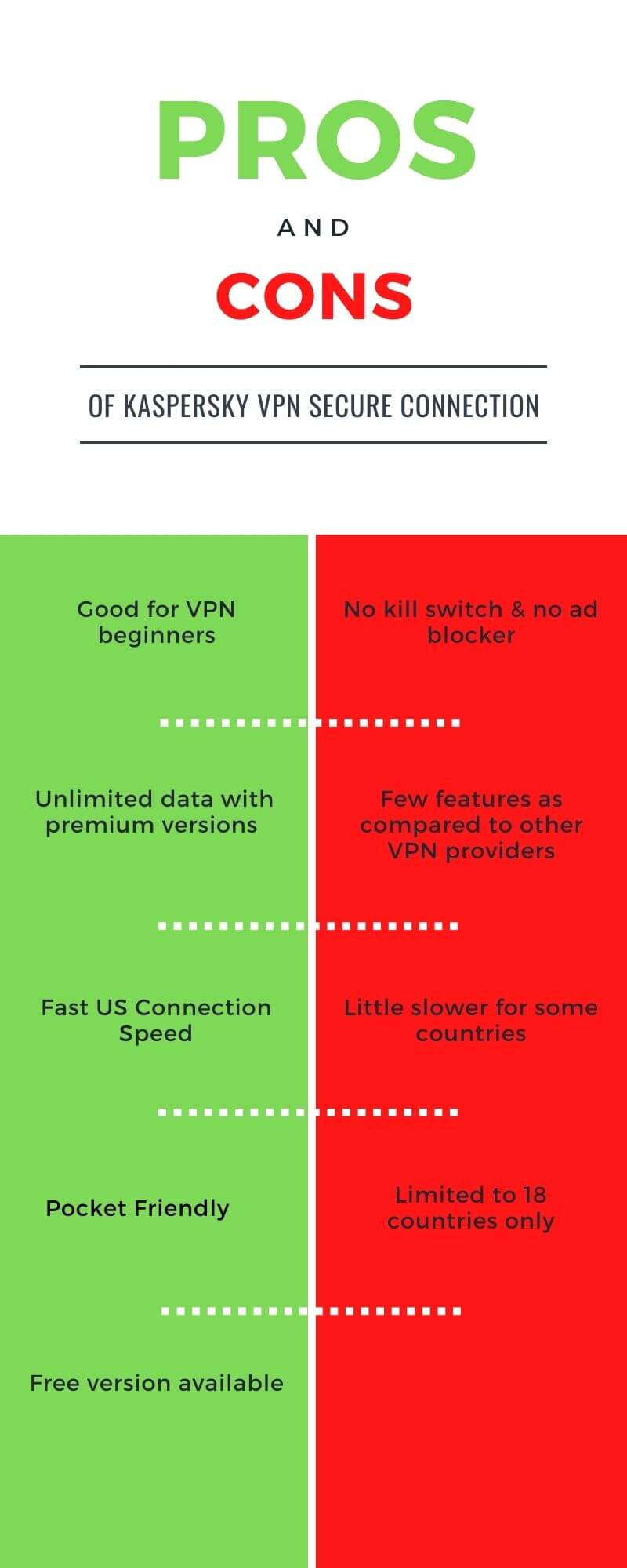 Kaspersky VPN Secure Connection: FAQs
Does Kaspersky VPN work with Netflix?
Kaspersky VPN blocks Netflix content by showing a proxy error message. If you'll this problem then you can change your server country & try again. However, some users were able to access Netflix content without any error.
Does Kaspersky VPN Keep Logs?
Kaspersky secure connection doesn't keep logs, as they have a no-log policy. Whatever the online activity you do the company won't log into it. But it doesn't mean that you can do anything which can be illegal & the company can't see your activity.
How Does Kaspersky VPN Work?
Kaspersky secure connection aims to provide top-notch security & uses military-grade 256-bit encryption. It embeds a shield between your IP address & to the websites that you want to visit. It creates an encryption data & helps to protect your data from prying eyes. It also provides DNS leak protection which prevents your DNS request from being to your ISP.
Is Kaspersky VPN Free?
Kaspersky offers a free VPN plan to the users with Basic Protection, where you're limited to few features. But is limited to 200 MB data per day & the selection of locations will be automatic. It's best for those who just want to use VPN at a ground level with no special features.
Does Kaspersky have a VPN?
Kaspersky offers VPN with their antivirus software, you can get a free VPN with Kaspersky Internet Security & Kaspersky Total Security. If you don't want to use antivirus then you can also use Kaspersky VPN Secure Connection that provides you VPN. You can use their VPN for free & you can also use its premium version.
Is Kaspersky a VPN?
Kaspersky is globally known for security products, However, they also provide a VPN.
Does Kaspersky Secure Connection Cost Money?
Kaspersky has both free & paid plans, you can use its free version with limited features. However, if you want to use its unlimited features then you can purchase the premium versions. You'll get 2 options in premium plans either you can choose a monthly subscription or you can go with an annual subscription where you can save more.
Does Kaspersky Secure Connection Slow Down Computer?
Kaspersky secure connection will not slow down your computer as it is for your internet only. With a slow computer, anything you use will add a burden on the system. But there's no issue with Kaspersky VPN in slowing down your computer system.
Is Kaspersky Secure Connection Necessary?
This is a very debatable question in the market but if you want to add a security layer then you should use it. There're other VPN providers in the market that provides best security features but if you're looking for a basic & pocket-friendly VPN then you can use it.
Final Thought
Kaspersky VPN Secure Connection provides you with basic security features. Although it provides good security features with 256-bit encryption but doesn't have the kill switch & any adblocker. It's best for basic internet users looking for a basic VPN. If you just want to try this VPN you can use it for free with some restrictions. You can also go for the premium versions to enjoy unlimited features. So to end up Kaspersky VPN Secure Connection is good enough to secure & maintain your privacy with a limited budget. Use our Kaspersky Secure Connection Coupon Code to get a great deal on this VPN. If you think we missed anything in this Kaspersky Secure Connection VPN Review do comment below about it.
Also read,