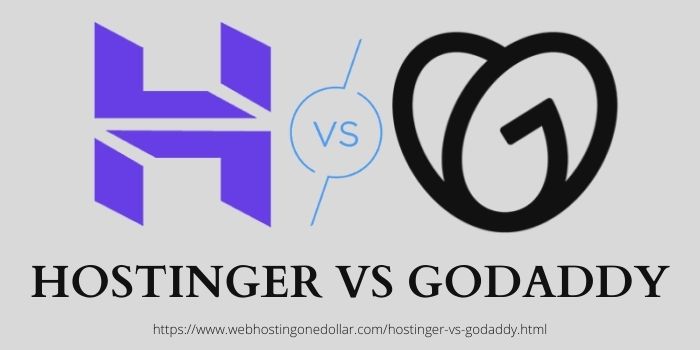 Creating a website on the internet for the first time? You might need to know what a web host is. A web host is a service provider that gives you space over the internet to create your website so that people can see it, use it, and browse it. You might have heard the name GoDaddy or Hostinger while searching for some good Web Hosts? 
GoDaddy is a domain registrar and web hosting company that has its origins in America. It was founded in 1997, and today, it has more than 20 million customers. 
Hostinger, on the other hand, was established in 2004, yet has more customers than GoDaddy- 29 million!  But which one of them is actually better: Hostinger vs Godaddy? To come to a conclusion, we shall make a valid comparison among the both.
Comparison Between Godaddy Vs Hostinger 2022
Features of Godaddy
The features of GoDaddy may be enlisted as below-
Unlimited websites for most plans

No storage limitation for some plans

Unlimited bandwidth

Multiple databases

Office 365 email free for a year

A free domain

Integration with apps like WordPress installer

SSL certificates for some plans
Features of Hostinger
The features of Hostinger include the following-
No limit on the no. of Websites

Free SSL certificates

WordPress acceleration

Email Account

DNS management options

Subdomains

MySQL databases

Free domains and SSH access for some plans

Backups for some plans
Features Comparison Of Hostinger vs GoDaddy
Speed
Hostinger provides adequate speeds and has an uptime of 99%. Whereas, GoDaddy provides great speeds in most of the regions and also has an uptime of 99%.
Price
The unlimited bandwidth plan of Hostinger that provides 200 GB SSD storage and 100 sites, costs $3.99. It also provides a 30-days money-back  guarantee to its customers
The unlimited storage and bandwidth plan of GoDaddy costs $14.99. The customers are also assured of 30-days money back.
Support
Hostinger provides its customers support 24×7 through live chat or email. There are also various sources of tutorials available online, pertaining to the usability of Hostinger. But it does not provide support through phone calls yet.
GoDaddy provides its customers with 24×7 support, through a phone line, chatbox, and also email.
Ease of accessibility
The online dashboard of Hostinger contains direct access to all the hosting elements, domain names, and SSLs. Although, there is still a clutter of all objects, yet, with time, a person can get handy of Hostinger.
The online dashboard of GoDaddy at the beginning used to be such a mess, and unlikeable. But with time, it has evolved according to the needs of the users and changed itself in order to increase the ease of accessibility for the users
Server Location
Hostinger has its servers in North America, Europe, Asia, and South America. This makes its network a wide one. on the other hand, GoDaddy has its server locations in North America and Asia only, which means that its availability and scope are much less than that of Hostinger.
Performance
The infrastructure of Hostinger is far better and of the latest technology, as compared to GoDaddy. Hostinger uses the SSD storage facility, which is faster and its web server is LiteSpeed, which is more stable and provides better speed. Also, there is a provision of activating Cloudflare in Hostinger that gives you excellent performance in different parts of the world. Hostinger also provides its users with LiteSpeed cache.
GoDaddy still uses the traditional infrastructure. It uses HDD storage, which is quite outdated, and Apache Web server, which is slow in comparison to Hostinger's LiteSpeed. As we have mentioned above, GoDaddy works on very few locations, and it does not allow the users to choose from a variety of server locations. Its average page loading time does not come below the mark of 2.2 seconds.
Security
A robust security system is one of the major requirements that a person requires in their web host. Various provisions of Hostinger, such as SSL certificates, automatic backups that are done weekly, BitNinja security and CloudFare protection, etc., make it one of the most secure Web hosts available on the internet.
GoDaddy, on the other hand, provides only DDoS protection and a monitoring system that works 24×7, for free. You have to pay extra if you want an SSL certificate for your site (which is a quite important security tool), or a SiteLock (which does scanning and removal of malware), or even automated backup. Therefore, all the major security provisions that are required in a Web Host, have to be paid for additionally in GoDaddy.
Read More: GoDaddy vs SiteGround
Final Verdict
Therefore, in this Hostinger Vs Godaddy comparison, we can see that both Hostinger, as well as GoDaddy, provide us with great features. Hostinger is a less costly and more affordable plan. Moreover, in terms of security, performance, and server locations, Hostinger has a great edge over GoDaddy. Thus, if your focus is on great security and good performance, the choice is clear.