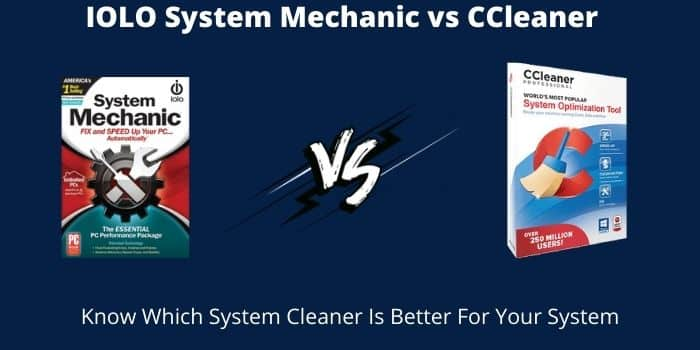 It takes a lot to ensure that your system is safe from any harm and lags. In this article we will explain, the IOLO SYSTEM MECHANIC VS CCLEANER dispute has raged on for years. This blog will provide a thorough comparison of the two, allowing you, the user, to make an informed selection.
Whenever you use the computer or laptop or any other system too much, at some point it starts to lag, it is caused by many system's internal processes. This little glitch has the potential to completely wreck your day. So, Cleaning out your registry to improve the efficiency of your system can be solved via many software available on the market, but it's hard to select the best utility software and budget-friendly tool for your system.
We all know there is a wide range of similar system utility tools, however, it is tough to find out the best pc cleaner, but there is two software which are worth consideration, IOLO SYSTEM MECHANIC & CCLEANER they both have similar features and extra different tune-up utility function.
Benefits of these applications
PC cleaner application services do a variety of tasks in addition to boosting the operation of your computer, including:
Increasing valuable hard disc storage by eliminating superfluous items to make room for additional photographs and movies
Identifying and resolving any faults with the system, as well as serving the registry
Delete undesirable cookies to protect your privacy.
Enhance System startup Speed
Improve your system mechanics by deeply analyzing.
Now that we've established the value of these services, let's take a closer look at each of their features and see how the IOLO SYSTEM MECHANIC VS CCLEANER competition plays out.
An overview of their basic difference
CCleaner gives you a scheduled scan which is a good feature so that you never miss regular clean-up of the system, whereas System mechanic doesn't have it.
CCleaner keeps a backup of the registry before making any changes, and the IOLO System mechanic doesn't have this function.
The system mechanic layout is modern and cool, and CCleaner still has old-fashioned fonts and an outdated look.
CCleaner has only one pc subscription single license, and IOLO has a license that can be used on more than one pc.
The IOLO system mechanic is only available for window operation systems, and CCleaner released versions for mac and android.
These are just some points of their function, now we will explain a deep explanation of each feature. Along with it, take a survey of alternatives such as AVG vs Avast in 2023.
Comparison of IOLO SYSTEM MECHANIC VS CCLEANER
I'll walk you through the capabilities of System Mechanic and CCleaner to demonstrate the best pc cleaners what they can achieve and how they compare to one another.
Cleaning system old registry or incomplete registry that cause the system to slow down. It's really good to delete the registry, it will give your system a boost.
System Mechanic searches your registry rapidly and displays the issues simply and understandably. While it does clean up your register, it does not appear to provide the option of backing up your registry before making any changes.
On the other hand, as I mention in the overview CCleaner keeps the registry before making any changes, it will scan and clean your registry to boost your system performance, if something went wrong you can easily backup, and restore your registry to its old version. Along with it, you can check out the comparison between piriform cleaner vs IoLo system mechanic in 2023.
Delete the useless and temporary files that stay on the system.
Both tools can delete these types of junks files,
You may choose which items you want to identify and remove with System Mechanic, including temporary Windows files, your recycling bin, cache, and more. A simple search of your computer will take only a few minutes, while a deeper scan that will uncover more garbage files will take between 5-7 minutes, but it will still be rather speedy.
CCleaner also allows you to scan and delete unnecessary files that may be slowing down your computer. One of the best features of CCleaner is that you can schedule a scan for whenever you want it to crawl through your computer looking for unnecessary files.
Both utility software provides a boost to increase the system performance,
This is the main reason to have a system utility application, now which one is best for it Iolo system mechanic vs CCleaner.
Program Accelerator and PowerSense are two aspects of the System Mechanic. The Program Accelerator, similar to a disc defragmenter, realigns the files connected with your software and apps to make data access faster. PowerSense monitors and adjusts system activities and power in real-time to improve performance.
When I ran my computer with the Geekbench system performance tool before and after using System Mechanic, I saw a significant gain in speed when accessing programs and files daily.
CCleaner isn't popular for enhancing system performance, still works pretty well, and the performance of the PC under test was noticeably improved. The same was confirmed by Geekbench, a program that measures computer speeds.
Protection of user privacy by erasing cookies and browsing history, these two tune-up programs can protect your internet usage.
Because the average person isn't likely to know how to perform this properly, it's a good thing that both System Mechanic and CCleaner include this feature. It makes life a lot easier to have the option built into each program and easily accessible.
You can use the privacy protection tools with just a few clicks on each program, they both seem to do a good job.
Iolo system mechanic vs CCleaner pricing
CCleaner: has its free version which works pretty well, on pc and provides the necessary option to keep your pc well maintained, but some features are not available which can be only available in the paid version of it, CCleaner pro comes with a file recovery tool, system info, and hard drive optimizer, For 1-year single system license it will cost you 10$.
Iolo System mechanic: Routine inspections, eliminating junk files, and increasing efficiency are among the functions included in the free trial. However, the premium version includes extra features such as photo recovery, browser history cleaning, bloatware removal, and registry reorganization.
It will cost you 39.95$ for a System mechanic for a year single pc license.
Conclusion
Both CCleaner and System Mechanic are excellent PC cleaners. However, CCleaner has certain advantages over its competitor, such as the ability to restore to a prior version, the ability to schedule frequent scans, and the ability to update apps all at once.
On the other hand System mechanics are good for increasing system operating performance significantly, but are more costly than CCleaner. I hope you will get the idea to select the best for your needs.