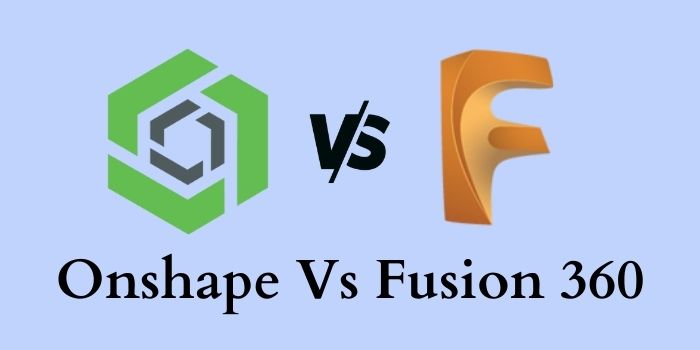 Since the beginning of computer-aided software applications, the CAD software industry has grown so rapidly. Therefore, it has given opportunities to millions of people to start their careers in various industries using CAD programs. Hence, various software development introduced various CAD programs along with various advanced toolsets and features. Fusion 360 and Onshape are two of the advanced and popular CAD programs but choosing one of them isn't easy.
The fact that both Onshape vs Fusion 360 are great CAD programs but choosing one in between both isn't any easier for anyone. Therefore, to make you more aware of both, we are going to compare both CAD applications.
Brief History 
Before we go through this comprehensive comparison, let's have a birdseye view of both these CAD applications.
OnShape

:

Onshape was founded in 2012 as the company that was developing Onshape. Later in 2015, the company launched its Onshape software. The interesting fact about the Onshape is that it was developed by the same creators who created Solidworks. Onshape is known for being one of the first CAD SaaS applications that offer cloud-based CAD solutions.

Fusion 360

: On the other side, Fusion 360 was developed by Autodesk and released in 2013. It is quite similar to Inventor which is another Autodesk software. Although, the major difference in both is fusion 360 is a cloud solution and Inventor isn't. The main reason for developing Fusion 360 was the huge demand by the CAD community for a cloud-based CAD product.
Which One In Better In OnShape Vs Fusion 360?
In this comparison, we will try to differentiate the differences and similarities of Fusion 360 vs Onshape. The comparison will be in terms of system requirements, Interface, Features, customer support, and price. 
What System Requirements Do You Need To Run These Apps?
In this comparison of Fusion 360 vs Onshape, being aware of the necessary specification is must to see if they can run efficiently.
System Requirements Of OnShape
Operating System

: Any (As it is a browser-based program)

Supported Browsers

: Google Chrome, Mozilla Firefox, Safari (Mac only), Microsoft Edge. It doesn't support Microsoft internet explorer.

CPU

: Any

Memory

: 8 GB recommended and 1GB minimum

Graphics Card

: Any

Disk Space

: None (As it is a cloud-based program)

Internet Connection
System requirements of Fusion 360
Operating System

: Windows 8.1, 10(64 bit), macOS (Big Sur 11.x*; Catalina 10.15; Mojave v10.14)

CPU

: x86-based 64-bit processor, 4 cores, 1.7 GHz or greater; 32-bit not supported ARM-based processors partially supported via Rosetta 2 only

Memory

: 6 GB recommended and minimum 4 GB

Graphics Card

: DirectX11 (Direct3D 10.1 or greater), or Dedicated GPU with 1 GB or more of VRAM, or Integrated graphics with 6 GB or more of RAM

Disk Space

: 3 GB

Internet Connection
Which One Has A User-friendly Interface?
The layout of user interfaces of Autodesk Fusion 360 vs Onshape is pretty distinctive from each other. Although The main aim of both CAD programs is to provide the best environment to work on the project. Below we have discussed both program's interfaces to see how good they both are.
OnShape
This CAD software comes with a user-friendly interface that offers you two places to work: The Part Studio and the Assembly. 
Whenever you open a project, it placed you in the Part Studio along with a toolbar at the top of the screen. It allows you to switch tabs to the "Assembly" tab to build, connect and assemble the collection from the Part Studio.
Fusion 360
Autodesk offers a classic yet so effective interface with Fusion 360. The default workspace of fusion 360 is for designing only that has all modeling tools at the top toolbar. The toolbar includes Solid, Surface, Sheet Metal, and Tools. These categories come with various subcategories and tool groups such as Assemble, Construct, Inspect, etc.
Which One Offers Better Functions & Features?
Now we will cover the features of both these CAD programs in this Onshape vs fusion 360 comparison. Both come with a massive range of intuitive functions and features to enhance the workflow of users.
Features of OnShape
OnShape keeps updating itself in order to fulfill its user's requirements. Here we have mentioned some of the functions and features of OnShape.
Sketch Tools
For sketching, OnShape provides various sketch tools to create lines, shapes, polygons, text boxes, splines, in-sketch fillets, offset, and many more. With these sketch tools, you can create an accurate sketch.
Modeling Tools
You get all the basic 3D modeling tools including extrude, revolve, sweep and loft. With these 2D modeling tools of Onshape, you can make 3D tools and parts from sketches.
Custom Features
Being a cloud-based program gives us the advantage to add custom features and parts made by other users. Additionally, you also get an App store with which you can download plug-ins and applications for Onshape.
Assembly Tools
The Assembly studio is used to join parts and create assemblies with integrated motion. To do that Onshape offers various assembly tools such as fasten mate, revolute mate, planer, and many more.
Learning Center
The steep learning curve of CAD programs prevents many users from learning CAD effectively. To prevent this problem, Onshape offers a learning center to educate its users effectively.
Features of Fusion 360
Since the launch of Autodesk 360, it has become one of the highlighted cloud-based CAD programs. Below are some of the major highlighted features of Fusion 360.
Create Tools
There are numerous create tools you get with Fusion 360, Some basic create tools such as extrude, revolve, loft, and sweep, It also provides various instant-modeling tools for various shapes, cylinders, pipes, or spheres.
Modify Tools
The modify toolbar let provides you various tools to quickly edit your 3D models. Some of the major modify tools are scaling parts, shelling them, making fillets, etc.
Inspect Tools
Fusion 360 offers many inspection tools to analyze and measures the parts. The inspect toolbar includes tools like measurements, curvature comb, and Zebra analysis, and many more.
Sketch Tools
When you create a sketch using create tool and new toolset pops up in the toolbar specifically for sketching. The sketch toolbar includes tools like lines, shapes, polygons, splines, etc.
Simulation Tools
In the Simulation workplace, you will be provided with a bundle of simulation tools that includes tests for static stress, thermal tests, thermal stress, electronics cooling, event simulation, and more.
Render Tools
In the Render workspace, Autodesk provides various rendering tools that let you make models more stellar. Render tools enables you to adjust the look of the model by changing colors, material, textures, decals, etc.
Animation Tools
With the Animation tools of Fusion 360, you can transform the models into their individual components and animate them by applying various animation features. Once you are done animating a model, you can publish or the final animated video.
Manufacture Tools
With the manufacturing tools of Fusion 360, you get a Fusion's CAM that visualizes how a part will be 3D printed, processed, CNC machined, or drilled by other manufacturing processes. These settings are customizable and additionally, you get the various templates from Fusion 360.
Drawing Tools
There is a drawing workspace available in the Fusion 360 program. You can either draw a new design or draw a previous or animations. Whatever you choose, it will take you to the respective workspace and then you can create a new drawing with different drawing tools, settings, and features.
As compared above the features of Fusion 360 vs Onshape, we see the range of features & toolsets Fusion 360 offers is quite wider than its competitor. Although, besides a few missing features and tools, You won't find much difference using Onshape.
Who Has Better Customer Support?
Having great and responsive customer support makes a huge difference, especially if you have technical software. Both Onshape vs Fusion 360 comes with excellent customer support. Below, we'll go over the customer support of both CAD programs.
Customer Support of Onshape
As discussed earlier, Onshape has an integrated learning center for beginners in their web-based program. To get expert help to resolve your product-related issues and queries, you can file ticket support, Besides, Onshape also offers live chat and email support to their users.
Customer Support of Fusion 360
In this comparison of Onshape vs Fusion 360, now it turns to see how good customer support Autodesk offers for its Fusion 360 users. Autodesk offers a dedicated expert hotline to resolve customer queries as well as issues. Besides, you also get an email as well as live chat support from Autodesk.
Which One Is Available At An Affordable Price?
Pricing becomes the main factor before purchasing the product after knowing other aspects. Let's move further for the pricing comparison of Autodesk Fusion 360 vs Onshape.
Pricing of Onshape
All the subscription plans of Onshape are below mentioned in the table.
| Plan | Free Plan | Standard | Professional | Enterprise |
| --- | --- | --- | --- | --- |
| Price | Free of cost for hobbyists and non-professional designers. | $2100 per user, per year | $1500 per user, per year | To get the pricing of the enterprise plan, you have to contact the sales team of Onshape |
Pricing of Fusion 360
All the subscription plans of Autodesk Fusion 360 promo code are below mentioned in the table.
| Plan | Free Plan | Monthly | Yearly | 3-yearly |
| --- | --- | --- | --- | --- |
| Price | Free of cost for hobbyists, Military veterans, Students, faculty, and unemployed people. | $60/Month | $495/Yearly | $1395 for 3 years |
Final Verdict: Fusion 360 vs Onshape
In this comparison of Onshape vs Fusion 360, we compared all the major aspects that one must compare before making any decision. Fusion 360 and Onshape, both have their ups and downs. We hope after this comparison, you would be more confident and will be able to choose the one which suits you most and fulfill all your requirements.
Also Read: