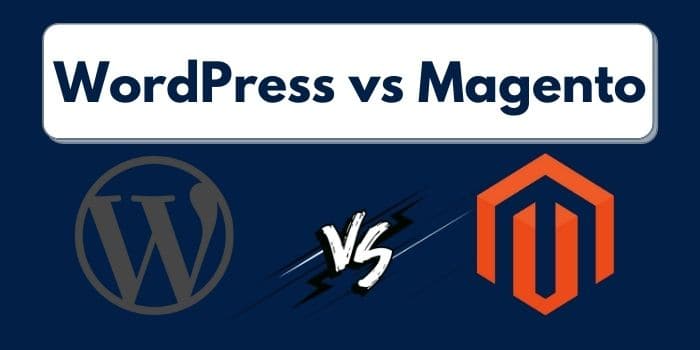 If you've worked a little to start an eCommerce website, you must know that building your own online store is the main task. The biggest confusion comes your way when you have to choose a platform between WordPress vs Magento for eCommerce to build your eCommerce website.
As CMSs, Magento and WordPress will empower you to manage inventory, content, and other administrative tasks without developer expertise.
Among the large number of online platforms to build eCommerce websites, Magento and WordPress are the two most popular eCommerce platforms that are most commonly used by the world's leading eCommerce websites.
In this article, we'll draw a comparison between WordPress vs Magento, and talk about features and specifications. This will help you decide which platform is a better choice for you according to your budget and requirements.
What Is WordPress?
WordPress is a strong CMS and a powerful blogging platform. Thanks to his open-source nature, users enjoy an endless adjustment option that is close. They also benefit from online communities, thousands of add-ons and the same can be adjusted.
WordPress, different from Magento, is not the original eCommerce platform for online companies, Instead, it is WooCommerce, a WordPress plugin, which distinguishes it as a strong eCommerce solution and is widely used.
WordPress eCommerce has also two different versions, WordPress.com and WordPress.org. Get the best Web hosting for WordPress with their best features.
Features Of WordPress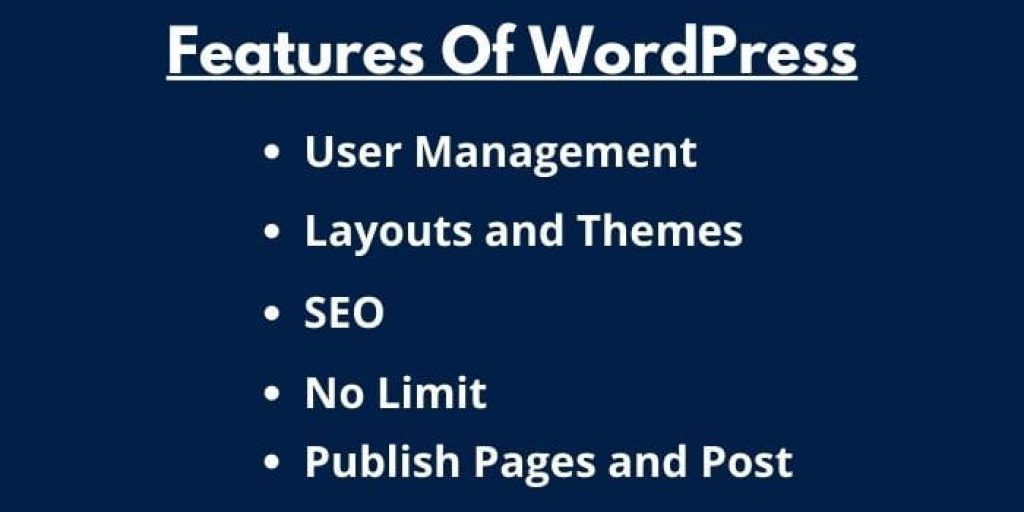 User Management– This feature maily allows users to manage user information such as the user's role, create, delete, and change the user's password.
Layouts and Themes- Is your website professional or for entertainment, for display items or for sales too, WordPress ecommerce has a variety of themes and layout for your website that matches aura.
SEO- It appears with many default SEO tools, which help you create your website and content available in it SEO friendly.
No Limit- There is a broad scope for people who have a website on WordPress, because this is an unlimited platform, with a large audience and no traffic limits you can receive on your website.
Has the option to publish pages and post-  It can easily save multiple pages and posts. So you have the option to post various content.
Also Read: Shared Web Hosting vs WordPress Web Hosting
What Is Magento?
When it comes to e-commerce, Magento eCommerce is most suitable for large websites that require wider functionality. However, if WordPress is a blogger paradise or content maker, Magento can be seen as an eCommerce power plant. Magento eCommerce served from a small organization to a great building and ran a prominent e-store.
To maximize Magento, you must be able to handle some of the more technical aspects of your own platform or have money to hire a professional to do it for you. In fact, Magento is a better choice if your main focus is increasing eCommerce sales.
At present, Magento offers eCommerce solutions, namely Magento Open Source and Magento eCommerce. Both versions both have the same core features of the Magento platform.
Features Of Magento
Open Source Solution- You can host Magento to your own server, but it is recommended that you can try and find a Magento hosting specialist.
A large number of gateway payments and shipping can be included- By including integration with the Australian main bank and Australian Post.
It Has Excellent Product Management Systems And Orders- There are mass uploading features available to help manage catalogs.
Search Engine Friendly- 'Outside box' Magento requires a little configuration, but it's a very friendly Search Engine.
Responsive Solution- Magento theme is fully responsive for all cellular platforms including iOS, Android, Windows, Mobile.
The Similarities – WordPress vs Magento
Both have an impressive selection of designs, but each comes with a unique approach to building a strong online store.
On the surface, WordPress and Magento have the following similarities:
Designed to be able to be customized, SEO is friendly with a broad support community.
It functions as a strong content management system, allowing traders to add, modify, and manage all content and products in the most optimal way.
Give business options to build a web with a free or paid version(various levels of adjustment and control over websites built)
Both came with a rich collection of plugins (WordPress), extensions (Magento), and themes to create a default website that is important to be fully functional and very individual.
The Main Differences Between – Magento vs WordPress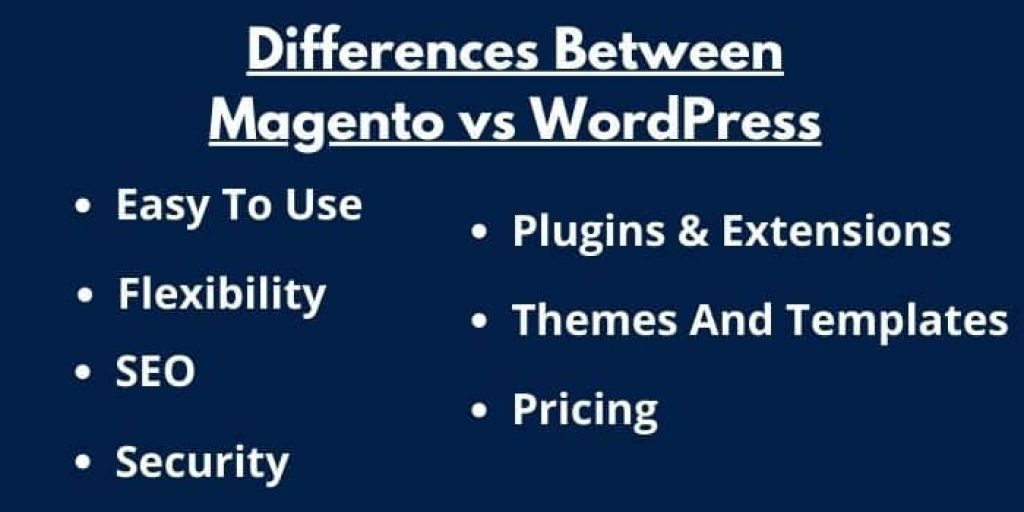 While discussing the Pros and Cons of WordPress eCommerce vs Magento, we must remember that this is a completely different and equally capable platform in its own features. Both are very popular but to find the best that functions according to your guidelines, let's explore the differences.
Easy To Use
WordPress installation is very simple and easy with an installation of five minutes. A user sees a simple user interface with a menu to utilize all WordPress features.
Installation of Magento core sites is slightly complicated when compared to WordPress installations. There are many challenges that users will face if users are beginners in the user-friendly terms using several Magento features.
Flexibility
WordPress facilitates various plugins, some free/in-built, and some are paid services plugins to help users convert simple websites to eCommerce stores for eCommerce businesses.
Because Magento focuses only on eCommerce features, he loses a race with WordPress's intensification. But strong eCommerce can be built using Magento.
Themes And Templates
WordPress has more themes, but Magento has a better option for the company. Both Magento and WordPress boast a great library of themes and templates with strong design capabilities. From the theme without a code that is ready to use for special themes that benefit from developer expertise, you'll find both platforms. The main difference between WordPress vs Magento for eCommerce is that there is an eCommerce themes class called Magento which boasts a stronger feature that is suitable for company class online stores.
SEO
WordPress is better than Magento in SEO. Both Magento and WordPress support SEO feature such as Sitemaps, Metadata, and SEO-friendly permalink structure. WordPress has the advantage attached to Magento when it comes to SEO, thanks to a powerful SEO plugin like Yoast and the convenience that you can add keyword-rich content like blog posts to your website.
Security Feature
Magento is safer than WordPress eCommerce, the third-party plugin. While both platforms offer frequent security patches, specialization has inherent security benefits. By standing their ecosystems to eCommerce, it is easier for Magento to maintain strict quality control over the third-party plugin ecosystem. Magento also offers sufficient default features that you'll naturally depend on third parties when you build your store with Magento.
Plugins & Extensions
WordPress has more plugins and integration, but Magento excels as an eCommerce solution. Both WordPress and Magento have been there for a while, accumulating plugin ecosystems, extensions, and firm fire integration. You can even host WordPress blogs on your Magento eCommerce store if you want. The big difference here is more related to Magento directed specifically for commerce sites. WordPress, as a result, has a much larger plugin library thanks to its generality.
Pricing
WordPress is more affordable than Magento. The Magento has powerful in-built eCommerce features that come with premium prices, even if you rely on open-source installations, you still need to pay a premium in the Magento development hours if you really want to adjust your store and make yourself.
WordPress vs Magento – Conclusion
In short, both WordPress and Magento are very good platforms to help both large and small businesses launch their own online stores. While the platform options ultimately depend on personal preferences, Magento has the advantage for the company's eCommerce sites while WordPress has the advantage for products that are very dependent on content marketing. Both platforms have many extensions, add-ons, plugins, to cover their weaknesses. Choose an eCommerce solution that best suits your needs.
Should I use Magento for WooCommerce?
While Woocommerce is user-friendly and offers low-cost payments, Magento, at a higher cost, gives high-security users high performance. While WooCommerce is more efficient for small shops, Magento works better with big businesses.
Is Magento still relevant?
Yes, it is still very popular. We can't say that anymore. But we can say that Magento as an eCommerce platform has changed a lot from the early days. And therefore, this is intended for certain types of eCommerce stores.
Is Magento the same as WordPress?
While Magento and WordPress both are strong open-source platforms, they are very different. Simply put, Magento is built to run an online store, while WordPress can't support eCommerce outside the box.