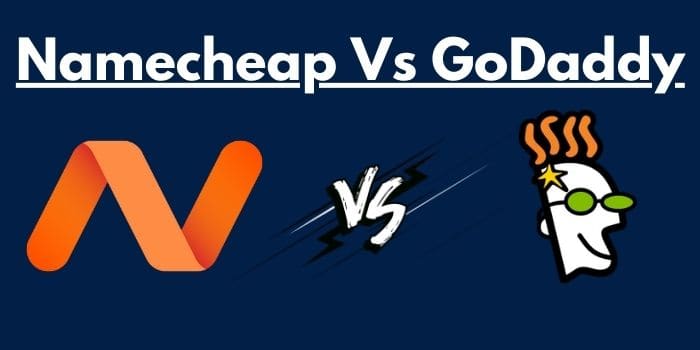 For hosting a site all the users want a perfect web hosting services provider. Most of the users got confused between the best and most popular ones. So, here we conduct a friendly battle between NameCheap Vs GoDaddy. Through this, you can easily find which is the best choice for you.
You can be anyone who wants a website. You can be the owner of a business of any size. You can be an entrepreneur who wants to set the ground first. You can be an enthusiast or a website developer. It doesn't matter why you need it. What matters is how you will have it when you need it. If you have made up your mind to build a website, chances are you are aware of the domain registration needs. As a new entrant, you think of reliability first. You seek a reliable domain registrar capable of taking care of your first step towards your goal.
Are all domain registrars the same, as it sounds like the job is pretty commonplace? No, they all are not equally preferable domain registrars. Functionalities and features, prices and add ons differ. Like you, we also appreciate a cheaper option for any purpose, but we would do that only when we consider the overall picture. Most often, we see the ones with more affordable registration fees keep from us some hidden charges. If we opt for them, we end up spending more bucks than the ones we skipped first.
So for finding the right one that compares the services of GoDaddy and Namecheap.
Difference Between NameCheap Vs GoDaddy
Today our discussion is about the duel between Namecheap Vs GoDaddy. The Internet bombards with questions like which one among these two is best for you.
Both GoDaddy and Namecheap are veterans in the industry with more than 20 years of domain selling and managing forte. Both of them are not too expensive. So, people like me with aspirations to register a domain can opt for any of these two. Although selling and managing domain names are their USP, they extend further services like website hosting, business emails, and applications. That would be all the similarities they have.
Let's now find out the answer to the aforementioned famous question with the help of this article. If you go through NameCheap vs GoDaddy, we are sure that you will gain enough ideas to make an informed decision.
History And Background Of GoDaddy And NameCheap
GoDaddy – It was in 1997 when GoDaddy commenced its operation. It was 'Jomax Technologies' back then. Two years later, the rebranding occurred. The new name was GoDaddy. Since 1998 the advent of the domain industry pushed GoDaddy to further rapid growth. GoDaddy implemented its innovative marketing techniques and affordable price offerings to expand the business. The trajectory was so uniformly steep that it took merely 7-years to reach the top position as the largest domain registrar in the world in 2005.
Namecheap – Namecheap, on the other hand, launched its operation in 2001. But Richard Kirkendall already founded it in 2000. Although not at par with the popularity of GoDaddy, Namecheap has garnered quite a lot of users. The figure is more than 10 million domain servers that it offers to users.
If we talk about the additional services that new entrants in the domain registry market offer these days, GoDaddy and Namecheap started those bonuses first in the industry. Those free extra products and services have been a big reason behind these two's phenomenal success in the business.
Which One Is Trustworthy Domain Registrar Namecheap Or GoDaddy?
The URLs are all the same irrespective of the registrars. In terms of URL management, you can't get any better deal anywhere. The only differentiating factor is the domain names that the registrars specialize and sell to the customers with those unique demands. Another thing is the bonus services and products you get with your purchase. The extra services and products are email marketing solutions, cloud support, website hosting privileges, security enhancements, etc. Some even offer countless such perks for your use.
These are the ideas of what you get if you buy domains from domain registrars. Let's now look at the checkpoints you should keep in mind.
If you are doing it for the first time, indeed, you will exercise caution before investing your bucks. So for that concern, price is an important issue. You, therefore, should look out if the price offered is competitive in the market.
Next comes the scenario where you see a price difference. Obviously, there will be some feature disparity. Check whether the features added or the features missed depending upon the pricing shift is worth considering.
If the pricing is not that much of a problem, let's observe the primary features a domain registrar offers. If it is suitable for your demands, you are good to go.
Sometimes the features are alluring, and prices are well established among the competition, yet you face bottlenecks while managing all such products and services. There is no need to bite off more than you can chew, as we advise you to grab the deal you can handle with your available resources.
Whenever you want to register a domain name then it is a must for you to notice all the mentioned points. If you find all the features in any of them Namecheap or GoDaddy then you can invest your bucks on the purchases.
Which One Is More Popular: Namecheap Vs GoDaddy
The winner here is GoDaddy, with 59,605,374 domain names registered whereas Namecheap holds the figure at 7,927,926 in aggregate domain names registration. The above data is on the record as of January 2020.
Data captured and shown talks much more reality than the perceived remarks. The overall number of domain name registration stands at 330 million, so GoDaddy procures almost 18% of the total share, whereas Namecheap holds 2%. Although the figures favor GoDaddy, one shouldn't overlook that both GoDaddy and Namecheap manage millions of domain names. This fact speaks volumes about both of their rigid existence in the market. In terms of a better company aspect, we shouldn't solely rely on market share figures as companies who gained momentum recently will take time to acquire the market share. Both GoDaddy and Namecheap are quite reputable entities. But as of now, GoDaddy marches ahead in terms of popularity.
Availability Of Top-Level Domains In NameCheap Vs GoDaddy
Purchasing TLD or Top Level Domains for your new website is both exciting and complicated. TLDs available are almost the same if you are picking between GoDaddy and Namecheap. We said 'almost' to point out the exquisite cases where we noticed some differences.
We will touch upon the pricing later. First, we talk about the availability of TLDs across all categories.
Let's find out what differences there are
If you consider Classic or traditional TLD such as .com, .net, .co, .org, etc., you will find both the domain registrars avail you with these. There is no disparity here.
When it comes to country-code TLDs for domain names created for specific countries, we discovered that some TLDs are missing with either Namecheap or GoDaddy. Here are some examples of the country code TLDs,
1. .in for India, 2. .jp for Japan, 3. .uk for the United Kingdom, etc.
If your website requires some of the country codes, our advice to you would be to check with the domain search tools of the registrar and find out the availability. Both GoDaddy and Namecheap offer the users the option to use the domain search.
Some unique TLDs that are more custom as it sounds, like .website, .work, .craft, .pizza etc., will attract unpredictable pricing. If you are okay with the pricing irregularities, you can go ahead with such TLDs. Please note that depending on the type of domain registrars, the prices keep changing. So you can keep an eye out for the available price portfolios before opting.
Let's talk about the domain extensions now. The more the number of domain extensions, the more is your chances of finding a suitable domain for you.
Considering the numbers, while GoDaddy is serving 499 on the table and 265 more underway, Namecheap gives away only 480 for now.
Not just domain extensions, users will enjoy more filters on their domain searches if they get more options. GoDaddy falls short in this arena, as Namecheap leads the game with diversified filters like price, last vowels, or domain-specific custom filters.
However, when it comes to the overall availability of the domain extensions, both are good options. Neither of them will raise any problems for the users.
Features Difference Between NameCheap Vs GoDaddy
Features play a pivotal role in determining your suitability no matter how other parameters woo you with their extraordinariness. There remain questions like whether a free domain name is your priority or more storage allotments can make your job easier. We will find out the features GoDaddy and Namecheap offer and decide which one excels in this category. There will be a display of all the features proffered by them so that you can directly hop on that particular option that offers your most preferred ones.
Storage Of NameCheap And GoDaddy
Namecheap offers flexible options in terms of storage. From 20GB to unlimited, Namecheap has the supply for everyone, whereas GoDaddy's offer starts from a whopping 100GB to an infinite amount of storage. Please note that the storage options come with different plans you purchase.
Difference Of NameCheap And GoDaddy Domain Name Services
Here Namecheap shrinks down the freebies to the availability of just the .website domain for one year. It charges for the rest of the extensions. GoDaddy here doesn't restrict the availability of a free domain extension, and it offers your preferred domain for free for one year packed with your annual plan.
BandWidth Comparison of NameCheap Vs GoDaddy
Both Namecheap and GoDaddy offer unmetered bandwidth, so there is no winner in this category.
Installation Process Of GoDaddy And NameCheap
The picture gets all the same when it comes to ease of installation comparison. Namecheap offers a One-click application install option, and so does GoDaddy – No winner in this round also.
Same Period Of Money Back Guarantee Of GoDaddy And NameCheap
Both Namecheap and GoDaddy offer a money-back guarantee for the same period, i.e. 30 days. So you won't get any extra perks if you choose either of them, depending on this feature.
Does Godaddy and NameCheap provide a backup option?
Backups are always an essential tool in the form of your contingency plans when disaster happens. We all become settled when we know that the backups are there for your product. Here the picture gets a tad bit different as Namecheap comes with the automatic backup facility. But GoDaddy doesn't feature one. If you want backups for your GoDaddy plan, you have to avail it as an add-on with the WordPress Hosting plan.
Namecheap offers a weekly-twice-backup plan with the auto backup tool loaded inside all except for the most basic plan.
Which one provider free SSL Services GoDaddy Or NameCheap?
While Namecheap offers up to 50-free SSL certifications, GoDaddy disappoints us. GoDaddy provides free SSL certificates only on Ultimate plan and above.
Is it possible to migrate a site with GoDaddy or NameCheap?
At any point in time, depending upon the scenario you are in or your expectations, you may need the provision of Site Migration. Namecheap covers you in this area, but sadly GoDaddy refuses to extend the same gesture.
NameCheap Vs GoDaddy Free Email Service
In terms of email accounts, Namecheap offers 30 to unlimited email accounts once you opt for a plan which is lucrative for sure. But GoDaddy provides a free license account for 1-year of Microsoft 365. Now it depends on your preference which one of these two falls under your requirements.
If we consider overall, Namecheap stays ahead in the game of features, as per our opinion. However, the features offered by GoDaddy aren't that behind either. You can refer to the details we put above and decide based on what you need in your venture.
Price Comparison Of NameCheap Vs GoDaddy
Cost is a deciding factor for obvious reasons. Nevertheless, you shouldn't take your pick solely based on the pricing structure.
Introductory rates always attempt to entice you with a low price in the beginning. But with time for each additional expense, you witness an unanticipated hike.
There is no crystal-clear pricing model available out there. Price varies with the types of TLDs. Not just new TLD purchases, even the price during new registration isn't the same as the one you encounter at the time of renewal or domain transfer. So including all possibilities and scenarios, we have to juxtapose the present figures. That way, a genuine price disparity can emerge.
Namecheap
Namecheap keeps its prices the same even if you switch to the monthly renewal process. However, if you pay early, you will get a 50% off on your first year with Namecheap hosting. The shock that follows is the price doubling in the second year as the discount no longer applies then. Before you get all paranoid, this happens due to the multiple offers on the first year, and if you compare the price of the second year with other domain registrars, you will find Namecheap is still a fraction of the charge levied by others.
GoDaddy
for the second year, levies a 25% hike with the renewal. But we won't call it an outrageously high price. We know the other parties in the industry are asking for much more. Still, comparing the two on our table, Namecheap is the cheaper option. However, if you are up for offers with GoDaddy, here is a tip. You sign up for a minimum three-year period, and you get the best price available. If you still opt for the one-year plan, you get to see a 17% hike over the best price in the monthly charge. For those who roughly need a three months plan, brace yourself as you witness 3-times higher monthly costs than Namecheap's demand.
Also Read: Gutenberg vs Elementor
Which one is Affordable Godaddy or NameCheap?
Coming down to similarities before we plunge into the pricing structure. Both Namecheap and GoDaddy offer discounts for one-year service and more.
Users can avail of registration and hosting with these two for up to 10 years. The catch is the longer your registration is valid, the cheaper your liabilities become.
Both the domain registrars offer domain extensions like .net, .org, .info, .co, .io etc but with different pricing modules.
GoDaddy Prices
First-time registration for .com domain : $12.99.
Renewal cost for .com domain: $17.99.
Transfer cost of .com domain: $8.99
If you want to avail of WHOIS privacy integration and email forwarding, you have to pay extra money. However, we purchased the package, and it cost $30.98 for us.
Namecheap Prices
First-time registration for .com domain: $8.88.
Renewal cost for .com domain: $12.98 (including ICANN fee).
Transfer cost of .com domain: $8.58.
Please note that Namecheap levies the above price bundled with the WHOIS privacy and email forwarding services pack.
So, clearly, Namecheap marches ahead with the cheap pricing structure and the inclusive privacy protection miscellaneous services.
Some Paid And Free Bonuses Of Namecheap And GoDaddy
We already mentioned the additional services they provide. But it is time to make a direct comparison between the two regarding the added bundles they offer. First, we will see the list of those added pieces of stuff we get with their plans.
GoDaddy:
GoDaddy doesn't offer a WHOIS privacy bundle free of cost as it charges $7.99 a year for the package.
If you want email accounts with the plan of GoDaddy, you have to spend $4.49 a month to avail of it.
Hosting here is of two types – WordPress hosting and Standard hosting.
WordPress hosting would attract $6.99 a month, and Standard one would ask for $4.99 a month.
The SSL certificate would cost $55.99 for a year.
The GoCentral website builder from GoDaddy is free for the first month, and later onwards, it would cost $14.99 per month.
There is one GoCentral online store that is free for the first month. Beyond that, you have to spend $29 a month to keep using it.
GoDaddy's DNS was under threat once in the past.
Unlike Namecheap, GoDaddy doesn't charge for the photo storage space for the first year. You get a limited hosting package here as well.
Namecheap:
Namecheap includes the 'WhoisGuard' bundle for free with its existing plans.
WhoisGuard is the WHOIS privacy package that protects sensitive information like registration details and other kinds of stuff from someone who tries to look up the same.
Namecheap offers one email account for free, with every add on costing $0.25 per month.
Namecheap even allows hosting on its own at the price bracket of $9.88 for the first year.
PositiveSSL would cost $1.99 for the first year.
To avail of the PremiumDNS service, users have to spend $4.88 a year.
PremiumDNS offers added DNS uptime and DDoS protection coupled with DNSSEC.
Unlike GoDaddy, Namecheap doesn't have a troubled history regarding the security of its DNS.
You have to spend $3 for the photo storage and limited hosting package.
Which is easy to use? – GoDaddy or NameCheap
Domain names, hosting, services – these technical terms sound so terrifying for a beginner like me. Before you go all busy with your domain management work, you go through the panel setup of the domain registrars. What differentiates a better registrar from others is how the former presents its features and tweaks to its visitors. A better registrar will make things easy for you, organize all nifty tools at your fingertips so that you don't have any major hiccups. The user interface determines your productivity level before you manage to configure your domains. If the interface is cluttered or full of twists and turns, you start your work being frustrated.
Today we are going to compare Namecheap and GoDaddy based on their user experience.
GoDaddy:
GoDaddy's user panel is a bit casual, I must say. It doesn't keep all its options on one screen, leading us to dive through different sections and end up in separate tabs to get our hands on the domain management option. No wonder, GoDaddy being the most popular out there, kept its website screen full of colors and attractions of offers, which are major upsell tactics, though. With GoDaddy, tools and options are a little bit hard to find with all the offer banners amidst the hustle and bustle. We ended up spending a lot more time than we expected to configure our domains.
If we come to the DNS management interface, we see GoDaddy's interface a bit cluttered. Some upsell subscription banners, here and there, really distract you from your focus, making the whole experience disappointing. Still, if you consider the journey GoDaddy has traveled so far, you would know how polished it turned into with time. Earlier, there were more promotional cards to deteriorate your mood. Presently the interface is more minimal and cleaner, in our opinion.
Also, now you can apply changes to multiple domains with a few clicks by putting all of them into folders. Now that is pretty handy, I must say.
Namecheap:
Namecheap's interface may not be as vibrant as that of GoDaddy. But the navigation is pretty simple here, with an easy-to-use interface even for a beginner.
Namecheap boasts of its search engine that helps you with domain name suggestions. Moreover, the upsell banners, promotional ads, subscription messages are a lot less here vis-à-vis GoDaddy.
The DNS management interface is also free from such offers and clutters. It is easy to navigate. It directs straight to the essential tweaks of your priority, reducing the time to configure the changes.
Customer Support Services – NameCheap vs GoDaddy
Especially beginners should choose domain registrars based on their support features. Support is a priority for all those unforeseen disasters and upheavals. However, users with domain management experience should still consider the support aspect of a domain registrar. We understand that support is not the first thing you should consider. But, web hosting or domain management can get tricky at times. And it is better to ensure a good contingency plan beforehand.
So what do we expect from a good support service? If you ask, I would say my priorities are the purchasing process experience. Suppose you are stuck during the payment. You will direly need the refund if you see the paid amount deducted already, but the purchase is a failure. No doubt you will head to the support team for help in this regard.
Next, I would go for the using aspect. If the user experience, as I mentioned earlier, is confusing, I will need help reaching out to my desired options. This aspect pretty much covers the navigation support experience as well.
We experienced both great offerings and flipsides of these two. Let's find out in detail.
Namecheap:
We must give it to Namecheap for its minimalistic design of the support section. It provides live chat support and supports tickets. We found a pretty solid knowledge base in the FAQ section. The section is well organized. Yes, we missed the phone support in Namecheap. We expected that badly in the 21st-century era. Not just merely a knowledge base, they have video tutorials as well. Video tutorials are always helpful when you get stuck with something.
There is one more thing that comes under the communication aspect of Namecheap. That is the status updates blog publishing all major servers news, maintenance notices etc.
GoDaddy:
GoDaddy has an extensive help center that includes written tutorials, video tutorials, and a dedicated support forum. We should not forget to mention that GoDaddy allows 24*7 chat and telephone support services. But, here is a twist that most of us haven't expected. The 24*7 support is a bit of their upsell tactics as the chat support is only available from Monday to Friday. Telephone support is not available all around the globe at any time. Some countries allow only specific hours, like in the case of Germany. There the teleservice is at your reach for 12 hours a day from Monday to Friday. So, before you get all gullible to trust the statement, make sure to check the global support page to check the hours applicable to your country.
If we put these two domain registrars side by side for their support service comparison, they are pretty much on the same page if considered overall. We have provided the crucial details regarding this section. No matter which one you choose, you won't be in the wrong hands at all.
Pros and Cons Of GoDaddy and NameCheap
We have covered almost all the points you would need to check before making that decision of purchase. Before wrapping up, we will narrow it all down to these pros and cons about the two domain registrars.
Let's now have a good look at the final analysis that may play a crucial role in resolving that persistent dilemma once and for all.
GoDaddy Pros:
No doubt it is the biggest domain registrar out there. You won't find a name in the market that can surpass its popularity.
Once you subscribe to GoDaddy Pro, your chances of availing of a good amount of benefits shoot up.
If we rule out the competition between the two, GoDaddy offers a user-friendly interface.
We found the support associates are well-versed with deep knowledge about the common issues.
WordPress tools offered by GoDaddy is a bonus for those who need them.
We mentioned the price earlier, but you should also note that they often provide huge discounts with some really lucrative deals.
The enormous country code TLD base helps incorporate users from all around the globe.
GoDaddy Cons:
The prices are pretty high if you renew your package.
Even the entry-level domain is worth big bucks let alone the cost of the new and unique TLDs
The upsells here and there, disrupting your navigation, usability and most importantly, during the checkout process, are there by default, deterring the user from fully utilizing the process within a short period.
The domain manager is in a separate window, secluded from the rest of the operations.
When you think of transferring your domain from GoDaddy, the work is tedious.
Namecheap Pros
As the name suggests, Namecheap is the cheapest option out there, saving plenty of bucks from your budget. We already mentioned the pricing, so please refer to the pricing section of this article to find out.
Even the renewal costs are far lower than other domain registrars in the market.
We can't get over the freebies like a free WHOIS privacy integration with the plans for the first year.
SSL certificates are also quite cheap so keep in mind to check them out while you are purchasing any Namecheap plans.
ICANN Accreditation is available with the plans for you to check out.
When it comes to domain transfer, the process is not at all cumbersome.
If you are heading to the help center, expect a good knowledge base from the chat support agents.
Namecheap Cons
Domain extensions are unpredictably high priced in some cases.
We must convey to Namecheap that they need 24*7 telephone support services immediately.
We encountered a shortage of TLD for many country codes, so they need to work on that, as well.
Sometimes during signing up, we faced access restrictions as we moved outside the US. We found out that they conduct IP checks in some cases and may stop you right before you start.
Who Is The Winner – NameCheap Vs GoDaddy
After comparing all the aspects of NameCheap and Godaddy we find NameCheap services far better as compared to Godaddy.
Godaddy is one of the popular firms at a budget cost but most of the users face many issues in its services. Namecheap is quite expensive but a responsive company. The features of NameCheap Web Hosting are impressive to use.