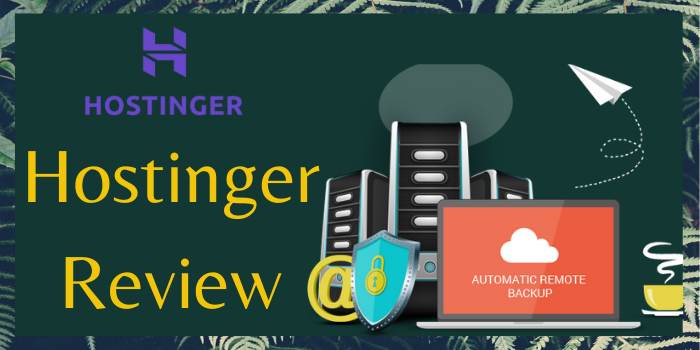 What do you think about Hostinger? Do you want to buy Web Hosting? Well, the answer to all the customers that they might want to know will be covered in this article. Web hosting is the only service that helps a website user to get launch it over the internet. A user who has their business site can make accessible on the world wide web. A Hostinger Review 2023 will help you to know the solution to your question if you want to get hosting. Not only Hostinger but many other web hosting providers that provide hosting services. Here, why to choose Hostinger only if other hosting providers are? Hostinger has become the first choice of beginners. Not only beginners but everyone can get cheap web hosting only from Hostinger.
Let us Go to The Journey of a Hostinger
The journey of the Hostinger company has begun in 2004, in Kaunas, Lithuania. The Hostinger was not the name of this company it has known as the Hosting media. It has reached 1 million users till the year 2010. The data centers of Hostinger are located at seven places that are Brazil, Indonesia, Lithuania, Netherlands, Singapore, UK, and the US.  Hostinger has gained 2X growth in June 2021 The CEO of Hostinger is Balys Krikscuinas & headquarter is in Kaunas Lithuania, Indonesia, brazil.
Is Hostinger Provides Cheap Web Hosting Plans?
Yes, Hostinger is the best & cheap web hosting provider. Its most cheap plan starts at $0.99/month which is shared hosting. If you are a beginner and do not have much knowledge of web hosting, then you can start with it. Not only this, if you want to host that is free with no cost, but Hostinger is also for you. Hostinger provides free website hosting at $0.00/month.
Try the Free Website Hosting, its features are:-
300 MB Disk Space
3 GB Bandwidth
Monthly Backups
FTP Access, phpMyAdmin, Phalcon
9% Uptime Guarantee
WordPress optimized speed and processing power & memory is standard.
2 MySQL Databases
Cronjobs, Composer, Mail forwarding, File Manager, and Access Manager.
1 FTP Accounts
Why Choose Hostinger?
Optimized for WordPress – Hostinger provides the best  WordPress hosting plans that you can manage. You will get a 99.9% uptime guarantee & Hostinger's team will always support you to always online your site.
Enhanced Security – The feature of Hostinger enhanced security keep protect your site from malware & other attacks. Hostinger uses the Immunify360 to monitor your website & protect it.
Speed – performance of any website is matters a lot, your website must fast speed. If the speed is not good so it might bound a user to move away from your website. Hostinger uses the LiteSpeed server for the better performance of your website.
Developer Friendly – A user can use & manage the website very easily. SSH access, phpMyAdmin, SFTP, Git, WP-CLI are included in hosting to control.
Suggested Read… Is Hostinger Good For Blogging?
Hostinger offers different types of web hosting
Shared hosting
VPS hosting
WordPress hosting
Cloud hosting
E-mail hosting
CMS hosting
Minecraft server hosting
E-commerce hosting
Windows VPS
Choose the Hostinger Shared Web Hosting Plan
Single Shared Hosting at $0.99/mo
Github integration
99.9% uptime guarantee
LiteSpeed Cache
1 website
1 E-mail
DNS management
1X allocated resources
100 GB Limited Bandwidth
1 MySQL Database
2 subdomains
Premium Shared Hosting at $2.89/mo
Unlimited Bandwidth
Unlimited E-mail accounts
Unlimited MySQL databases
LiteSpeed Cache
Unlimited number of websites
Github Integration
DNS management
100 subdomains
99.9% uptime guarantee
Free Domain
Business Shared Hosting at $3.99/mo
Unlimited E-mail accounts
Unlimited Bandwidth
Unlimited websites
Daily backups
Free SSL certificate
Github integration
DNS management
Free Domain
4X allocated resources
LiteSpeed Cache
100 subdomains
Pros & Cons of Hostinger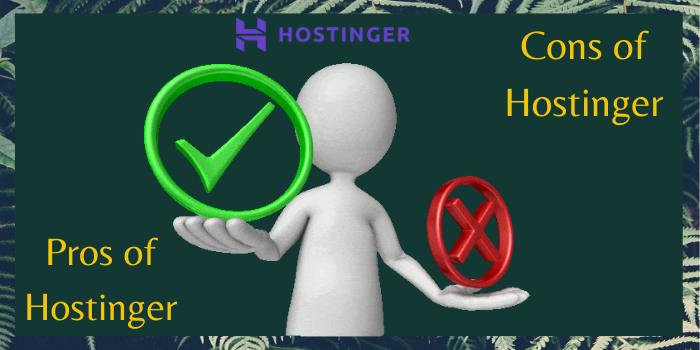 Hostinger Pros
Cheap hosting plan starts at $0.99/mo
Free SSL certificate
Fast website
99.9% uptime guarantee
Free domain
30-day money-back guarantee
1 click WordPress installer
Hostinger Cons
No daily backups in single & premium shared hosting
Free domain only in premium hosting plans
Pay to get an extra domain name
Complete Hostinger Pros And Cons Review
Hostinger VPS Hosting  & it plans
Choose the VPS hosting if you want to grow your business. Because it is a private hosting, but in one server multiple sites run. It is a better option rather than shared hosting as you will get fixed resources that only you can use. Hostinger has included plans as 1vCPU, 2vCPU, and more. Save up to 77% off on Hostinger 8vCPU VPS plan & use Hostinger Coupon Code to get a discount.
| | | |
| --- | --- | --- |
| 1vCPU ($3.95/mo) | 3vCPU ($12.95/mo) | 8vCPU ($29.95/mo) |
| 1 GB RAM | 3 GB RAM | 8 GB RAM |
| 1 TB Bandwidth | 3 TB Bandwidth | 8 TB Bandwidth |
| Dedicated IP | Dedicated IP | Dedicated IP |
| 20 GB SSD space | 60 GB SSD space | 160 GB SSD space |
| 1 Core | 3 Cores | 8 Cores |
| 24/7/365 Support | 24/7/365 Support | 24/7/365 Support |
The Hostinger Cloud Hosting & it plans
A user needs to select the cloud web hosting plan because for large businesses only shared hosting is not enough. If you have a large growing website so you will require dedicated resources & fully managed.
Cloud Startup ($7.45/mo)
100 GB SSD storage
3 GB RAM
Free SSL domain
1X speed boost
Unlimited websites
2 CPU Cores
Unlimited Bandwidth
Cloud Professional ($14.95/mo)
140 GB SSD Storage
4 CPU Cores
6 GB RAM
2X speed boost
Unlimited Bandwidth
Free SSL & domain
Unlimited websites
Cloud Global ($37.00/mo)
8 CPU Cores
Free SSL & domain
16 GB RAM
Unlimited Bandwidth
200 GB SSD Storage
Unlimited websites
4X speed boost
WordPress  Web Hosting
Hostinger provides the most secure & fast WordPress hosting with a 99.9% uptime guarantee. It includes many features so that you can customize your site easily. You will get a collection of themes & plugins. Hostinger has included three different plans for WordPress hosting.
| | | |
| --- | --- | --- |
| WordPress Starter $2.15/mo | WordPress Premium $7.45/mo | WordPress Business $14.95/mo |
| 20 GB Disk Space | 100 GB Disk Space | 140 GB Disk Space |
| 100 websites | 300 websites | 300 websites |
| Unlimited Bandwidth | Unlimited Bandwidth | Unlimited Bandwidth |
| 99.9% uptime guarantee | 99.9% uptime guarantee | 99.9% uptime guarantee |
| 100 e-mail accounts | 100 e-mail accounts | 100 e-mail accounts |
| Jetpack free | Jetpack personal | Jetpack premium |
| Weekly backups | Daily backups | Daily backups |
Hostinger  Domain name & why do you need a domain name?
Hostinger provides the cheap domain name and the most top-level domain names. When you buy a hosting plan so you will get a free domain name included in your plan. But if you want to buy an only domain name so this also you can do. The domain name is the address of your website that helps a user to find by type in the search bar. The domain is most important because without this user could not reach to your site. Hostinger also provides a free domain name to it, customer, & if you have already so you can transfer your domain name.
.com $8.99/year
.xyz $0.99/year
.net $12.99/year
.online $0.99/year
.live $3.50/year
.world $3.50/year
How to transfer a Domain name?
If you want to transfer your domain name so enter it domain transfer box  & click on transfer.
On the next step proceed with your payment, you will ask to enter the EPP code. If you do not have to ask for your service provider. It shows the status that is active or inactive, registered at what ate & expire at what date. On the lasts, just confirm your domain name transfer.
Secure website- SSL certificate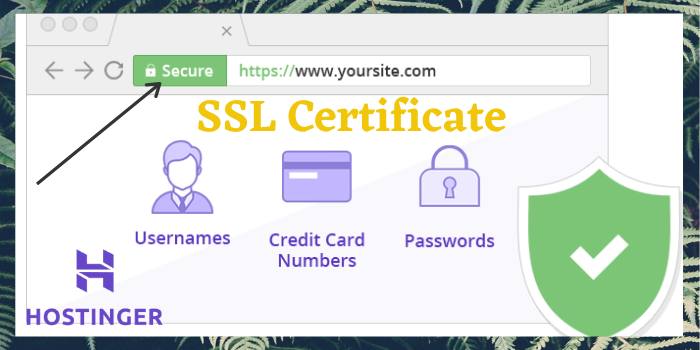 An SSL certificate is the certificate of your website security. If you have an SSL it means all the information between web server & client is secured. A user will feel safe on your site because he/she knows their browsing information is safe.
Get an SSL certificate for a lifetime at $11.95
Encryption up to 256 bit
Supported 1 domain
Standard LE SSL
Compatible with 99.9% browser
Supported in mobile browser
Best for SEO
Best to build visitor trust
30-day money-back guarantee
Benefits of getting a hosting plan from Hostinger
Hostinger is one of the cheapest web hosting provider. If you are a beginner so you can start your site without investing much. The cheapest plan starts at $0.99/month & even you can try for free Hostinger plan. But if you have a growing business so shared hosting is not enough to buy the VPS hosting or other. You can use our Hostinger Discount Code 2023 for some great offers. You will know in this Hostinger review more about hosting plans, domain name, an SSL certificate. A user can claim for free domain name also.