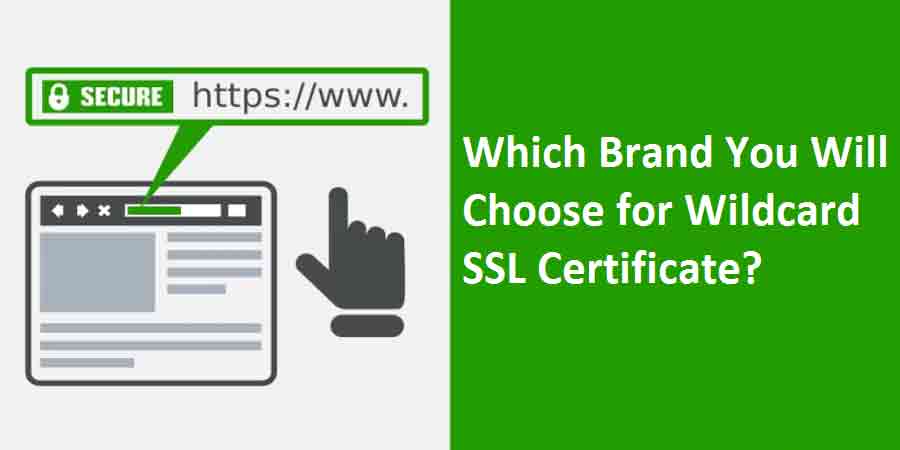 SSL (Secure Socket Layer) certificates provide security to your website by encrypting information. Which passes from browser to server. Hackers can't view or penetrate through encrypted information, and hence Wildcard SSL Certificate is in high demand for securing the website information.
To secure a position in this competitive world, many shops provide these certs at more than 70% discount.
They reduce their profits by giving fabulous discounts on SSL certs thus benefitting customers and companies. They also offer SSL certificates from trusted SSL brands like Comodo, GlobalSign, GeoTrust, Thawte, etc. These brands have all types of SSL certs like Wildcard SSL, EV SSL, Code Signing Certificate, Multi-domain SSL, Business & Domain validation SSL, SAN SSL, etc.
Different SSL certs have different functions and features; so, you need to analyze your site requirements and select the SSL cert accordingly.
In this article, we will focus on the cheapest Wildcard SSL certificate providers and their prices; which will help you in the selection process of your site.
About Wildcard SSL certificate:
Wildcard SSL certificates are great cost-savers because they not only secure the base domain but also all the sub-domains. The above picture gives clarity about how Wildcard SSL works.
Hence you don't need to purchase multiple single-domain SSL certs. Majority of the Wildcard SSL certs support unlimited server licensing and free unlimited reissues thus being budget-friendly for your website. They also provide 256-bit encryption and 99% browser compatibility.
Providers of Wildcard SSL Certificates:
We have sort listed few wildcard providers like
CheapSSLShop
Sectigo
NameCheap
GlobalSign
RapidSSL
Thawte and
GoDaddy
CheapSSLShop:
CheapSSLShop provides cheap but authenticates wildcard SSL certificate including different branding like Comodo Positive SSL Wildcard, Essential SSL Wildcard, RapidSSL Wildcard, Thawte SSL Web Server Wildcard, etc.
The price range starts from $59.50/yr. to $567.50/yr. that is designed in order to suit every type and size of business platforms.
If you are a budget concern or wish to go with branded authority, then both requirements can be fulfilled at CheapSSLShop platform.
The certificate category can be divided into domain and organization validation.
The issuance time of the certificate depends upon this validation types.
Sectigo:
Sectigo formerly Comodo offers two types of wildcard SSL certificate including DV wildcard and OV Wildcard certificate.

This wildcard secures main domain as well subdomains with 256-bit encryption and 2048-RSA key that is the latest algorithms.
The warranty amount can start from $50,000 to $1,000,000 amount.
All major browsers, servers and OS support Sectigo wildcard SSL.
Sectigo Wildcard trust seal will also come with wildcard certificates.
The issuance time may vary depending upon validation types.
Sectigo wildcard price starts from $249/yr. that could be extended to $499/yr.
NameCheap:
NameCheap Wildcard offers mainly three wildcard certificates including positive SSL wildcard, Essential SSL wildcard, and Premium SSL Wildcard.
This Namecheap's Wildcard offers security all domains and all sub-domains as well the warranty starts from $10,000 to $250,000 warranty amount.
This wildcard certificate comes in two variants like domain and organization validation.
The best advantage is 2048-bit encryption which is strong security for business.
Free Trust logo site seal is available which is placed on SSL certificate for double protection.
The wildcard comes with 30-days money back guarantee.
The best price for this wildcard starts from $71.95/yr. and reaches to $169/yr.
GlobalSign:
GlobalSign Wildcard SSL is categorized into two variants like domain validation and organization validation.
This wildcard is equipped with SHA-2 enabled, and it improves SEO visibility.
It has 2048-Bit CSR encryption and 256-Bit SSL Encryption with 99% mobile and browser compatibility, and it provides unlimited reissuances.
The warranty amount varies from $10K to $1.25M amount; which is higher in terms of assurance, however the price is bit high and starts from $1189/yr. which is much costlier than other providers.
GlobalSign Wildcard SSL is another SSL cert by GlobalSign, which has a Clickable Secure Site Seal and allows free phishing detection.
RapidSSL:
RapidSSL Wildcard certificate is a subsidiary of Symantec, whose global infrastructure is unmatched and internationally trusted.
This Wildcard certificate is Domain Validated and very quick in issuance. It is very budget-friendly as compared to others.
It comes with encryption strength up to 256-bit and a 2048-bit signature key thus protecting confidential data in transmission between the server and the browser.
This certificate is backed by a warranty of $10,000- and 30-days money-back guarantee.
Free RapidSSL site seal and expert help during installation and post-installation are its added advantages.
The price starts at $249 per year and can be renewed with up to 2 yrs.
Thawte:
Thawte Wildcard SSL comes with two products SSL Web Server Wildcard and SSL 123 Wildcard certificate.
The Wildcard SSL refers to bit high cost, which protects a Fully Qualified Domain Name (FQDN) and its unlimited sub-domains.
For Domain wildcard validation, you do not need to submit your business documents to receive authentication. The completion process takes few minutes. On contrary, organization level wildcard takes 2-3 days in certificate issuance.
SSL 123 wildcard comes with a warranty of $500,000 while SSL Web Server wildcard comes with $1,250,000 warranty. Which is given in case of any mis-issuance of a certificate.
It is also secured by Thawte Trust Seal and has free re-issues and comes with a 30-day money back guarantee.
The price range of this wildcard begins with $688/yr. and $745/yr.
GoDaddy:
GoDaddy has a market share of 11% in the global SSL industry and carries Domain validation and organization validation wildcard category.
This Domain Validated Wildcard Godaddy SSL certificate comes at a price of approximately $369.99 per year while organization validation wildcard comes at $429.99/yr.
The certificate is ideal for blogs and social media sites. DV wildcard offers the fast validation and the certificate can be issued within a few minutes. OV wildcard offers business validation and can be issued within 2-3 days.
The warranty amount starts at $2,50,000, which is allocated in case of mis-issuance of a certificate.
It also offers a 30-day refund policy.
GoDaddy Wildcard comes with a static site seal.
The wildcard is ideal for small and medium level domains.
All browsers, operating systems are compatible with GoDaddy wildcard certificate.
Summary:
From the above-given comparison, almost wildcard SSL certificates are giving their best in term of features. However, from the price point of view, we can easily gauge that CheapSSLShop as a reputed reseller of different SSL brands offers their wildcard certificates at lowest price compared to direct certificate authorities with same technical features.
As their motto suggests, they offer wildcard starting from $59.50/yr. designed to consider small business requirement which always searches for the cost factor. So, it is quite important to consider all factors including price before selecting a wildcard SSL certificate for your website.