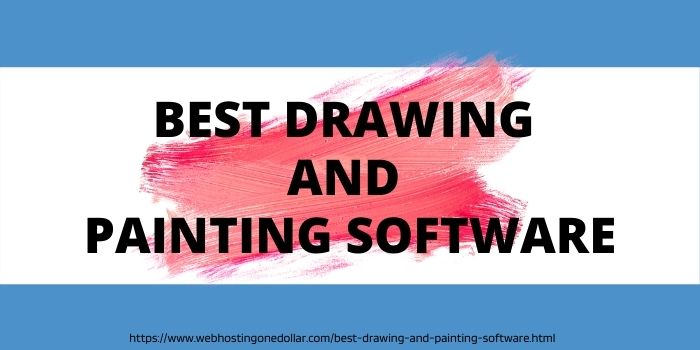 Digital drawing and painting are getting popular and when it comes to finding the best drawing and painting software people are confused. The most confusing part is to decide which is the best software for drawing and painting and what will be the perfect choice for you.
The market is full of the brilliant digital art software with exciting features that allow you to create a masterpiece. To give you the confidence to choose the digital art software for painting and drawing, we have hunted down one software for you.
Which Is The Best Drawing And Painting Software?
The software we are going to discuss is Clip Studio Paint. Clip Studio Paint is a digital art software developed by the Japanese graphic software company Celsys. This software has formally known in Japan as Kurisuta.
Clip Studio Paint has become one of the most popular software in a very short period. It is the perfect drawing software for beginners and those who are going to take their first step into digital art at an affordable price tag. Dozens of offers and deal on Clip Studio Paint coupon is also available, tutorial videos are available on the official website to educate beginners.
---
Platform
Windows & macOS
---
Do Professionals Use Clip Studio Paint?
The Ex version is widely used by the professional such as comic artists, illustrator artists, and director and producers.
Clip Studio versions
Clip Studio Paint has 2 versions available for different tasks. Let's find out the major differences between both versions.
Clip Studio Paint Pro
Clip Studio Paint Pro has is the basic version of Clip Studio because of its basic features and affordable price. This software is developed to create character, concept & illustration art. Although it has fewer options and features available than the other version it is an ideal digital art software for beginners at a budget price. You will be provided with access to numerous exciting painting tools and coloring options. It also provides you a free library with more than 10K assets.
This software may be a bit hard to understand at the initial stage for beginners. But after a short while, they will easily get familiar with the software.
Features
Drawing stabilization: A easy to use interface has all the brushes for you to use. It allows you to modify the brushes as per your preference but importantly it has stroke stabilization available to smoothen the lines you draw with shaky hands.
Color selection & adjustment: A color selection & adjustment tool to add some unexpected twist to your drawing. This feature allows you to mix hues to make your own color set.
The various pressure sensitivity of Pens & brushes: This software includes pens and brushes with different pressure sensitivity. Color blending depends on the pen/brush pressure but this software allows you to make your own brush with various pressure sensitivity. So blending will be a less discouraging task.
Lay vector stroke: Another incredible feature calls Lay vector stroke allows you to make points and create a stroke in between.
Additionally, if you are a serious artist you can optimize this software to enable you to use a digital pen or mouse. You will love the result when you use them on a computer or tablet. The accuracy of this software is immense that you will enjoy while working on any project that is why Clip studio paint consider as best drawing and painting software
Clip Studio Paint Pro allows you to import and work on images in different formats such as PNG, TIFF, JPEG, etc.
---
Clip Studio Paint EX
Clip Studio Paint EX is the Advance version for serious and advanced creators. It has more features than Clip Studio Paint Pro. This software allows you to create your own comics, animations, illustrations, and backgrounds. This software claims to have the best drawing features available that make this a handy software for art lovers.
Features
Adjustable and customizable brushes: If you want to make a soft line then you have to press softly but for bold and thick lines, you will have to press the brush hard. It has more brushes available than major drawing software. You can even create your own brush or buy from other developers.
Page Templates: To enable you to stretch your art, Clip Studio Paint EX gives you a page template feature and some panel layouts. Experienced creators can even create their own layouts. Clip Studio Paint EX makes possible to work on a single layer or numerous part of the image without affecting the other areas.
Work on multiple pages: Multitasking is something that saves valuable time and this software helps you in this. It allows you to work on multiple pages at once. You can change the page order without any headache. With a simple drag and drop function, you can switch the pages between a single or two-page spread.
3D Models: It has a great feature called 3D models. It allows you to transform the model into a complex position and you even can draw over them. You can even animate the model and images to give them a real-life effect.
---
Pros & Cons of Clip Studio Paint Pro and Clip Studio Paint Ex
Version
Pros
Cons
Clip Studio Paint Pro

Cheaper than the EX version
Free library with more than 10K assets
Beginners-friendly

Lower quality than the EX version
No publishing tools

Clip Studio Paint EX

Amazing tools and functionalities
Create 3D projects
More features than Pro version
Compatible with most of the devices

More Expensive than Pro version
Being one of the best drawing and painting software, Clip Studio Paint has offer bundles of new advanced features and tools to their customer which will amaze them with the final results. You can also use our clip studio paint coupon code to get exclusive offers and discounts on making purchases.
---
Is clip studio paint worth it?
Clip studio paint is a go-to tool for concept art, illustration, animation, manga & comics. Clip Studio Paint tools are available for users to create their artwork and showcase it in front of their audience. Its pro version is a perfect software for beginners on a budget since it doesn't cost much but still offers various handy tools to create a professional-looking character, concept, and illustration art. Whereas, EX version has all the advanced features to create comics and animation. Also allows you to publish your art on major platforms. The company comes with various Clip studio paint next sale and vouchers to their user that helps in getting amazing saving while making a purchase.
---
Does clip studio paint cost money?
Both the versions of this Digital art software costs money. But both version of clip studio free trial is available for up to 6 months on different devices. Here we are providing you both versions of Clip Studio Paint cost.
| | | |
| --- | --- | --- |
| One-Time Purchase | Clip Studio Paint Pro | Clip Studio Paint EX |
| Price | $49.99 | $219.00 |
Conclusion
Both versions of Clip Studio Paint are one of the best drawing and painting software. Both versions come with some unique and useful tools to sharpen your art skills. We would recommend Clip Studio Paint pro for beginners as it has all the basic tools available at a budget price.
On the other side, Experience professionals can choose Clip Studio Paint EX because it comes with all the advanced features to make attractive art.
Also Read: Best Vlog Editing Software