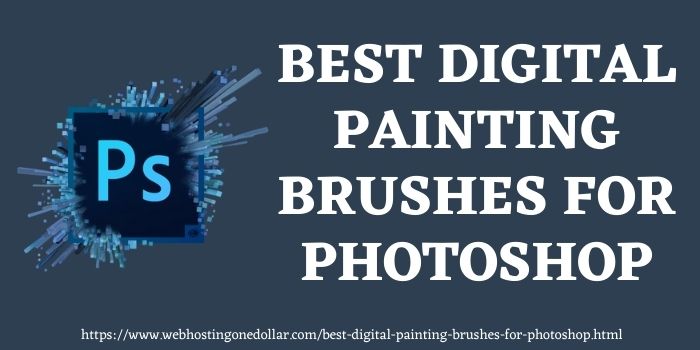 In this digital world that we live in today, leaving anything out of the scope of digital technology is very difficult. Paintings nowadays have taken a digital form, and have gained wide success in it and many people also pursue them as a career option. Digital art is mainly used in the fields of cinema, journalism, décor, and all other kinds of entertainment media. Adobe Photoshop is the most famous tool used to create digital paintings. And it is mainly famous for the kinds of brushes that it comes with.
Here, we will discuss what best digital painting brushes Photoshop CC do a user gets by subscribing to this software. We will also suggest whom this software is best suited for. But before discussing the best digital painting brushes in Photoshop, let's have a detailed overlook of Adobe Photoshop.
Introduction To Adobe Photoshop CC
Photoshop is one of the most popular digital painting software. Its easy usage and wide range of features make it a perfect option for painters. It provides the painters with a wide range of brushes, some of which are free while the others are paid ones. Besides, it comes with some easy-to-use tools along with multiple color pallets. All these things make it one of the best choices for both novices and experts. This software is used by a large number of users and many professionals also recommend using it.
12 Major Digital Painting Brushes For Photoshop CC
If we see through the eyes of an artist, we can imagine the kind of dedication and hard work he puts into every single piece of work. Every stroke, every color is enhanced, and its beauty is defined by the kind of brushes he uses for this purpose. There are various digital tablets available that might be helpful for your painting or artwork. Top most Wacom alternatives are also available if your want to know which one is best then make short research over this. To let an artist enhance its capabilities, Photoshop offers various kinds of best digital painting brushes Photoshop, that are: 
Real Pencil Brushes
These are used for the most common and basic type of art- sketching and shading. These are free to use but are available as a small pack. Also, these are quite helpful for beginners and make them feel closely connected to traditional art.
Charcoal Brushes
It is a pack of 7 brushes, specifically built for traditional artists who have a stronghold and great interest in charcoal paintings. These brushes are totally different from graphite brushes and leave different markings. 
Sylar113 Pack
Created by Sylar113, this pack of 70 brushes gives a lot of variety for the painters to choose from. It is relevant for all kinds of uses and sets with various styles.
Concept Art Brush Pack
This pack was released by SoldatNordsken on his website as a free product earlier. It contains brushes for atmospheric effects like snow, wind, foliage, etc., and has a large variety of professional quality brushes. These are mainly used for creating pieces of concept art. 
Photoshop essentials
This is one of the best digital painting brushes Photoshop CC. This free pack contains 22 brush presets, made exclusively for modern Photoshop artists. It is specifically designed for Photoshop CC and has a huge collection of brushes that are meant to create textures similar to those created using pencils, oil pastels, watercolors, etc.
The Big 50 Pack
This set of 50 brushes is made in compatibility with Photoshop CC. Being one of the most technical brush packs, it gives users various textures of clouds, sun rays, water streams, etc. There are also some brushes that are used for smudging and blending. 
Sci-Fi Brushes
With more than 540 brushes in it, the Sci-Fi pack of brushes helps create a painting of any level of complex machinery in seconds. Any kind of vehicle, weapon, or other machinery can be drawn, with buttons, switches, screws, etc. in their exact place. These can prove to the best digital painting brushes Photoshop for artists who are interested in portraying mechanical items.
Hand Drawn Watercolours
This set of more than 180 brushes provides users with high-quality watercolor brushes. This pack is created by Favete Art and gives watercolor textures on screen. These brushes are very easy to start working with and provides multiple texture options to a user.
Natural Oil Brushes
The pack of Oil Brushes by Roman Melentyev that was launched in 2018, is one of the most prevalent brush sets, keeping in mind the current trends and requirements of the painters. It provides many oil brush styles that include soft brushes, dry brushes, bristles, etc. 
Four Features Sets
If you want to have a large variety of brushes in a single pack, this is the best choice. This pack also provides some extra brushes and video guides illustrating their usage and there are 4 different packs with over 40 brushes in one set.
SephirothArt Brushset
This set of brushes is considered to be most likable by almost all the artists using Adobe Photoshop. It contains a variety of brushes that can keep you contented, and help you draw almost any kind of painting or drawing. It has a large number of brushes that can be used for sketching, texturing, shading, highlighting, etc. 
Game Art Brushes
The industry of game art is very huge and rewarding. Making digital paintings for games has become quite prevalent now, and for that, the game art brush preset of Adobe Photoshop is quite a handy tool, that can help you to design characters and costumes. It can also be used to create concept art or illustrations and comes with a set of 37 brushes and blending tools.
So, these are the major digital painting brushes for Photoshop CC. All of these are very to use and can help you in delivering stunning outputs. Besides these, being an artist you can also check for the Clip Studio Paint brushes for knowing about the digital painting brushes.
How To Do Digital Painting Brushes Photoshop Download?
It is very easy to add the best digital painting brushes to Photoshop. For this just visit the Brush Pallet and click on the "More" option available at the top right corner. Now it will display some further options. Simply click on "Add More Brushes" out of them and you will be redirected to the Photoshop brush library. Now you can download or add any of the desired brushes and can start working with them. Besides this, you can also do digital painting brushes for photoshop-free download from any external side. Once the best digital painting brushes photoshop are downloaded, you can simply import them to photoshop. Though before adding external brushes, it is suggested to check the pros and cons of Adobe Photoshop for knowing more about it.
Wrapping The Things Up
If you are an artist, you would love to dive into the world of Photoshop CC. For digital painters, the brushes provided by Photoshop are no less than treasure. These brushes can help them create complex artistic materials with a few strokes. Also, these brushes are very helpful to professionals, who have their careers based in digital art. With a wide variety of brush sets provided by Photoshop, one cannot compile them all in one place. But having the above-mentioned brush sets can make your Photoshop wholesome, and provide you with almost all kinds of brushes you need for that one perfect piece!
Related Articles: Best Drawing And Painting Software