The World Wide Web, which is a huge arena of information and content, has become a great platform today. It is a part of the globalization process, which aims at connecting people all over the world, irrespective of the distance that they have between them. With the Web, people can share the content on their computers with each other. All the HTML files, codes, images, videos, etc. can be shared over the internet. This is done through Web Hosting.
The websites that hold information for the users have their data stored on the servers that are responsible for the 24×7 availability of the data, protect the data from cyber attacks, and transferring the data such as texts, pictures, files, etc. to the user's end from the servers. To understand it simply you are basically paying for space your data is acquiring.
Why do we need web Hosting?
As we have learned above, Web hosting is very important if we want to share the files on our computer with the world. This means that in order to convert offline material into online material, one needs a web host. Many companies and businesses in the modern-day want to generate business online so that they can reach a large amount of population. Online shopping, online ticket booking, online media streaming, etc. have made it easier for people to have access to content while sitting at their own homes. Similarly, all types of businesses that are not yet online, wish to come over the internet sooner. For this, they require a host that can allow their content to be visible and accessible to all the people through World Wide Web. Various Web Hosting companies like Bluehost, GoDaddy, GreenGeeks, HostGator, etc. have stepped into the market for the sole purpose of providing a platform to the offline business in order to widen the scope of their businesses. Through a web hosting server, their content is visible on the internet all the time and people can have access to it anywhere, anytime. Thus, web hosting is a very important part of the Internet that we are using today, because no Web Hosting server implies no content on the internet, making it a useless tool!
What is Web Hosting
Web Hosting service helps an administration or individuals to put their website or web page on World Wide Web. A web hosting service provider comes with a setup to manage the webpage or website. The particular site is stored in a particular computer or you can say the server where the data placed on a site. Nowadays many people keep in mind "What is Web Hosting".
Types of Web Hosting Services
 Just imagine you are new to know about that how to build a website and started to know about web hosting. Then you get to know that there are types of web hosting. You would like "what the hell is going on" what the types of Hostings. Don't worry, here you will get to know the types of web hosting and what is the importance of it.
In literal terms, hosting means having over some guests. Similarly, Web Hosting is the process where a host provides space to a website on the webserver for storing its files. These files then can be viewed online. This way, Web hosting is very important to display and have access to content over the internet. In web hosting, the host platform allows websites to have their files like images, codes, and other content created on the computer using tools like Flash or VB Script or HTML, etc. The quantity of space allocated to the website by the host depends upon the type of hosting. There are different types of hosting, which are based upon the kind of technology used for the server. Now we look upon the different types of Web hosting -:
The types of Web Hosting Service
Shared Web Hosting
Reseller Web Hosting
WordPress Web Hosting
Cloud Hosting
Dedicated Web Hosting
Collocated Web Hosting
VPS Web Hosting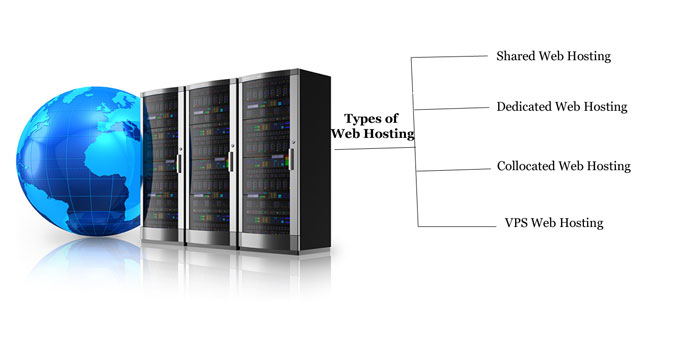 1. Shared Web Hosting –
In a shared web hosting service your website will be placed on the same server where other owners' websites are stored. On shared hosting, you will get to use the same physical location which is also used by others. The shared hosting service is likely picked by many individual persons. The reason for the use of this type of hosting is it's affordable for everyone. This type of hosting occurs when many different websites are hosted on the same server. It is a budget-friendly service as sharing a server with other websites costs less than having a server completely belonging to one website. This type of hosting is suitable for small or medium businesses, which do not expect a lot of traffic coming their way. However, large websites with a considerable amount of traffic find it not so beneficial.
2. Reseller Web Hosting –
In this type of hosting, the owner of the account can use the space allotted to him to host third-party websites. This way, the account owner is a reseller. It happens in instances when a person has hosting space more than what is required for itself, and so it rents out the remaining of the space. When a person shares the disk space, bandwidth, CPU, etc. provided to it by the host to another party, he may generate income through it. Hosts provide many plans for reselling of hosting places to businessmen who are interested in this source of income.
Also read, Why Web Hosting Speed is a very important factor for your website success 
3. WordPress Web Hosting –
WordPress Hosting is specially optimized for WordPress users. Compared to the dedicated web Hosting this one has less control over the server but is adequate enough for the people interested in WordPress websites. It involves low cost and is more user friendly and the major advantage enjoyed by the user is the pre-installed themes and plugins.
4. Cloud Web Hosting –
The latest and most well-known type of hosting present in the market currently is Cloud Hosting. It is used by a large number of people on the internet to share data with each other. Currently, it is provided by various big companies like Google, Apple, etc. It provides an unlimited amount of space and can contain within itself all kinds of content like large videos or HD images etc., but it can turn out to be quite costly sometimes.
5. Dedicated Web Hosting
Dedicated hosting is a hosting option where the host provides all its servers to a single business customer. This way, the concerned business entity has complete control over the server, and so, it can customize the server according to its needs of performance and privacy. The things that are provided by the host server include the physical server and its environment, the services related to it, and technical support. Dedicated hosting is a hosting option where the host provides all its servers to a single business customer. This way, the concerned business entity has complete control over the server, and so, it can customize the server according to its needs of performance and privacy. The things that are provided by the host server include the physical server and its environment, the services related to it, and technical support.
Dedicated hosting is likely employed by those individuals who need to back a business website. The Dedicated Web Hosting provides you great backup and fast performance for your site. If you buy the Dedicated server for your site, then other site owners can't be placed their website on that Dedicated Server. It may affect you costly, but the performance of your website will boost profoundly.
6. Collocated Web Hosting
In collocated Web Hosting you can buy your server, and you can host your website with additional features. The best part of this web hosting service, you will get the full authentication of your site. It is rarely picked by website owners, but it also helps them to get access to different applications which easily get installed in Collocated Web Hosting.
7. VPS Web Hosting
Virtual Private Server usually stands as an upgraded version of shared web hosting. VPS hosting is known for its well-balanced and highly maintained service for a website. The service is differently shared which makes it less burdensome. But, the limit will be set for your website if you go above your limitation then your website will surely go down. You have to don't worry that the service can pull down the burden as quickly as possible to make you up.
VPS (Virtual private servers) or also known as VDS (Virtual dedicated server) is a kind of hosting server that serves numerous websites at a time, though it appears to be dedicated to only one website. It is a hosting type that lies between Dedicated and Shared hosting. It is beneficial for small or medium websites that want to acquire a dedicated hosting server, but have the affordability of a shared hosting server. Here, each website has full access to VPS, while VPS is serving many different websites simultaneously.
All these web hostings are used by many website owners as per their needs. You can also choose one of them or start your online business or create an individual profile. You will find low-cost One Dollar Web Hosting and many other affordable hosting solutions.