All about Web Hosting
Web Hosting service helps an administration or individuals to put their website or web page on World Wide Web. A web hosting service provider comes with a setup to manage the webpage or website. The particular site stored in a particular computer or you can say the server where the data placed on a site. Nowadays many people keep in mind "What is Web Hosting".
Types of Web Hosting Services
Just imagine you are new to know about that how to build a website and started to know about web hosting. Then you get to know that there are types of web hosting. You would like "what the hell is going on" what the types of Hostings. Don't worry, here you will get to know the types of web hosting and what is importance of its.
The types of Web Hosting Service
Shared Web Hosting
Dedicated Web Hosting
Collocated Web Hosting
VPS Web Hosting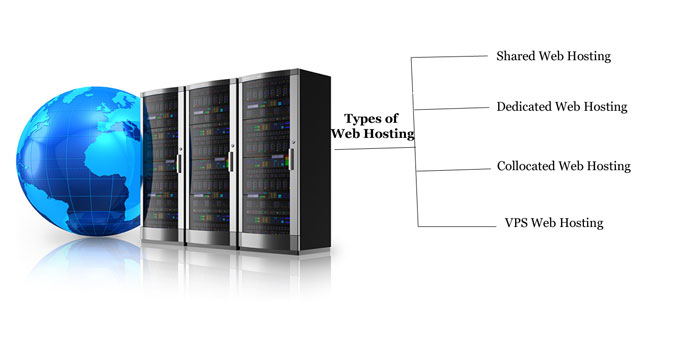 Shared Web Hosting
In a shared web hosting service your website will be placed on the same server where other owners' websites stored. On shared hosting, you will get to use the same physical location which also used by others. The shared hosting service likely picked by many individual persons. The reason for the use of this type of hosting is it's affordable for everyone.
Also read, Why Web Hosting Speed is a very important factor for your website success 
Dedicated Web Hosting
Dedicated hosting likely employed by those individuals who need to back a business website. The Dedicated Web Hosting provides you great backup and fast performance for your site. If you buy the Dedicated server for your site, then other site owners can't be placed their website on that Dedicated Server. It may affect you costly, but the performance of your website will boost profoundly.
Collocated Web Hosting
In collocated Web Hosting you can buy your server, and you can host your website with additional features. The best part of this web hosting service, you will get the full authentication of your site. It rarely picked by website owners, but it also helps them to get access to different applications which easily get installed in Collocated Web Hosting.
VPS Web Hosting
Virtual Private Server usually stands as an upgraded version of shared web hosting. VPS hosting is known for its well-balanced and highly maintained service for a website. The service differently shared which makes it less burdensome. But, the limit will be set for your website if you go above your limitation then your website will surely go down. You have to don't worry that the service can pull down the burden as quickly as possible to make you up.
All these web hostings used by many website owners as per their needs. You can also choose one of them or start your online business or create an individual profile. You will find low-cost One Dollar Web Hosting and many other affordable hosting solutions.