ProtonVPN application works best in your android. ProtonVPN is one of the best VPN service providers to provide online privacy. In this article, you will get to know how to use ProtonVPN on Android. ProtonVPN was founded in the year 2014 by a scientist team & developer is Proton Technology AG. You need a VPN to get safe browsing when you active online on the internet. A web user do lots of activities on the internet. Such make payment through bank, password, banking details, passport, identity card, and other sensitive information. ProtonVPN keeps safe and secures your all kind of sensitive information.
ProtonVPN Platforms
Proton provides ProtonVPN for all of your operating systems. The ProtonVPN Platforms are:
ProtonVPN for Android
ProtonVPN for Linux
ProtonVPN for Routers
ProtonVPN for macOS
ProtonVPN for iOS
Throughout this article, we will discuss ProtonVPN for Android & how to use ProtonVPN on Android.
To get used ProtonVPN on Android, first, you need to download the ProtonVPN. You can download ProtonVPN for Android from the Google play store. One another way to download & use ProtonVPN on Android is download using third-party OpenVPN client. Or using the StrongSwan app to connect via IKEv2 protocol. We will discuss both ways to use ProtonVPN on androids.
ProtonVPN Android VPN App
This is one way to get download ProtonVPN for your Android from the Google Play Store. If you want to get privacy when you online and do lots of activities that are sensitive. So getting ProtonVPN application for your Android is best and most reliable.
Go to your Google Play Store and search ProtonVPN.
When you find this application click on "Install".
Open this application, when it get install.
Create your ProtonVPN account & add your account credentials.
When you log-in, you will see countries, a map view, and profiles.
You can connect to servers if you have a plus or visionary plan, then you can connect with many servers.
To connect with the server click on "Quick Connect".
Another way to connect by using countries list.
The third way to connect by using the map view, it automatically connects to the fast server in your country.
Enables the secure core feature, this feature comes in plus and visionary plan.
You can edit and manage your ProtonVPN profile.
Click on the ProtonVPN logo to access your connection ProtonVPN profile.
After connecting to the countries server click on "ok".
If you want to disconnect to the server, open your connection profile, and click on "Disconnect".
Now, your online privacy is on in your Android and it has been protecting your private information.
Use ProtonVPN on Android using StrongSwan App
First, download the IKEv2 certificate from the ProtonVPN.com.
Go to Google play store & find StrongSwan VPN Client, then install it.
After, it has been installing, open this, and click on the "three dots".
When you will click on the three-dot menu, CA certificates will show to you.
Again click on the three dots, and select import certificate.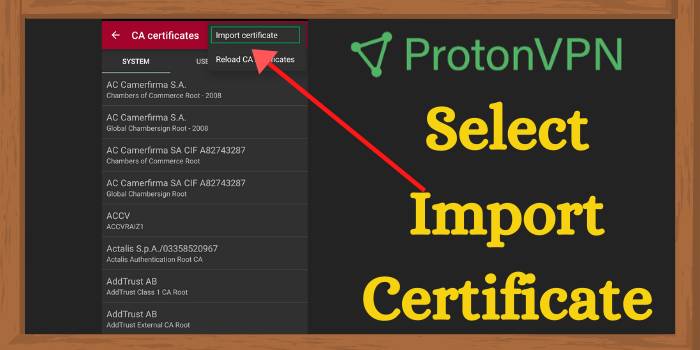 Select your downloaded file of IKEv2 & confirm the certificate.
Back to your VPN profile and add it.
In the servers, choose the server in which the country you want to connect the server.
Create your VPN profile by adding OpenVPN/IKEv2 credentials.
Save your profile setting, after it has been made.
After connecting to the server, a status screen will appear that your Android is connected to the ProtonVPN server.
This is how to use ProtonVPN on Android, by downloading from the Google play store or by StrongSwam VPN client. You have known that advanced features such as secure core will work only in plus and visionary ProtonVPN plans. Install the ProtonVPN and get complete online privacy so that hackers can not track it. To get advanced features such as strong encryption, strong protocols, secure core, no logs policy. Buy the ProtonVPN Plus or ProtonVPN Visionary plan & use ProtonVPN Coupons to get 34% off on a 2-year plan. If you want to use ProtonVPN on Windows, and another device, see the related article to this…..