Are you among them who are confused about which one is best for your industry, Bing Ads Vs Google Ads?
What is the difference between them? Do you need to change your current one or should you stay on that? Which is more costly? Which one has better reach? What are their approaches and the benefits of choosing them over another?
There are various questions you will come across while choosing between these two giant platforms for advertisements .
Many users might get confused about what to do with Bing Ads vs Google Ads when choosing pay-per-click criteria. The platform which provides the best reach at what cost?
Take help through this article and get yourself well understood by all the facts and then decide which suits your best!
Overview of Bing Ads vs Google Ads
Both Bings Ads and Google Ads are designed so that they can easily work on the same target to maximize the reach and help the users to get more profit in their business. They both almost follow the same type of method but have differences in cost reach and guidance.
Google has stricter guidance and PPC ( pay per click) than Bing. They both have their unique method to display the ads. Some might find Google flexible, others might find Bing affordable. If you want to get more discounts then use Microsoft advertising promo code.
But wait, did you know most of their differences? Microsoft Ads and Google Ads are the top choices among users. Their smooth platform and the way traffic these platforms provide to various industries is highly valued.
But let's take a look at the difference between these two giants, how they are different and why people choose one over another.
Comparison between the Bing Ads vs Google Ads
As we all know the ultimate goal of both platforms is to help the user to increase their domain. When we compare Bing Ads vs Google Ads there are various aspects that make the difference. Both have the same model i.e. "Pay-Per-Click" and have almost the same goal to increase the user's revenue by growing the traffic of their platform.
The pathways for achieving the same goal through the same model are kind of different. Bing Ads or Microsoft Ads owns three platforms (Yahoo, AOL, & Microsoft) and has a big advantage in reaching different SEO users. As when you advertise through Bing, your ad will be displayed on three different kinds of search engines. Hence, your advertisement will be seen on their partners' websites and owned sites of those three sites.
On the other side, Google Ads is made up of Display Network & Search Network. Display Network, your ad will be seen by a range of websites all across the web. On the Search Network, The ad will appear in SERP (Search Engine Result Pages) in the text form.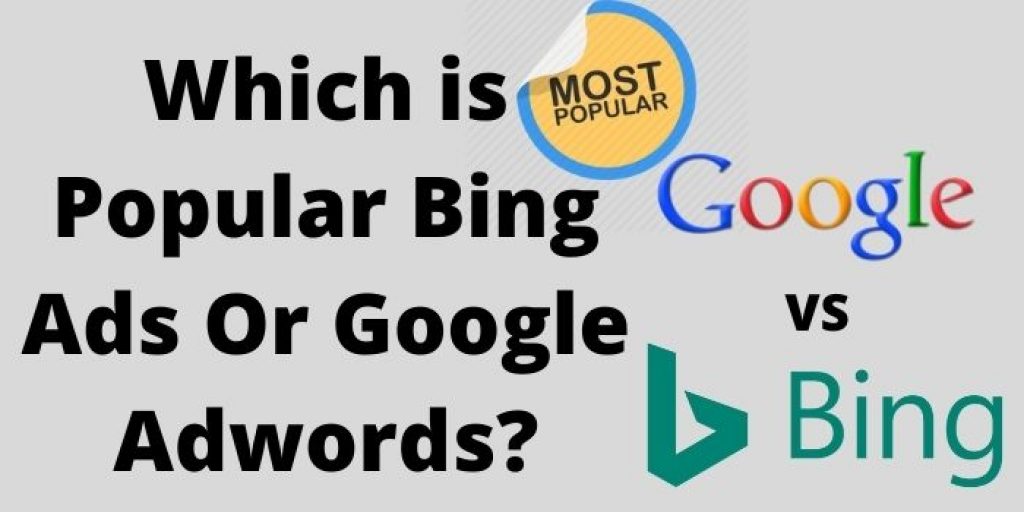 Features Difference Between Bing Ads vs Google Ads
Why should you reason to choose Bing Ads over Google Ads or Google Ads over Bing Ads? How will you get to know about the difference? In this heading the answer to your question is present. Let's find it out:
Format of Google: The main difference between Microsoft Ads and Google Ads is the way they work. Google Ads comprises the Search Network & the Display Network. Among them Search Network makes your ads appear in the SERP in text form. The most informative Ads.
On the other side, Display Network makes your ads appear on a number of various websites all around the internet. These ads are in graphic form containing information in graphical format. They are more appealing than text form.
Reach to a variety of users: The Bing platform provides your Ad reach to different types of search engine users. Since there are three different search engines under Bing.
Rules & Regulations: google has strict rules and regulations as compared to Bing. Google is much more strict in terms of ad content. It even can ban your ad if found inappropriate. So, if you are looking for leniency then Google Ads aren't for you.
Competition and Demand: Google will provide you with the largest networks than other competitors in the market. You will get more bidding companies on google for your keywords than on Bing. But on the other side, you will have to face high competition and have to pay more money on Google for the same keyword.
Flexibility: The area of interface of Bing is kind of complicated as compared to Google Ads. It has less flexibility with ads as compared to google ads, as you can compare ad description and heading of Bing is limited in comparison to Google.
Price Comparison of Bing Ads vs Google Ads
In terms of affordability, price, or your pocket-friendly platform, Bing Ads is a clear winner over Google Ads. Since Ad budgets keep fluctuating but still, Bing Ads is more pocket-friendly than Google Ads. The reason for this affordability is the less competition of keywords on Bing. It means that clicks are cheaper on Bing than on Google.
Another aspect of Bing Ads being lost is costlier than the Google Advertisement so the cost per click. When you use Bing the ad budgets could close to double. Since the value and ROI depend on the resources but still money is still a thing to think about. If you are among them who want to move to lower CPC keywords from Higher then Bing is for you. But still, it depends on your target viewers and domains.
Which one is popular among the users Bing Ads Or Google Adwords?
It depends on the user what he wants from his provider or what is necessary for the business. For example, if a user wants or have:
Smaller budgets companies
Want to target older viewers or have the domain of an expensive product
If he is looking to highlight assets without videos,& images
Then he chooses Bing Ads but if he has or wants:
To invest more money in advertisement
Want to target a high leads audience too soon
Interest to expand their business through images and videos
Then he moves to Google Ads over Bings Ads
Are Microsoft Ads cheaper than Google Ads?
As both have the same target through the same model. But the fact of less competition makes Microsoft Ads cheaper than Google Ads. If you want to achieve short-term marketing goals then Microsoft is best for you. As it is cheaper and has a variety of audiences through three different search engines.
Which is better: Bing Ads or Google Ads?
It totally depends on the thing which suits your domain or industry. If you want to complement your PPC strategies with organic marketing strategies to fill in any gap in your reach then Bing Ads is best. But on the other side, Google provides you a pool of viewers and traffic being the largest network.
You can expand your business boundaries by using Bing as well but Google is an edge over it here. If you want to use Bing it is very easy to transfer your Ad campaigns into Bing Ads, it will not need much time of yours. If you want a budget-friendly platform Bing is for you along with reaching three different search engine users. If you want to incorporate both Google Ads and Bings Ads that is still a good idea. In the end, choose the thing which is better for your business or industry!
Is Microsoft Advertising the same as Google Ads?
There is almost everything the same on both of the platforms like similar appearances with Search Engine Result Pages. Have the same type of meta descriptions, the same type of length of tag headline. The same kind of pay per cost but the small bubble-style label that declares there are in fact ads make the difference!
Which country uses Bing the most?
The share of Bing Ads is low as compared to Google Docs. Worldwide bing ads is used by 9% and in the United states it is used by 33%. But still google has a majority as compared to the bing ads.
Is Bing Run by Google?
No, Bing ads is owned and run by Microsoft. Microsoft competes with Google search engine directly.