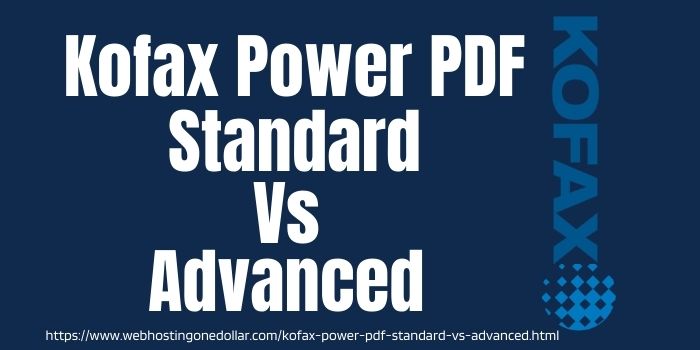 Kofax Power PDF is an easy-to-use powerful & secure solution for managing PDF files. If you are confused between the different versions of PDF of Kofax then it is great that you have landed on this page. We are going to compare between Kofax Power PDF standard VS Advanced 2023 version.
We will compare the features, usability, interface, pricing, and many other aspects that help you to get the one that best fits your need & wants.
Kofax Power PDF Standard VS Advanced – Ideal For
Power PDF Standard
The Standard version of Kofax Power PDF is a mighty PDF solution for home office users, small businesses, and students. The featured pack software lets the users create, edit, compile and convert the files into many different formats.
Power PDF Advanced
As the name suggests, PDF advanced is an all-in-one solution for advanced users. It is a powerful business solution with Microsoft Office-style interface with robust functionalities.
1 Minute Review – Power PDF Standard VS Advanced
If you are running late then check this quick comparison between both of these versions.
| | | |
| --- | --- | --- |
| Highlights | Power PDF Standard | Power PDF Advanced |
| Create PDFs from any document | | |
| Merge multiple pages in a single PDF | | |
| Convert PDF from Microsoft Word, PowerPoint, & Excel | | |
| Automatically convert PDF into fillable form | | |
| Proofread | | |
| Secure PDF | | |
| Add digital signature | | |
| Manage digital signature | | |
| Manage comments & private metadata | | |
| Navigate cloud integration | | |
| Enhance features for adherence | | |
| Redact text & graphics | – | |
| Bates stamping | – | |
| Integrate with Microsoft Active Directory or RMS for PDF protection | – | |
| Enhance integration with Kofax SignDoc | – | |
| DMS password retention | – | |
| API compatibilities | – | |
| Manage plugins and app functionalities | – | |
| Batch convert to single-page TIFF files | – | |
Both PDF Editors' pricing is get up to 50% down by applying the Kofax Coupon Code, a limited offer grabs now to avoid disappointment.
Features Comparison
Let's have a look at the features offered by both of these software. Kofax Power PDF Advanced
Cloud Connectivity – The PDF version can be connected with Box, Google Drive, OneDrive & much more to easily access the PDF from anywhere.
E-Signature – This feature allows the users to easily add & manage their own digital signature.
Intuitive Forms – With the advanced version you can scan paper and can convert it for PDF fields, checkboxes, e-sign & more.
Seamless Security – For complete security, you can apply Bates stamping to your most important PDF files.
Improve Workflows – Create & edit PDFs in real-time with a watched folder with automated PDF creation.
Kofax Power PDF Standard
Create & Compile – You can easily create and combine the PDF from any document or file type.
Easily Convert – The convert features allow users to convert PDF files to different formats including Word, Excel & JPG.
Edit & Enhance – Easy to change text, pictures, add annotations, and use stamps on PDF files.
Add Signature – Make use of stamp-based signatures on PDF documents to add credibility.
User-Friendly – The office-style interface allows the newbies to easily use the software.
The advanced version has all those features that are included in the standard version of Kofax Power PDF.
Where You Will Get More Security
To be honest, both standard & Advanced versions provide authorization control with industry-standard AES encryption technology to protect the files from prying eyes.
With Power PDF Advanced you get more security & protection features to protect the files. It integrates with Microsoft Active Directory Rights Management System for advanced security.
Also, with Bates stamping, you can secure your PDF document by applying a set of identifying numbers to label & identify them.
However, with the standard version, you won't be getting this feature as Power PDF Advanced is for business users.
What Is The Easiest PDF Editor?
If you are looking for the easiest PDF editor solution then you can use any of the Kofax Power PDF Standard vs Advanced.
The user interface of the Standard version is so easy that a newbie or first-time user can easily create, edit & manage the PDF document. However, the tutorial can help better if you face any issue or are stuck in between anywhere of the work.
Now moving on to the Power PDF Advanced then it is for business users which many new and advanced features. But it doesn't mean that one can't use it, the design and interface are very intuitive and easy to understand. You will get more help from Kofax Power PDF Advanced user guide that describes all the features.
However, with both versions, you get a live chat option to solve your query anytime you want.
Pricing – Which Is The Cheapest PDF Editor?
Kofax Power PDF Standard review is overall good and it is available for Windows & Mac operating.
For Windows – $129
For Mac – $129
Both the versions are for life which means you have to pay once to start using it.
Kofax Power PDF Advanced is available only for Windows users. Business users can start using this software for $179 one-time. You have to pay once and can start using this PDF solution for 3 years.
Moreover, if you are not satisfied with the product then you can claim the money-back guarantee with a 30-days money-back guarantee from the date of purchase.
Is Kofax Power PDF Free?
Kofax offers a free trial for 15-days on both the Advanced & Standard version where you can use it for free with no credit card required. If you like the product and are satisfied with its features then you buy the subscription plan.
System Requirement – Kofax Power PDF Advanced vs Standard
If your system has these requirements then you can install the Kofax PDF solution easily.
Power PDF Standard – Windows
1.5 GHz or faster processor
Supported operating systems
Windows 10 – 32-bit & 64-bit editions
Windows 8 – 32-bit & 64-bit editions
Windows 7 with service pack 1, 32-bit 64-bit editions
1 GB memory (RAM) or greater
1 GB free hard disk space for application files
Microsoft .NET Framework 4.8.
Power PDF Advanced – Windows
1.5 GHz or faster processor
Supported operating systems
Windows 10 – 32-bit & 64-bit editions
Windows 8 – 32-bit & 64-bit editions
Windows 7 with service pack 1, 32-bit 64-bit editions
Windows Server 2008 R2 with SP1, 2012 SP2, 2016, 2019
1 GB RAM or more
Free 1 GB hard disk space
Web access needed for product registration
Microsoft .NET Framework 4.8.
The system requirement is almost the same so that means you can install any of this software in your system.
Final Conclusion For Kofax Power Pdf Standard Vs Advanced Comparison
No doubt if you are looking for an all-in-one PDF solution then Kofax Power PDF is a great option for general & advanced business users. However, with Power PDF Advanced you manage the PDF files more granularly. Also, you can try any version of the software with a free trial option.
So, start using the software that best fits your needs & wants with this cost-effective PDF solution in 2023.
Kofax Power PDF Advanced VS Standard – Frequently Asked Questions
Q What is the latest version of Kofax power PDF advanced?
The latest version of Kofax Power PDF Advanced is 3.1 Volume – 19277.100 (SRO: PO 1577-830).
Q Is Kofax power PDF the same as kofax Nuance Power PDF?
Yes, Kofax has acquired the Document Imaging division from Nuance in 2019 including every product & service.
Q How many computers can I install Kofax power PDF on?
You can install power PDF on up to 3 computers with a single license that meets the minimum system requirements and operating system.
Q is it safe to do a Kofax power pdf download?
yes, it is definitely safe to download both Kofax power pdf standard download and Kofax power pdf advanced download. by downloading you can access all the advanced features of Kofax.