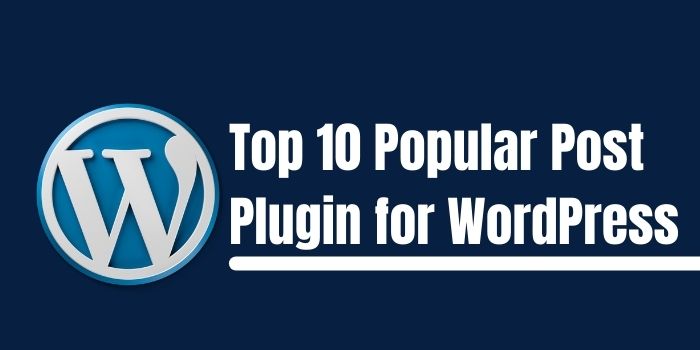 Currently, approximately 40% – 50% of the websites that we see on the internet today are created using WordPress. A large amount of credit for the success of WordPress goes to the incredible plugins that are provided by it to its customers. In this guide, we are listing the top 10 popular post plugins for WordPress that will help you in building a strong website.
How Do You Add Trending Posts On WordPress?
WordPress is an open-source content management system, which can be modified by users according to their requirements. Even if a website developer has no knowledge of programming, he can easily create a website on WordPress using its exclusive plugins.
In the beginning, WordPress was only used to create blogs, not websites. But now, it can create business sites and blogs as well as large eCommerce stores. Some of you may struggle in knowing where are WordPress posts and pages stored. Today, some great organizations use WordPress for their websites, such as Whitehouse.gov, Microsoft, etc. While using such a popular post plugin for WordPress you can see the difference in the look and feel of your website by itself.
What Is The Best Plugin For WordPress?
The plugins of WordPress are buttons, which may be very very small or quite huge, and can do a variety of tasks for the websites. At present, WordPress provides over 50,000 free plugins to its users giving them a tremendous variety and ease to work with.
They help to make the websites more dynamic. Apart from its own directory of plugins, they are also sold by third-party websites, individual developers, and companies. It is often said that whatever task you want to do on a website created using WordPress, there is a plugin for that!
What Are The Best 10 Popular Plugins For WordPress?
A popular post plugin of WordPress saves your content or blog from being buried under the numerous other blog posts. It increases the visibility and reach of your blog and its best content. This, in addition, boosts the engagement of the users and improves your SEO score. The top 10 popular Post plugins for WordPress can be found below.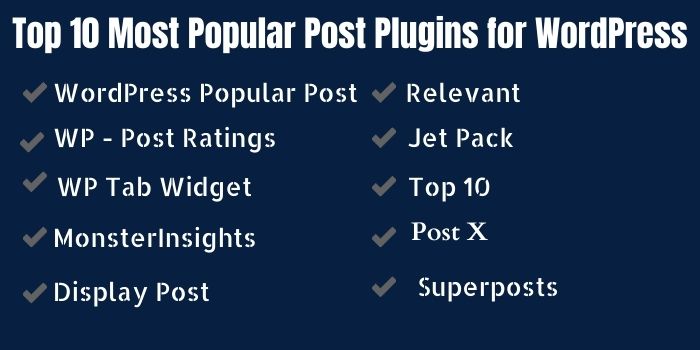 WordPress Popular Posts
This plugin allows you to show your top articles in your blog. It is a free plugin, which shows content with the largest number of views or comments, and allows you to sort your trending posts within a particular time period.
Relevant
It is a free-to-use WordPress plugin that displays featured articles or posts in accordance with the relevance of the user requirement. The plugin widget can be customized according to your requirements instantly. It also shows all other relevant information regarding your article, which may include the time and date of publishing, the author, the image connected with it, etc.
Top 10
Top 10 is one of the most popular post plugins for WordPress. It lets you customize the type of posts you want to be displayed at the top and lets you display the most popular pages and posts of your website. It has a built-in counter, which maintains the posts on a popularity basis, and also has a sidebar widget that displays the posts. You can add a thumbnail to your post using an image from the article or any image on your computer.
Jetpack
It is a free plugin that includes within itself the Top Posts and Pages widget, which allows you to showcase your most liked or most viewed posts in the last 48 hours. That is why it stands in the fourth position in the list of top 10 popular post plugins for WordPress.
PostX
This plugin provides Gutenberg Blocks for arranging your posts into the grid, making your web page more dynamic. It helps you display your most famous posts in a grid, slider, or carousel format. This is mostly used for publishing blogs, or in magazines or newspaper websites, in order to keep the reader engaged and interested. This plugin gives you ready-made templates and designs, which you can edit according to your requirements, making it one of the most important features of WordPress.
MonsterInsights
With the help of this plugin, you need not be a coder or developer, yet you can set up Google Analytics. You can show your popular articles anywhere on your website. In the case of an eCommerce platform, your most popular products can be displayed anywhere on your website using this plugin. You can choose from a variety of themes, colors, sizes, labels, etc to customize your website in lieu of your needs.
WP-PostRatings
This plugin helps people to judge a post or article on your website on the basis of readers' reviews. People can rate your article by voting through customized templates. This rating decides which articles are the most popular and thus shows them on the top of your website.
Super posts
The Super post plugin is a feature that can help you to display your posts in order of category or date published, comments or related posts, and many other classifications. Readers can also opt for a query for the type of post they want to read. People can also share their posts on social media platforms. This plugin also provides JavaScript support.
Display Posts
It is a simple and dynamic plugin that does not organize its content by dragging or dropping widgets but uses shortcodes for the purpose of the display of content on the website. WordPress provides tutorials to help the users implement various types of post displays.
WP Tab Widget
These plugins let you have tabs on your webpage, with relevant information as required by the readers. The tabs contain information and are closed until they are clicked upon. It is a fast and easy and lightweight widget that doesn't make your page look crowded.
Besides these top 10 WordPress plugins, Elementor plugins help you to build a website. However, You should be aware of the Pros and cons of Elementor before using it.
In the widget and plugin world of WordPress, there are a number of plugins that the users might want necessary. But having the above-mentioned top 10 popular post plugins for WordPress helps you to build a sorted website.