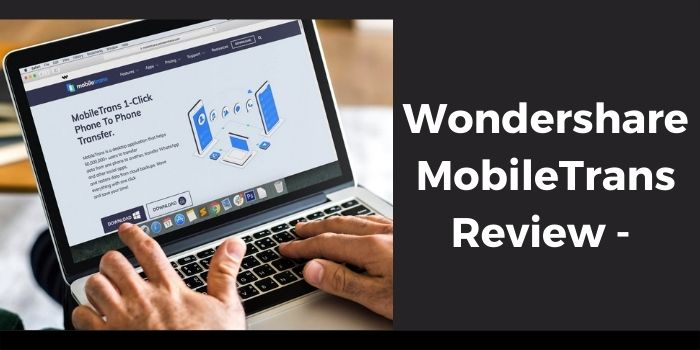 Sharing the data between the devices was not simple until software like MobileTrans came into existence. There is no doubt that today every device has features like Bluetooth and Airdrop. Still, it's difficult to share files between different OS platforms and it happens that you can't able to get the one you want.
So, with this Wondershare MobileTrans review 2023 we will see if it is safe to use or not?
Let's move on…
About MobileTrans
MobileTrans by Wondershare is data transfer is the phone to phone transfer software for Windows and Mac operating systems. It helps to transfer photos, videos, music, and contact, documents, and even WhatsApp and other social apps. It supports more than 8000+ devices and has over 50 million software downloads.
Advantages and Disadvantages Of MobileTrans
Here are some of the pros and cons of MobileTrans from my personal experience.
| | |
| --- | --- |
| Pros | Cons |
| Easily transfer files from iPhone to Android and from other devices. | The free version has few features available. |
| The speed of transferring and restoring is very impressive. | You need to transfer the whole gallery and can't select only a few that you want. |
| Doesn't keep any of user's  data without the permission | |
| Very easy to use and simple interface. | |
How Does Wondershare MobileTrans Work?
The software works in a very simple way with both Android and iOS devices no matter the combination. You just need to connect your phone devices with the PC or laptop to get started.
Let's say you want to transfer all your WhatsApp data with MobileTrans Android to iPhone. For this, you have to connect both of your phones using a USB cable with your system. Click on the WhatsApp Transfer option from the system that works as a medium between both of the devices.
From the next window, it asks you whether you need to transfer, backup, or restore the files. As you want to transfer so click on Transfer WhatsApp messages, now select the right source and destination phone, you can even flip the phones to change them. Click Start and you will get a message if you need to keep existing WhatsApp data on the target device or not.
The software will start its process of restoring from Android to iPhone that will take several minutes depending on the size of the data.
How Long Does Wondershare MobileTrans Take? | Speed Test
Well, it depends on the type of data that you want to transfer and on the devices.
We have transferred 4 GB of photos and videos from Android to iPhone and it takes about half an hour. However, when we have transferred WhatsApp chat with Wondershare WhatsApp transfer it was done in few minutes only.
Wondershare MobileTrans Top Features Review
Wondershare Mobile Transfer software has some of the great features discussed below:
Phone Transfer – With a single click you can transfer up to 18 different kinds of data from one same and other OS with 3X speed.
WhatsApp Transfer – Helps to transfer WhatsApp data including the chats and media you can restore the backup to any other device. You can transfer WhatsApp from Android to iPhone free with the trial version.
Backup – Easily backup Android and iOS devices to phone with just a few clicks. It allows back up the contacts, call history, voice memos, wallpaper, music, bookmarks, reminder, notes, apps, and much more.
Restore – MobileTrans lets the users restore the data by selecting the files from iOS and Android devices. You can even preview the content and select the one that you want before restoring them.
MobileTrans offers a nice bunch of useful features where backup and restore are one of the awesome part of this software.
Is MobileTrans Wondershare Safe?
Wondershare MobileTrans helps to data from one phone to another in a very secure manner. The software won't keep any of the user's data with permission. Moreover, it won't overwrite the original data and doesn't ask you to delete the old data to transfer the new one. That means Wondershare MobileTrans is safe to use in 2023.
Wondershare MobileTrans Price Review
The prices of Wondershare MobileTrans are according to the type of device.
MobileTrans For Windows
Phone Transfer
| | |
| --- | --- |
| $29.99/year | $39.99/lifetime |
WhatsApp Transfer
| | |
| --- | --- |
| $29.99/year | $39.99/lifetime |
Full Features
| | |
| --- | --- |
| $39.99/year | $49.99/lifetime |
MobileTrans For Mac
Phone Transfer
| | |
| --- | --- |
| $44.99/year | $59.99/lifetime |
WhatsApp Transfer
| | |
| --- | --- |
| $44.99/year | $59.99/lifetime |
Full Features
| | |
| --- | --- |
| $54.99/year | $69.99/lifetime |
The Phone Transfer plan can transfer contacts, photos, videos, music, and much more with a single click. With this plan, you won't be able to transfer any of the WhatsApp data and can't restore the mobile backup.
The WhatsApp Transfer plan can't able to transfer any data from the phone and is only made for WhatsApp data.
With the Full Feature plan, you can do everything whether it's the phone transfer, WhatsApp transfer, backup and restore.
Users have the option to go with Wondershare MobileTrans free download from the official website. But the plan is limited to few features only.
Customer Support
Wondershare has a very decent and responsive customer support system and is always ready to help the customers.
It provides 24/7 live chat support to the users so that one can get in contact with Wondershare according to convenience.
Users have the option to email the company on can even call them if you are a premium user.
Refund Policy Wondershare MobileTrans
Wondershare offers a 30-days money-back guarantee with most of the products. However, with MobileTrans you will get the 7-days money-back policy with Windows and Mac plans.
Supportable Devices With MobileTrans
The software is supportable with 8000+ devices and different OS.
Phones
Apple – iOS 5 and latest
Android – 2.1 or the latest
Windows – 8 and 8.1
Computer System
Windows – Win10/8.1/8/7/XP/Vista
Mac – Up to 11(macOS Big Sur)
Wondershare MobileTrans System Specification
CPU – 1GHZ (32 bit or 64 bit)
RAM – 256 MB (1024 MB recommended)
Hard Disk – 200 MB or above
Wondershare MobileTrans Review 2023 – Conclusion
Through this detailed review of MobileTrans, we tried to find is Wondershare MoibleTrans safe or not.
MobileTrans is a great software for those who upgrade or switch their smartphones regularly. There are many software available in the market for mobile data transfer, Wondershare Mobiletrans stands out from the crowd with its unique features and easy-to-use interface.
With some of the best features available, MobileTrans is very effective and efficient. So, it can be a great deal to go with this software.