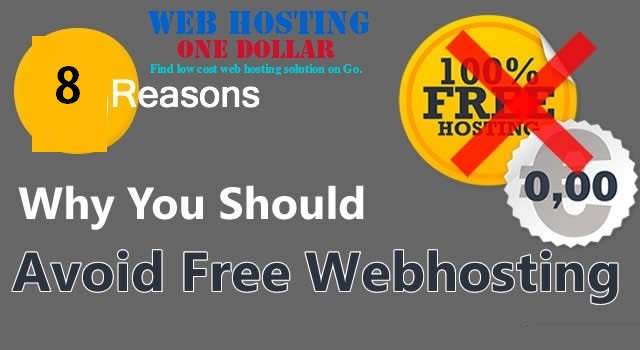 Free hosting practice is not healthy for a genuine business website. In this article, we are going to look at why you should desist from using free web hosting services and how to get better alternatives for your business.
Owning a website is such a vital success strategy for small business owners. However, owning a website can sometimes be an expensive venture! Even if you choose to build up the website yourself with an aim of cutting down on the cost of outsourcing a professional web designer, you will still have to pay for domain name and web hosting.
Web hosting is not very costly however, it is a recurring cost that you must pay for continually for the ongoing services provided. Most web hosting companies in Chicago charge between $5 and $10 per month, unless you resolve on those web hosting services that sounds "too good to be genuine" offering free web hosting.
Is Free Really Worth It?
Before you get excited about free web hosting and decide to upload your website content to some free server, it is vital to be cautious that nothing is truly free. If you are serious with your business and need a professional website, then consider reading through these reasons why you should NEVER use free web hosting:
1. Hacking/Virus/Malware
Most of these "free web hosting" companies are likely to inject virus/malware into your website, or even go ahead and share your personal web content with others. Some of these companies even use the "free hosting" tag as a front for identity theft. Due to their "free" business model, it is highly likely that they do not have the financial resources to enable them to protect your website from determined hackers. Be cautious enough with these companies! Your website could be deleted or even defaced due to poor security practices it is subjected to.
2. Content Limitations
It is a common encounter that all free things come with limitations. You may be limited to only 20MB space for just a few images, text, and photos. They may limit your data bandwidth to unsustainable amounts. This way, you may find yourself unlucky when it calls for the number of emails you can send or blogs you can have among other limitations that are likely to hurt your personal use or business.
3. Poor Performance
In most cases, free hosting is unprofessional and very unreliable for a genuine business website. Beware! Free hosting may have extremely slow page load speeds. If you are looking for a hosting plan for your business while still very much at the growth stage of your business, it is advisable that you find yourself a dedicated server or a VPS plan, however, this may be a stumbling block. This way you will not have to compete unfairly for resources with other websites which might be far much ahead of you.
4. Poor (or none) Customer Support
Free web hosting services often lack customer support or may not even offer customer service support at all! If you happen to have a problem with their services, don't be surprised if you find yourself on your own.
5. Spam Advertising
Don't be fooled that services are for free! These companies make money. In most cases, they will inject your site with paid ads to enable them to make a few cash. Unfortunately, this may make your website appear like spam, which may hurt your search engines ranking.
6. Website Ownership Issues
Some "free web hosting" companies have been known to be deleting their members' website without notice. You will agree with me that this can be a very frustrating experience especially if you spent all your time building your website. Can you just imagine spending a whole month building and customizing a website to what you want, only to wake up one morning and find out that it has been deleted for reasons you cannot tell? However, should you lose your website content in such sad scenarios, don't worry, data recovery Chicago can help you recover all types data you may lose in such eventualities.
7. Branding
Between Example.SuperFreeHost.com and Example.com, which one looks more professional? If you choose to go with free hosting, you will most likely not get the free top-level domain name.
8. Search Engine Optimization
A good SEO can be the difference between having your site listed on page 40 of Google search or being found on page 1. Every person would want to pay for hosting so that you are rest assured that your website hosting is secure, fast, reliable, and not part of bad neighborhood shared hosting. Surprisingly, free hosting does not meet any of these crucial requirements.
Bottom Line
Do we have a better choice to free web hosting? The answer is YES. Any serious business owner should never even think of using a free web hosting service. If you want to host your website, paid hosting is the best option.
If you are on a tight budget, then you can consider checking out for a shared, cheap web hosting account. There are hundreds of web hosting service providers that offer the shared web hosting services. It is also safe and legitimate web hosting package for small business owners who need safer web hosting services while spending less on their budget.
Any serious business owner should never think of using free web hosting services. Paid hosting is the best way to go. If you are tight on your budget, then you can check out for a cheap, shared web hosting account. There are literally hundreds of safe, legitimate web hosting providers such as www.ipage.com that offer shared web hosting.
Author: Robin Jago is editor in chief at TTR Data Recovery. He is a data scientist and has decades of experience in writing posts on big data management and analytics.