Nowadays, when we mention the word "Social", it's less of meeting new people or having a gala time in your nearby cafe's and restaurants and more of WhatsApp, Facebook, and Instagram. Yes, that's right.
The meaning of social activities has changed and so have marketing strategies. Numerous business ventures are stacking up and aiming to grow their businesses through tools of digital marketing. While digital marketing is the kingdom, social media is the king.
Yes, it's a fact that social media marketing is booming, but have you ever wondered why? Hands-down, it's the usage factor. If we take a minimum average, people around the globe spend 2 hours and 24  minutes on social media. That's the minimum time they spend! After the pandemic showing its colours in the market, the numbers are bound to be increasing even more.
But, the most impressive stats have come across from WhatsApp users. In the Q3 of 2023, there has been a massive rise of 50% in the overall usage of this social media platform. WhatsApp is available in more than 180 countries and 60 languages. Facts stated the social media platform has more than 2 billion active users around the globe.
So, why not channelize this to market your business? With a whopping population active on this platform, you will not just spread awareness about your business but also, allows you to increase traffic, build your brand loyalty, and most importantly, market cost-effectively without pinching your pockets.
On that note, there is one question that might arise – "How Can I Do WhatsApp Marketing?"
Using WhatsApp Marketing Software – Step By Step Guide
Why should you use WhatsApp for your business? If you have a potential client and wish to take the deal forward, chances are they are already using WhatsApp. So, why not? As marketers, your main agenda is to be present where there s traffic. By engaging in WhatsApp Marketing Softwares, you are not only leveraging your existing business but also giving way to newer one's.
To ease things out, you can use WhatsApp Marketing Software available in the market. This will not only give you amazing results but also save your time, efforts, and money. Here, we will give you 3 steps to use the Whatsapp Marketing Software without any hassle: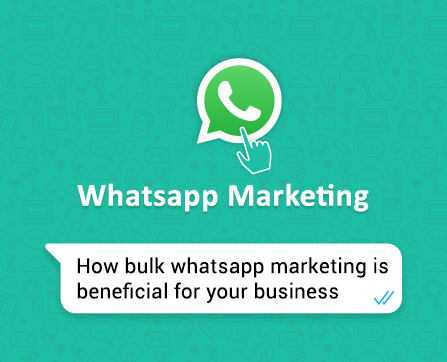 Step 1 – Install WhatsApp Marketing Software (E.g. Whatso)
After installing your desired software extension, the first step here will be to enter phone numbers separated by commas. One software that we recommend is Whatso. You need to have a list of contacts you would like to message. This will help you have a clear aim in your mind. You will need to enter all the numbers of the people you would like to send a message on WhatsApp separated by a comma and with their country codes.
NOTE: While entering the country code, omit the "+" sign
Alternatively, you can directly upload an excel sheet containing all the contact details to send them a WhatsApp message.
Step 2 – Prepare a catchy message to communicate
The next step is to send your desired message. What's more, you can also send photos and videos if you want to. This step is very important. Your message should be convertible, crisp, clear, and to the point. A good copy will help you convert your audience. Hence, always invest in good content.
Step 3 – Send a message and regularly update your message
The last step is to send. Yes, it's that easy. Once you have punched in all your details, you can now hit the send button. The software will send this message one by one to your contacts while you can sit back and relax. Do check out how the messages help you in increasing your revenue and adjust your message in step 2 accordingly.
Using WhatsApp Business App
WhatsApp for Business works like your normal WhatsApp app but has few additional privileges that are tailor-made for small and medium businesses alike. Aptly titled "WhatsApp Business", the app can be downloaded from the Google Play Store and is in use by more than 100 million users.
Once downloaded, you can register with a phone number that is exclusively used for your business. You can then stay connected with your consumers with interactive tools that let you respond to messages easily, sort your messages as per your preferences, and automate your replies, among other functional tasks.
How much does WhatsApp for Business cost?
Just like the regular app, WhatsApp for Business is also free. The only expense you will face is setting up a distinct mobile number that you will use exclusively for your business. You will need this number to register your business on the app.
How to apply for WhatsApp Business?
There is no approval required for using WhatsApp business and you can straightaway start using it by downloading the app titled "WhatsApp Business" from the Google Play Store.
How is WhatsApp for Business different from regular WhatsApp App?
Apart from it being exclusively designed for businesses, WhatsApp Business has a distinct feature called "Business Profiles". This tab helps consumers generate more information about the business such as the official email ID, website, and store address. This tab also accommodates a small description of the business to give consumers detailed insights into the kind of products or services offered.
WhatsApp for Business also offers a plethora of handy messaging tools to make it easier to interact with consumers by sorting messages, creating automated replies, and designing frequently used templates for messaging.
What are the messaging tools offered by WhatsApp Business?
There are many messaging tools available in WhatsApp Business that make it easier for businesses to interact with their consumers. For example, you have a "Quick Replies" option to send instant answers to frequent questions. You can also create a template to greet your consumers with a greetings message or a thank you note.
Additionally, you can create a customised "Away Message" to let your customers know you are currently not available and will get back to them shortly.
Apart from tools for easy execution, WhatsApp Business also offers statistical data of your messaging pattern. You can keep a tab on the number of messages sent, delivered, and opened to give you a fair idea of how consumers are responding to your messages.
While WhatsApp for Business is still in its nascent stage, it definitely has the potential to explode in India. Evolving digital marketing techniques in tier 2 and tier 3 cities should definitely begin to utilize WhatsApp for Business in their strategies.
For small businesses, it could prove to be an important tool to help them expand their profits in the face of growing competition from larger corporations. We also understand that APIs to allow for managing a larger number of conversations are on the cards so the future of Whatsapp for Business is indeed exciting.