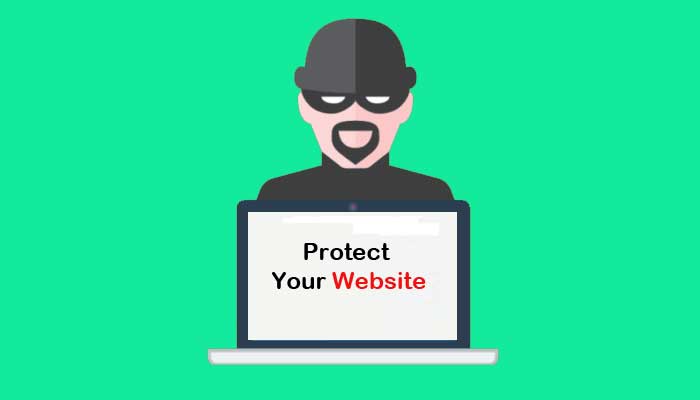 Are you a successful online business and website owner and still running it successfully? Then wait! Did you recheck those facts which can lead your site downwards? Did you have an idea your business can fall in one night? You must want to know who can do this to you? Then ring the bell in your mind many hackers have just listed you next to fall you down from heaven. Now you surely want to know the precautions from Hackers and spammers. So Top 5 Easy Steps to Keep Safe Your Website from Hackers.
You have to take a look towards your website security. Yes, you get the point you missed that and never rechecked. If you still surviving, then congratulations and best of luck for future. Because you will be going to fall if you won't implemented few security steps. Today here you will get to see few important measures which lead your business to more safer and successful.
Beware from Hackers with these Steps
Below you will get to see some steps which help you to get over from the hackers. Just take a look site those steps which can keep safe your website from everywhere.
Up To Date Platforms & Scripts – The one of primary and important thing which you have to know that. If you're site's text and platforms updated, then you don't have to take any stress. If you are still using the old version, then you giving a chance to those hackers who were looking for a security loop in the previous version of your website script and platform. They are always seeking to break the code somehow and get the full access of your site.
Use SSL Certificate – Your business is running well you were having lots of consumers. Many of people transacting through your site. But did you realize is it safe? Is your transaction is in danger? Any hacker can fool you and interrupt the operation to steal your money. SSL (Secure Socket Layer) will help you to have a safe transaction. This certificate highly required for the online business owners those who were having online stores. just like https://www.webhostingonedollar.com/.
Install Plugins For Security – glad to know that you have done the updating of your theme. Nex, you have to do is just install the security plugins. Usually, if you have the website with a platform of WordPress, then you must be needed to install security plugins. With WordPress theme, you can install security Plugins named like IThemes Security nd Bulletproof Security Plugins. If you were having platforms for your websites CMS or HTML then you can go for the Sitelock the popular plugins for these platforms.
Use Secure Passwords & Keep Changing it – This is the one of crucial and very important for your online business. Normally people do the same thing to have their passwords which can easily break by hackers. Don't be childish and foolish with your business always choose the toughest password which keeps the hacker in the fumble. And keep changing your password on regular months gap.
Hide Admin Pages – The admin page is used by admin and for website login. So, you don't want to index admin pages to search engines. Then you have to discourage the admin pages in Robot.txt file to be safe. The more you avoid to index these pages the tougher for the hackers to harm your website.