ProtonVPN & SurfShark is just like you are selecting the delicious one in butterscotch & chocolate ice cream. Both are tasty with an appetizing flavor but choosing the tastier one is tough. In its services, you will get the best flavors mean to say the finest features. Because both are on the same level, it is difficult to choose the leading one between the ProtonVPN and SurfShark. But when you check side by side then you notice slight changes in the services of both the firms. So compare ProtonVPN Vs SurfShark to choose the best features to secure all your private details and information.
This ProtonVPN Vs SurfShark comparison is designed to make it easy for you to choose the best services for devices. With this, you can easily know and decide which one offers exactly what you need. Get the best services after knowing about both the firm that serves you with excellent VPN services.
| Qualities | ProtonVPN | SurfShark |
| --- | --- | --- |
| No. Of Servers | 1000+ | 1700+ |
| Countries | 51+ | 63+ |
| Bandwidth | Unlimited | Unlimited |
| Connected Devices | 10 | Unlimited |
| Netflix Accessibility | Yes | Only for Paid Users |
Introduction of ProtonVPN Vs Surfshark VPN
| ProtonVPN | SurfShark |
| --- | --- |
| ProtonVPN helps millions of users to cross the internet boundaries and get access to the websites or content that restricted in your countries. In this, a user will get a great speed, excellent performance, and maximum security features. The firm was started in 2017, since then the company is growing rapidly in the market. As compare to other company ProtonVPN build a better place in users mind.  | SurfShark is one of the finest VPN firms in the market that offers multiple benefits. Trustpilot rated 4.5 out of 5 for SurfShark. It shows that the firm is trustworthy for the users. The company is located in the British Virgin Island and founded in 2018. The firm is owned by SurfShark.ltd with employees in 8 countries.  |
If you want to get detailed information about any of the VPN then Read ProtonVPN Review & SurfShark Review. With this, you can easily know about the features, quality, services, and other aspects related to each provider's services.
Related Search… ProtonVPN Vs TunnelBear VPN
Prices Comparison of ProtonVPN & SurfShark VPN
If you are going to choose the easy to manage services at reasonable prices then compare its prices first then move towards features. Get the services at a reasonable cost.
ProtonVPN Plans
ProtonVPN is one of the better VPN service provider with paid & free services. You can easily enjoy the benefit of its free service in any device i.e. Mac, iOS, android, windows, and many more.  In ProtonVPN paid version you will get different plans to use the VPN services that you want. On its purchases, you can save maximum bucks by using the best ProtonVPN Coupon Code.
| Free | Basic | Plus | Visionary |
| --- | --- | --- | --- |
| In the ProtonVPN free plan user get limited features to manage VPN in any of the OS devices. Its free version work in all kind of devices but with the limited number of advantages. | Basic Plan cost $4/mo* that is bit affordable for you. In this user will get maximum number of quality to manage software in 2 devices. | A plan to secure maximum 5 devices at a time. Plus Plan cost $8/mo* with lost of extra features as compare to the basic plan features | The plan is expensive as compare to the other plans but in this you will get a extra perk of ProtonMail Service. the plan cost $24/mo* to manage 10 device at a time. |
| 3 Countries | Work in All kind of OS | All Countries | All Countries Server |
| 1 Device | 2 Device | Manage 5 Devices Simultaneously | Manage 10 devices |
| Speed: Medium | Fastest Speed | P2P | P2P |
| | P2P | Plus Servers | Plus Servers |
| | All Countries | Secure Core | Secure Core |
| | | Tor Servers | Tor Core |
| | | Secure Streaming | Secure Streaming |
| | | | ProtonMail Visionary Included |
Now you can secure your digital life in a few dollars with the help of the affordable VPN security of the SurfShark. This VPN software is very reasonable for all kind of users. Either you want to buy this for personal use or for business use you can easily buy it with the great saving discount deals of SurfShark.
| 1 Month | 6 Months | 12 Months |
| --- | --- | --- |
| 1 Month plan is too costly as compare to its other plan . But if you want to try its services then One month plan is good to use at $12.95/mo* | If you want to use a VPN only for 6 months then SurfShark 6 month plan at $6.49/mo*. | One of the worthy plan of the SurfShak VPN is 12 month plan. In this you will get the free 12 month services too. So you can call it 24 month plan to manage unlimited devices at a time. The plan cost $2.49/mo* |
Money-Back Guarantee of ProtonVPN & SurfShark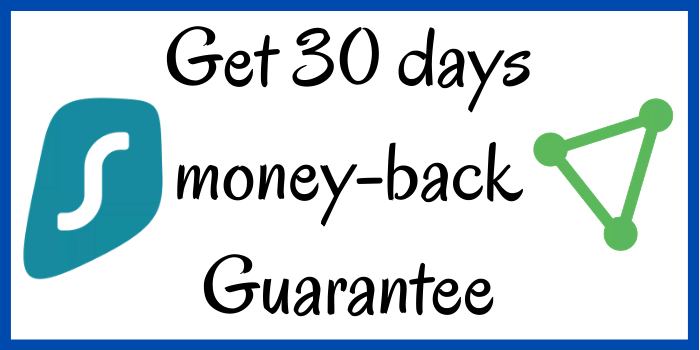 If you are using the services of any of them then you will get 30 days money-back guarantee on its services. They both offer 30 days money-back guarantee to its users. If you are satisfied with the services and features then you can refund its services within 30 days. Get better software with a trial period of up to 30 days.
Features of ProtonVPN & SurfShark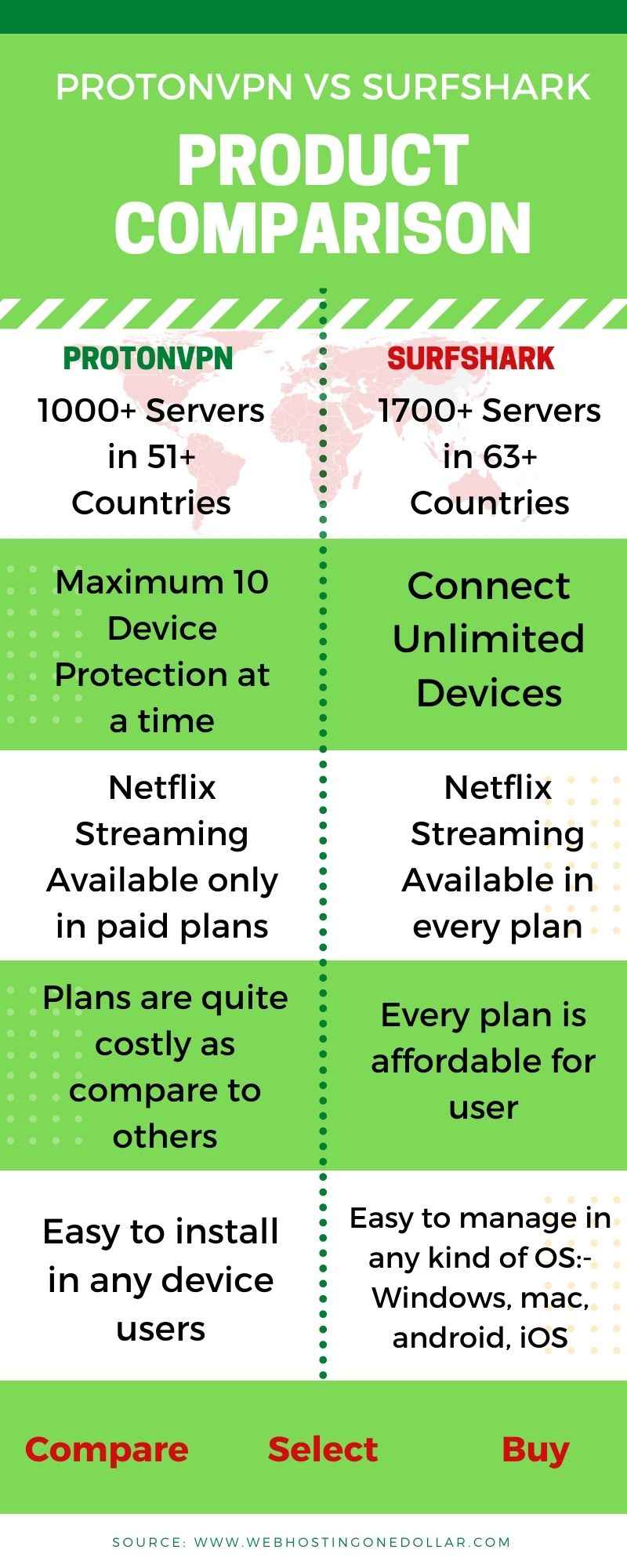 Let's compare the features of both VPN providers after the read of its prices. According to its prices, the features of both the provider are very powerful. Here you can easily compare its features according to its prices.
| ProtonVPN | SurfShark |
| --- | --- |
| 1000+ servers in 51+ countries. | 1700+ servers in 63 Countries |
| Connect 10 devices Simultaneously | Connect Unlimited Devices |
| Support:- Windows, Mac, Android, iOS & Linux | Support:- Windows, Mac, iOS, OS X, Android, Router |
| Strong Encryption | CleanWeb |
| Swiss Based | Kill Switch |
| Kill switch and always-on VPN | Strict- No Log Policy |
| Netflix Accessibility in Paid Version | Netflix Streaming |
| Strong Protocols | Private DNS & Leak Protection |
My opinion on ProtonVPN VS SurfShark Comparison
Both are valuable firms in the market based on prices and features both are worthy in their aspects. But still, they are not the same.
If you are finding the relevant one at reasonable prices then SurfShark is the best option for all the buyers. It contains all the required features just in few dollars. So SurfShark is the best option for maximum users. The TrustPilot Review Secure of the Surfshark is 4.5 out of 5 and ProtonVPN score 3 Out of 5. It shows that the maximum users are happy with the services of the SurfShark as compare to the ProtonVPN.
Also read,