Do you want to keep an eye on your child's online activities? Kaspersky brought an answer to this. Yes, it is Kaspersky Safe Kids Protection which protects your kid's all activities on the internet. You can call it Parental Control also, a safeguard for browsing, social media, and other information. It is an application that installs in a device whether mobile, Windows, or mac OS.
Kaspersky Safe Kids is a Free & paid version of the software that you need to buy. But if you want to get at a nominal price go through Kaspersky Coupon Code. In one License you can protect all of your kids of your family in multiple devices. It offers a 7-day free trial and after 7 days of trial, you have to upgrade the kids' safe app.
How Kaspersky Safe Kids Protection is Unique?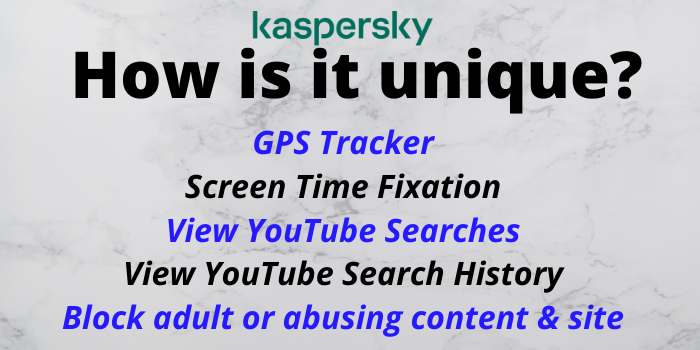 The best features of the Kaspersky safe kids protection makes it unique. We will discuss all of the features that you should know before getting in it into your device.
It provides a seizure which blocks such kind of content or site that you do not want your kid's view. It can be adult content, a site that distracts the mind of a child.
It can block videos if kids try to search on YouTube about alcohol, bad habit videos, drugs, abusive video, and others.
Suggested Read… Is Kaspersky Antivirus Safe to Use?
Some applications of games also use your child – if you want to set the screen time on the use of an app. it is your choice for your kids to fix the time per day on any app.
As a parent or adult person, you can monitor Facebook
View which friends send the friend request, who tag your kid, like the post. See the posts of your kids and many more. You might know that around 3 billion people use social media (Facebook platform). Therefore, Facebook monitoring has become an essential thing for your kids.
Use the GPS ( Global Positioning Service ), tracker to trace your kids where they are going. Also, you can know when they are leaving that place. It gives satisfaction to you that your kids are safe outside.
Kaspersky offers Free and Paid Version of Kaspersky Safe kids
You have to know all the features of the free & paid version. After this can decide which is best suited for your need.
Features of Kaspersky safe kids – Free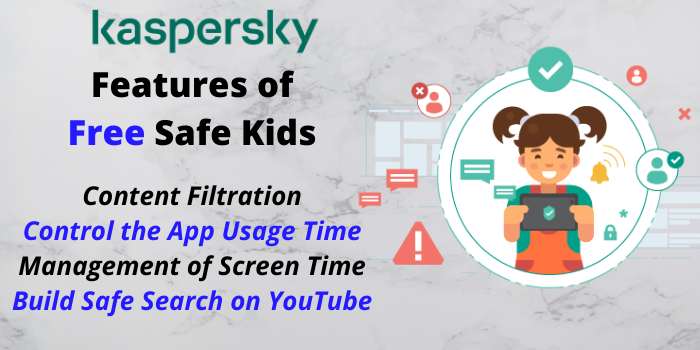 It filters the unbefitting content and website
Set the time and choose the hours for using the app & time that they spend on the device
Block the searches of your kids that they made on YouTube
Features of Kaspersky safe kids – Premium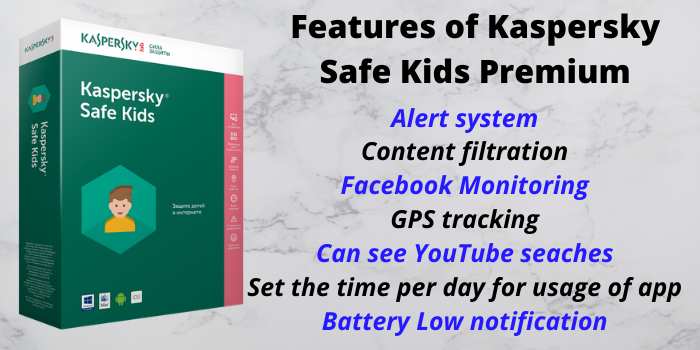 YouTube search history
however, it is the same feature but it is premium by you can find the interest of your kids on that topic
It gives alert if your kid tries to access the bad or adult site and content
Monitor your kid's Facebook account activities
Battery tracker that gives notification if the battery is going to low and say them for the plug-in
GPS tracking for your kids
View your child's search history on YouTube
Filter the content and website
Fix the time for usage of the app
Set an exact scheduling time for a limited time.
 Frequently Asked Question
How does Kaspersky Parental Control work?
This allows you to manage and access the content, videos, site & fix the screen time for your kids. It is for the safety of a child while he is connected to the internet. It provides online privacy for your kids.
Does Kaspersky Safe Kids work on iPhone?
Yes, the Kaspersky works on iPhone, Windows, Android, and Mac OS devices.
How to uninstall the safe kids?
Go to your account and then tap on the setting, after this tap on General, and tap on the profile
Select the profile of safe kids and delete this
If it is protected by a password then enter the password
And, for removing the profile enter your PIN
How to run Kaspersky Safe Kids?
First, open your safe kid's app
A button will appear to click on this "Protection for Kids"
In your window click on "open"
How to protect your children from cyberthreats?
Cyberthreats are harmful to your kids as well as for you. To get protection from the cyber threat you should install the best security software. Kaspersky is providing free safe kids with the least features & if you want advance features get the premium version.
What are the ways to stay safe with our kids online?
You can do this by installing the security software, which is Kaspersky safe kids protection. Use this free version and if want to get a premium for advance feature purchase it using the Kaspersky promotion code. It offers many features that enable your kids safe online and they connected to the internet. Some benefits are safe social media monitoring, can see the videos search history & block to access the search topic to view on YouTube.