Videos are one of the fastest ways to deliver information. They're easy to consume and process, and have all the stimuli needed to evoke an emotional response—visuals, sounds, and feel. In fact, this 2019 videos are expected to account for 80% of all traffic on the Internet.
Paired with social media, videos are even more powerful now. So powerful, in fact, that research shows 64% of consumers are more likely to make a purchase after watching a social media video.
LinkedIn as a social media platform targets professionals, and has also adopted using Video Ads to give its users an edge in connecting with potential customers. Keep reading this guide to get an idea of what LinkedIn video ads are, and how you can best use them for your own digital marketing campaigns.
What Are Linkedin Video Ads?
LinkedIn video ads are videos with sponsored content. They can be posted on the newsfeed as a status.
Unlike native videos, a LinkedIn video ad includes a call-to-action button. This allows companies to increase website traffic, brand awareness, and lead captures. According to the social platform itself, company pages that use video ads are five times more likely to start a conversation. As a result, companies should invest in sponsored videos to better build their brands.
There are a number of benefits to using video ads. First, videos can help you build your brand among professionals. Videos are available on desktop and on mobile platforms, and can engage users on all corporate levels. Second, videos act as high-quality lead generation tools that can bring in customers. Finally, video ads on LinkedIn can be measured. You can collect data and see who and how well your videos are performing.
If you have the time and the resources, LinkedIn video ads are worth using.
Pointers to Consider When Getting Started
Here are some things to think about as you're looking into using LinkedIn video ads.
What do you want to accomplish with your video? Before anything, you need an objective. Find out what you want to accomplish, and use that as a guide for your video.
Can you tell a story? In content marketing, it's important to consider what you want to convey, because your story is how you'll connect with your audience. To make a lasting impression, you have to be able to create a message that makes a strong impact and resonates with your viewers. Good storytelling will also draw in other viewers who might not otherwise be interested in your content.
Will your videos have a human touch? Think about who you'll be featuring in your videos. If you're having difficulty thinking of what to feature, you can concentrate on your brand. Show off what your brand culture is like or present personal stories. Videos make it easier to create personal connections. Make sure you maximize that potential.
Step By Step Tutorial: How To Set Up Video Ads
So you've decided to use linkedIn video ads for your brand and campaigns. How do you do it? Follow the steps below to setup a video ad:
Sign in to Campaign Manager.
Click the account name where you'd like to create your new campaign.
Create a campaign group that will contain all of your video campaigns. On the Campaign Groups tab, click the Create Campaign Group button.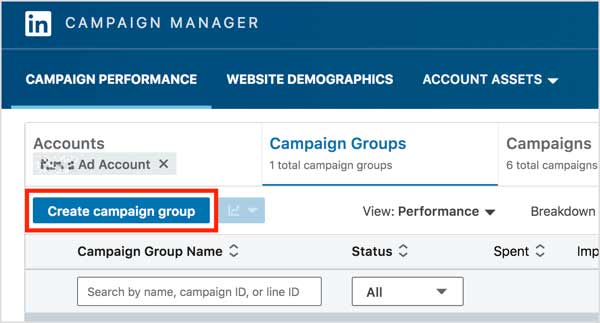 4. In the Create a Campaign Group pop-up box, add a group name, set a budget, and choose a start date. Click Save
5. Open your newly created group and click the Create Campaign button in the top right of the Account Details page to create your first campaign.
6. Click Select to the right of Sponsored Content.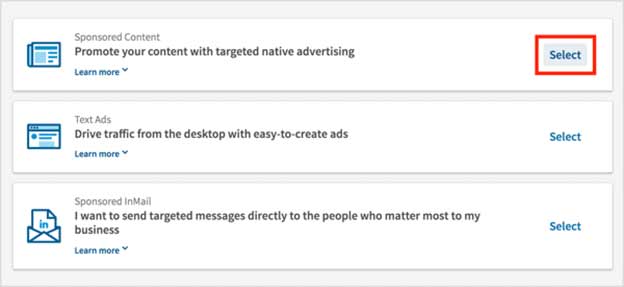 7. Name your campaign.
8. Select any of the three objectives and click Next:
Send people to your website or content
Collect leads using LinkedIn Lead Gen Forms
Get video views
9. Select Video as your ad format type and click Next.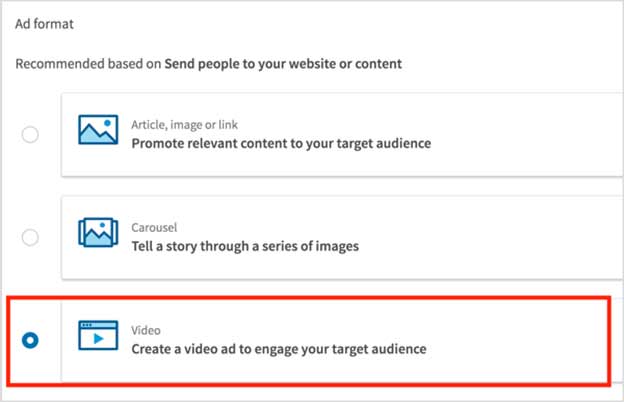 10. Click Create new video and then upload each video you created, then save.
11. Wait for your video to upload. Once the video has been uploaded, it will show you an approximate time left before the video is finished processing.
12. After your video has processed, select the video by clicking the checkbox next to it and then click Next at the bottom right of the page.
13. Select your target audience criteria and click Next.
14. Select your bid, budget, the duration for your campaign, and then click Launch Campaign.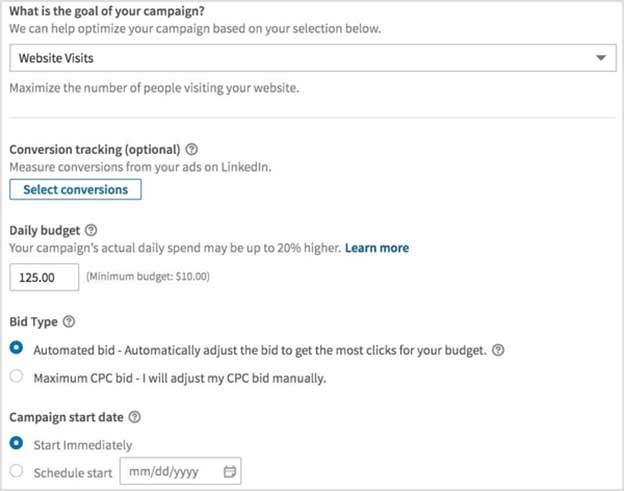 Bonus Tips for LinkedIn Video Ads
Now you're ready to start making your own video ads. Here are some simple tips to give you an advantage against your competition.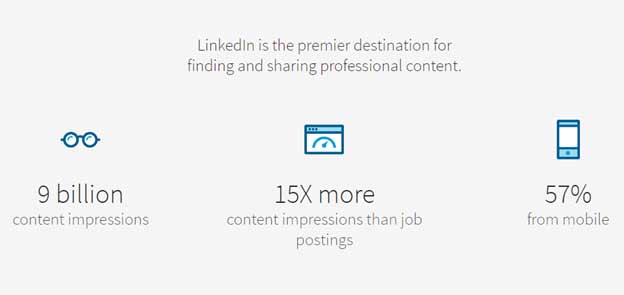 Source: https://business.linkedin.com/marketing-solutions/audience
Optimize for mobile platforms. Remember that up to 57% of all LinkedIn users access the platform through mobile. Configure your video and your specifications to work with mobile devices.
Keep your video orientation consistent. Not only is it unprofessional looking, but switching between horizontal and vertical orientations in one video can be confusing.
Research your audience. Aside from knowing what you want to achieve, you should put yourself in your audience's shoes. This will help you get an idea of what they want to know and what interests them.
Short and simple is best. Don't bore your viewers with long videos. Hook their interest within the first 10 seconds. LinkedIn reports that the most successful ads are usually under 15 seconds long.
Don't depend on sound at the beginning. Most people keep their videos on mute when they start. Make use of images and text at the start, and consider subtitles for those who watch on mute. You can check out this guide on producing creative, high-quality, and engaging photos for social media.
Be genuine. Candid videos can help create authentic relationships with your viewers. Don't oversell or overproduce.
Don't be afraid to try longer videos. Depending on your objective, you may benefit more from longer ads. Make sure you measure your data to see what works for your campaign.
Join groups that are related to what you want to post. When you join a like-minded group and post related content there, you're likely to find people who're more interested to interact with your videos.
Takeaway
Overall, LinkedIn video ads have many benefits. Companies that want to extend their reach among professionals on LinkedIn would be smart to take advantage of this feature.
Are you using LinkedIn video ads? How have they been working for you? Let us know in the comments below!