The blog is all about writing and sharing your ideas with the public either to share experiences or to review a product. On the other hand, vlog stands for video content where people shoot & share. Both blogs and vlog can be quite broad in terms of categories for example there can be many different types of blogs and vlogs. In this article on blog vs vlog, we're going to discuss what is a blog / what is a vlog and which one you should use.
Blog vs Vlog – An Outlook
Blog & Vlog are immensely popular right now in the world. Interestingly, Blogs have started much earlier than vlog or you can say that vlogging has gained popularity quite recently. Both of these concepts are widely used in marketing to generate the maximum amount of traffic & to bring more customers. Sometimes these are simply used to earn money as an extra source of money & for fun also. As of recent stats, there were around more than 500 million blogs in 2023 and there were about 31 million YouTube channels which are only one of the vlogging platforms.
What is Exactly a Blog?
A blog is informational content written with the aim to help a user. A blog can be a part of the website or a full-fledged website itself. A person who writes a blog is known as a blogger & the act of writing a post consistently for a blog is known as blogging. It's used to share ideas & thoughts with images related to the topic. A blog can be a food blog, traveling blog, review blog, personal, fashion, music fitness, sports & many more. Blogs are a widely used concept in marketing as it aims to direct the traffic to the website.
Also read: 5 Reasons Why Your Business Needs a Website
5 Search Engine Optimization Mistakes You're Making (and How to Easily Fix Them)
What Is The Purpose of Blog?| Type of Blogs
The purpose of the blog depends upon the type of blog it is. In today's competitive world blogs serves as a powerful marketing tool. It plays a vital role in search engine optimization & helps to rank a website in search engines. Below are some main points for writing a blog & especially in marketing.
Increase Website Traffic:

Blogs helps to generate traffic for a website, as users love to read their queries.

Convert Traffic into Leads:

You may have the opportunity & chance to convert these visitors into leads. A blog on a product helps a visitor to buy that if he wants to buy it.

Rank a Website:

Moreover, a blog helps to boost a website rank on the search engine results page.

Provides Information:

Another purpose of writing a blog is to provide useful & honest information to visitors.

Establish Business Authority:

A blog can help a business to increase its authority. It's a powerful way to build authority by providing information about the products & services of a business or a website.
What is the best website for blogging?
There are many websites on the internet for blogging that are trusted by millions of visitors. Some websites are free to start blogging while some need to purchase a space to publish. Let's have a look at some of the free blogging websites that have millions of users. But you need to have a hosting plan to publish your blog. Here's a list of some of the good ones:
WordPress:

A well-known CMS website people are more likely to use WordPress in recent years. It is often known as the king of free blogging sites, however, you need to pay if you want a custom domain & don't have a hosting plan.

Wix:

It is also a free website builder platform that can manage by a user with no special technical knowledge. With over 154 million users, you can use this site to showcase your blogs in the public.

Blogger:

One of the oldest blogging websites but now with the introduction of some new websites the popularity has dipped slightly. Owned by Google it's still best for personal & professional blogging.

Medium:

It is also a good blogging website with around millions of users per month. You can get the advantage of this free platform to help your website.

Tumblr:

It is known as the micro-blogging website with short content & image-focused. You can add links to your content & post. But it is not so effective as other blogging websites as it mainly focuses on short content.
What does Vlog mean? | Types of vlogs
A vlog generally consists of videos in different categories for example a blog can be a personal vlog, fitness vlog, educational blogs, etc. A person who creates and uploads videos on a video sharing platform is known as a vlogger. A vlog can be business-related & it can also be non-business related. You just need a camera to shoot & a computer or laptop with video editing software & an internet connection to upload. A vlog helps a business to grow as a vlog can be on the product of that business or website. Many vloggers have gained immense popularity without even having a personal website, such as the power of vlogs in today's world. YouTube is the biggest source & platform for vloggers & businesses to share videos.
What Is The Purpose of Vlog?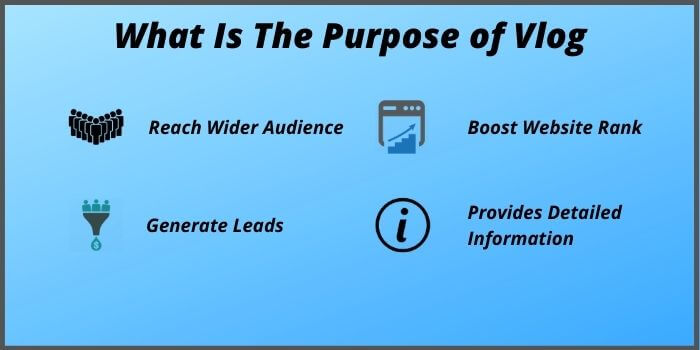 AS technology has evolved, the mode of consumption of data has gradually shifted more to visual platforms. The vlogs serve as a good tool to communicate with the new and larger audience along with the traditional audience that you target through the blog. As a matter of fact, both vlog and blog complement each other and can help you grow your business.
Reach a Wider Audience:

Vlogs helps to reach wider audiences as people like to watch more.

Drive More Traffic:

A promotional video can help to drive more traffic to a website as a user shows more interest in videos.

Generate Leads:

It helps to generate leads for a business as a user who's coming by watching a video can buy that product or service.

Boost Website Rank:

Another purpose or benefit of the vlog is that it helps to boost website traffic in search engines result in pages.

Establish a Brand:

A business vlog & videos help a company to establish the brand.
Difference between Blog and Vlog
Although there are many differences between blogs and vlog they also share a lot of similarities. Both are the source of communication but they still use different mediums. Let's have a detailed look at the differences between vlog vs blog:
| Factors | Blog | Vlog |
| --- | --- | --- |
| Audience | Approximately 31.7 million active bloggers in the US | Around 2 billion YouTube viewers worldwide. |
| Difficulty Level | It's not difficult to blog & doesn't requires any special technical knowledge to edit. | It's complex as compared to a blog & requires technical knowledge to shoot a professional & to edit a video. |
| Editing after publishing | Yes, you can edit even after publishing it. | You can't edit your video after uploading it. |
| Content-Length | According to the different platforms and sites. | Video length allowed by different platforms. |
| Equipment Required | Computer, laptop, or smartphone with internet connection & a blogging platform. | Smartphone or video camera, computer, or laptop with internet connection & video editing software. |
| Difficulty in optimization | Easy to optimize a text-based content | It is more complex to optimize a video as compared to text-based content |
| Demographics | Varies by particular niche | Varies by niche, videos are more popular than text in general. |
| Monetization Options | Advertising, affiliate marketing, brand sponsorships. | Advertising, affiliate marketing, brand sponsorships. |
Blogger vs Vlogger: Difference between blogger and vlogger in terms of earnings
Both bloggers and vloggers earn a good amount of money. It all depends on their content and how they are representing it in front of people & resources they are utilizing for their vlog and blog. Some vloggers earn money just from AdSense and some are by doing affiliate marketing and more. A blogger also earns money the same way a vlogger does, mostly they do by running ads on their sites. There are many examples of bloggers and vloggers who earn a lot.
Which Is Better Blog or Vlog?
Both are a good option, especially if you would like to promote a website or a business. Vlogging is entirely different from blogging as you don't need any special equipment to publish. You just need to select a particular niche and your thoughts to write but however, a viewer has more interest in watching a video. Although the vlog seems to be more interesting & it automatically builds interest to users. A user who loves to read can read your blog also the same as a viewer who loves to watch vlogs can watch your video also. So it all depends upon the type of a user whether it loves to read or likes to watch. So I hope this article blog vs vlog has helped in clearing your doubts.
Read More: How to Increase Traffic on Your Website or Blog
WordPress Website Security: What You Need To Know