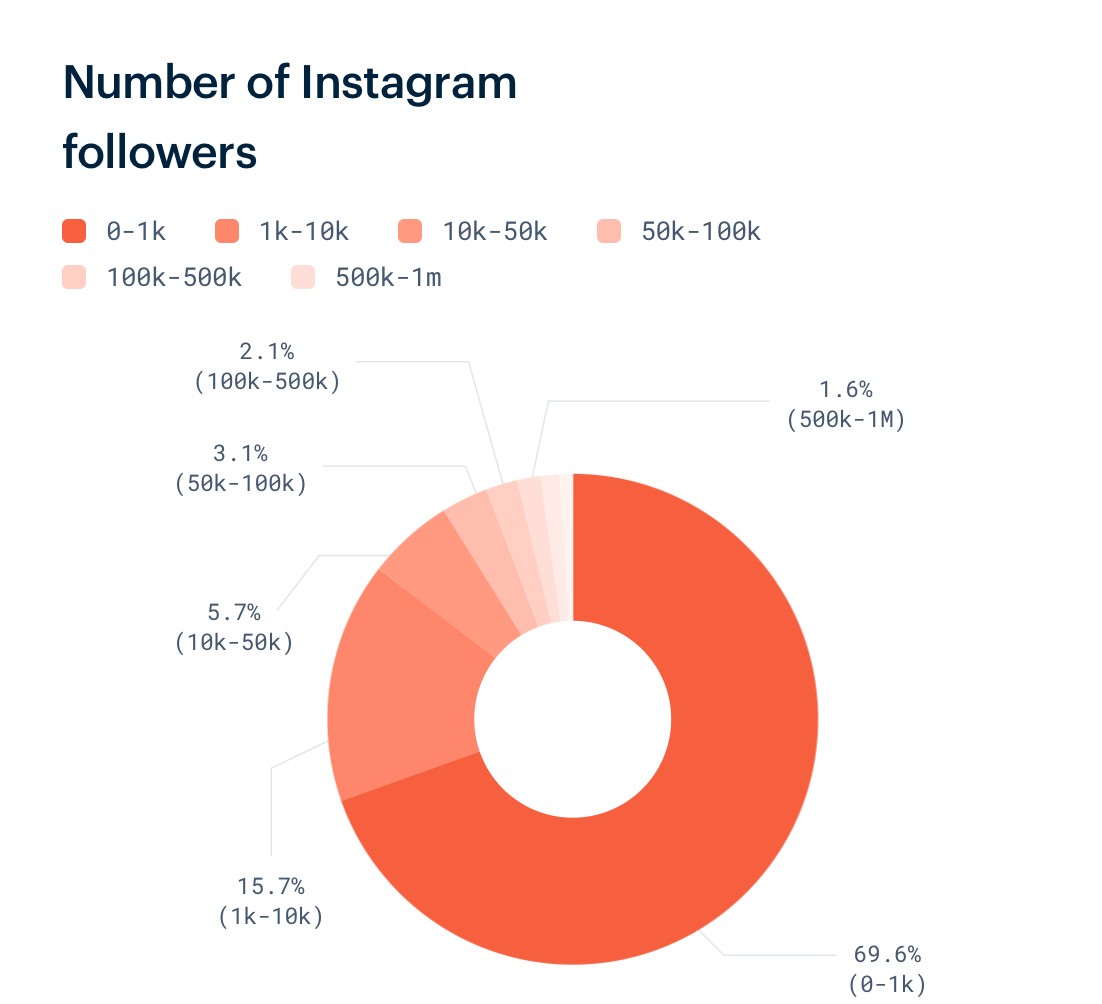 If you are like most Instagram users, you:
Are part of the 70% that has less than 1,000 followers.
Want to increase your Instagram followers to at least 10,000
Have considered buying followers but are aware it won't actually be beneficial for your business
A recent study shows that 39% of accounts with over 15,000 followers are influencers of some kind. Those with less, making an impact as micro-influencers. Others, making an impact as business accounts.
There are several ways you can go about increasing your Instagram numbers, and testing them all out will take some time. So to save you going through them all to start with, here are our top tips gathered together to help increase your Instagram following in 2023.
#1 Keep an Eye on the Data
There is no better place to start than to audit your current account and how it is performing. Apart from giving you an insight into your followers and current engagement, it will also offer insight into posts that have gathered good engagement that you can work off to scale your profile in the future.
To gather the best analytic data, you will need some help outside of the Instagram platform. You can gather extra information such as keyword and hashtag popularity and engagement, followings and un-followings, and what trends are happening in your specific niches online.
Instagram has decent built-in analytics, but there are myriad tools you can easily find on the Interweb.
2 Re-evaluate Your Instagram Content#
It is almost too easy these days to take what we consider to be the 'perfect Instagram photo' and leap in too quickly by adding it to our aesthetically pleasing profiles. But as pleasing as it looks, is it adding anything of quality to your feed for those that have given up their short-lived seconds to scroll through it?
With mostly anything on social media, content is key, and one of the best ways to scale followers is in fact not by the amount of posts you're creating, but by the quality of posts you're creating.
Believe it or not, without that engagement on the quality posts, Instagram's algorithms are going to snub your content like the social media trends of 2015 and show it to fewer people.
So sit down and have a bit of a look through your current profile. Is your content really offering your followers something? Does it sit cohesively with the brand that you are trying to convey on your profile, and is it hitting the right target markets that your profile is advertising to online?
Then look to the future.
What haven't you covered and what quality content can you create and send out to the world that would bring in great engagement on your posts? Some thought-provoking questions, or a story that your followers will all be lining up ready to comment and share their rendition.
Take some time to figure out what you want to be saying alongside what you want to be achieving on Instagram. While the frequency of the content you create might not be thrice daily, it may just bring in more dedicated followers than ever before.
#3 Join an Engagement Pod
Gathering popularity a couple of years ago, engagement pods have exploded among IG newbies and influencers alike to help Instagrammers gain clarity and control over the ever-changing Instagram algorithms.
If you've never heard of or used an engagement pod before, a quick rundown for you:
Usually a small group in a similar niche or situation (business owners, influencer, or even more specific than that) that interact and engage in each others' content on Instagram on a regular basis to increase engagement, impressions and overall positivity in the light on the almighty algorithm.
Particularly handy if you are a business with a specific niche, or have a bit of spare time on your hand and want a fail-free way for a bit of an engagement boost! This is also a great way to test the waters as you scale upwards with increasing followers. So if you have the time, give it a go.
#4 Collaborate
Collaborating with other accounts or businesses that are not in direct competition to you is a great way to not only gain extra followers but also expand your online networking community.
And don't limit this to influencer marketing or competitions of any sort here, either.
Collaboration with another Instagram account could be something as simple as getting together on a IG Live or IGTV and having a chat, or working on a blog post together and posting about that on Instagram and tagging one another in that work.
There's numerous amounts of accounts and businesses wanting to get themselves seen by more people online. So if you are worried about collaborating with people, don't be! Reach out and ask You never know what they may say, and you may land yourself with a great collaboration (or client) in the future.
#5 Branding, Branding, Branding
We all know that the main thing that draws us in to Instagram is the aesthetics. Primarily a photo platform, the captions accompany the pictures to create an overall quality piece of content.
But your Instagram profile may be missing the mark and losing follower opportunities if it is not branded cohesively.
Whether your Instagram is a business or personal profile, creating it with a brand or style in mind will help it to reign in the right followers, not to mention make it easier for you to create quality content and a profile that will make viewers swoon and hit the 'follow' button without a second thought.
Choose colour palettes and photo styles, create highlight covers, use brand hashtags and branded memes.
A great place to start is to create vision boards to gain inspiration from and work on your colours and content from there.
#6 Engage to Build your Tribe
It may seem like a silly thing to add, but simply engaging in (ironically) engagement on Instagram is an integral part of increasing your Instagram following.
Instagram users are extremely engaged, so beginning those conversations with your fans and fellow Instagrammers alike is likely to be beneficial for your follower count.
And we're not just talking liking and replying to comments here. (Though this should never be ignored. If your followers are willing to take the time out of their days to respond to your content, take the time to give them some love in return!)
IGTV and Instagram stories hold a great amount of traction in organic watchers every day, and actively using these channels would put you in front of these organic viewers who may just find your content right up their alley.
If you're a business, actions as simple as reaching out to other businesses similar to yours, reaching out to new followers or clients and beginning a conversation are great examples of reinforcing a positive reputation on the platform.
Being proactive and engaging with other accounts, not just those that come onto your own profile will have its benefits. It is about building a community, and you have a better chance of succeeding if you see Instagram as a two-way street!
Key Takeaways:
Your analytics will offer you answers. Invest in some quality analytics software and use it to get a clear indication on how your posts and profile is performing. It will also give you the outlines of the popular and up and coming Instagram trends.
Quality content over quantity. Take some time to look at if your content is offering something of value to your followers. Don't just post for the sake of posting content if you don't truly believe there is nothing that that will help you followers engage with it.
Give an engagement pod a try. Great for adding a bit of boost to engagement, especially if you are just starting to get your ead around the algorithm. Plus, always worth giving everything a test run!
Reach out with fellow Instagrammers and business accounts and see if you can start up some simple collaborations that will offer advantages for you both. Doesn't have to be anything extreme. A simple photo or live chat or tage may even do the trick to begin with.
Create a (or if a business, use your current) branding profile to create a cohesive look throughout your Instagram. Doing little things like sticking to a filter colour pallette, creating highlight covers, and using branded hashtags will all help with keeping your profile aesthetically pleasing to all who view it, and cohesive throughout the platform.
Take the time to engage with the greater Instagram community. Take advantage of the IGTV and Stories and use them actively. Reply and communicate with new followers and engagers and just get in touch with other accounts you find interesting! The interaction will be greatly received.