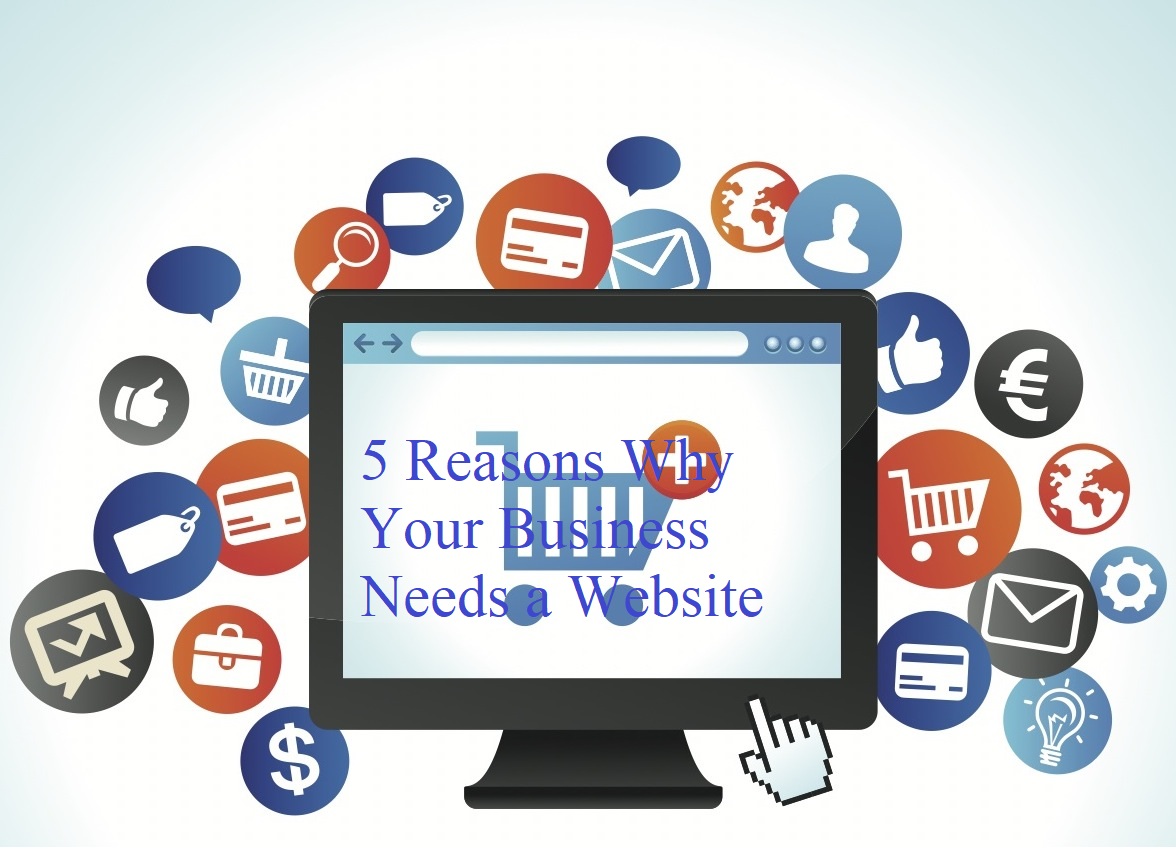 The digital era of 2023 features a world of children, women, and men of all ages strolling the streets with what is generally a 4-inch gadget in their pockets. We all have a mobile phone, everyone has a personal computer, and everyone loves to consume. With facts and information easily available in seconds through Internet searches and other web-based applications, companies can no longer manage to be without a digital presence.
Even if you do not own a website yet, it's absolutely a thought that has crossed your mind on multiple time as a business owner. This post didn't stumble across the device screen by accident. You may have countless excuses for why your business doesn't have a web page.
There are at least 30 logical reasons why your enterprise must have a website, however, this article will highlight the top 5 reasons:
1. Create Effective Customer Communication
Albeit many businesspeople would like to devote all the hours in a day to their business, the truth is that they can't. Business owners should have a life outside of work. You can't remain on the job all day. With a digital presence, entrepreneurs are still able to keep in touch effectively with their potential customers from remote locations. The special rules of any business, most importantly small and mid-size business, is "the customer is always right." If you pay attention to your customers, your customers will focus on you in kind.
You see your buyers on a frequent basis. You know their favorite sports teams, their names, and their children's school. Other than a "hello" and "goodbye" you probably have small talk concerning the weather. Nevertheless, do you actually discern your customers' needs and wants?
Hearing positive comments from your customers face-to-face is great positive support, but that won't allow the rest of your active and prospective customers know the great job you are doing. Let potential customers post reviews on your site. Draw attention to these reviews on the home page, or perhaps on the side margins of all the webpages on the website.
Only a handful of reviews has to be public either. An easy, "Contact Us" form on the site allows customers to provide reviews straight to you. You can respond straight to this feedback in private if possible. Buyers will feel more convenient providing some unknown remarks, negative or positive, that they will possibly not voice to you directly.
If a client wants to publish a negative review regarding your business online, odds are they will manage to achieve this with or without the feature to do so on your website. Without an internet site for your business, consumers will find third-party websites such as the Better Business Bureau or Yelp to write a complaint. If you permit them to post on your site, you can professionally and publicly respond to their reviews.
Express regret and offer a good explanation without making excuses or sounding defensive. After doing this, they may even submit another review encouraging others on how nicely you fixed their situation.
2. Your Competition Has a Website
Your business competitors are using sites to not only keep their existing customers but also get new customers. Their new prospect acquisition could be the reason behind your customer loss. Small enterprises cannot spare to lose any customers, definitely not to their direct competitors.
Consumers love finding a great deal. If they can explore the value of a product or service before ordering, they will be pleased to do so from the comfort of their computer, tablet, or phone.
Why would they spend some time driving to 3 different mattress outlets if they can price out their choices in no time from their devices? Why would they take some time to call 5 different electricians when they can just do a Google or Yahoo search from their mobile phones while waiting around for their morning coffee?
You could possibly have the more affordable prices; you may have the best products, but potential customers won't figure this out if they can find what they are searching for from your competition online.
So maybe a couple of your top competitors don't have an internet site either. That's not unexpected, but totally possible. This is an even more suitable time for you to benefit from controlling that market space. With this, you can emerge as the only game in town with an internet site.
3. Create a Path for Expansion and Growth
Don't get trapped. The "if it's not broken, don't fix it" mindset will gently become the downfall of your business if you allow that mentality to control your actions. Having a web page will not only keep your company germane in the present but will also be appropriate for future growth and expansion. Absolutely everyone with an Internet connection now has straight access to your business, instead of the customers in driving distance to your local store.
If you're lucky enough to have clients that don't use the Web, then that's terrific! Your business may be extremely successful and profitable without a website. That doesn't show that you should forget the prospective prospects that do use the World-wide-web. If you are a businessman with "old school customers" then you're likely aged enough to recollect a video rental company known as Blockbuster.
During the early 2000s, Blockbuster owned over 8, 000 store locations around 10 countries. Under 10 years later, Blockbuster's deficiency in the ability to remain ahead of the curve made them file for bankruptcy and more or less become non-existent. For scarcity of a better term, they were grounded by their competition. Don't let that strike your business. Do not forget; this was a multi-billion dollar global chain that failed to stay in the industry because they were unable to conform to the times and properly plan for growth.
If business at this scale failed, how do you expect your small business to survive without something as basic as a website? Your current customers are probably helping you to keep your lights on and make money for now, but the reality is small businesses must continuously be getting new customers to remain successful.
4. Increase in Sales
An internet site can help bring in more sales for your company and be more hassle-free for your customers, irrespective of your industry. Businesses can market services and products through a web store. If you are promoting tangible products and solutions an online store can let customers purchase products outside of your normal business hours. Customers can even buy goods during your business hours, while not having to make a visit to your physical store.
You may also notice that it is more economical for your business to sell products online compared to in stores. With an inventory management app like EMERGE App integrated, it will take your business to another level, it will helps to monitor and keep tabs on your inventories.
You can spend fewer employee hours and time in assisting customers in the storefront if those profits are being supported online. Your workers can rather focus on other duties instead of having downtime awaiting customers to walk in.
Well, you may not hold a real product that you can deliver to your customers for them to acquire on an online store. Yet, that doesn't suggest that you can't generate more revenue online promoting your services.
5. Track and Monitor Customer Interests
Are you aware of the services or products your customer base likes the most? You probably think it's whatever products that have the highest sales, or whatever product that has the topmost profit margins for your company. Maybe it's neither. If you own a website, the analytics can explain to you which webpages on the website and in particular the links to services and products your customers are checking out the most.
You may present something that your visitors didn't even know was available during their checks out to your stores. According to this analytics, you can properly adjust your charges in order to increase profits on your most popular checked out items.
Your site might deliver a service that is clicked on by 90% of customers, showing that this should be a top seller. On the other hand, you may realize that this same service has the lowest purchase rate of all the services or products you offer. This data could be a clue that this service is not properly priced. Analyze the information in any manner you feel looks good, but without a site, these details will not be accessible to you.
Furthermore, if there is a "search" option on your site you may find out that customers are looking for products that you don't have. For example, let's say your business makes custom-made hats. Your site may offer lots of varied hat styles to customize, but prospective customers are looking for a style that you do not have in stock. Now you can find out that this hat style is one that should be offered as an option to your customers to customize.