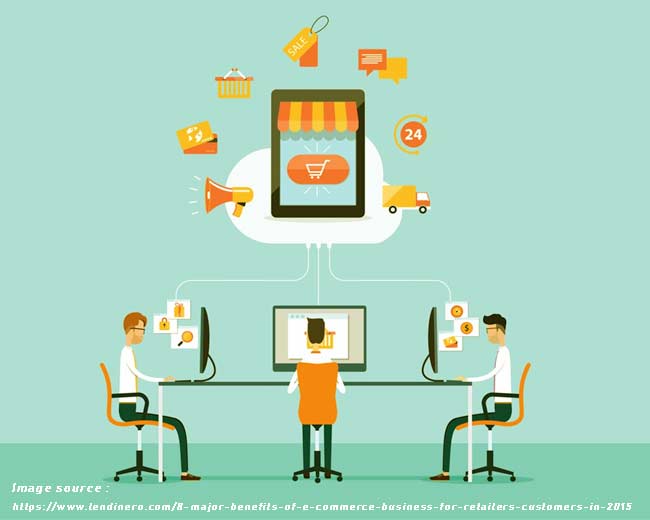 E-commerce platforms are proliferating and so should your business ideas. Today, e-commerce businesses have swelled to a number which was once a far-fetched dream for marketers. Now that the much-coveted milestone has been reached by the developing enterprises, should you not consider turning your embryonic business concepts into matured e-commerce business ideas? E-Commerce platforms are destined to increase over the next few years.
If statistics are to be believed, a whopping 40% of the internet users across the globe have purchased products online using desktops, tablets, mobile or other devices. Detailed customer behavior analysis has revealed that nearly 48% of the online buyers have shopped, and spent more than planned, while purchasing goods online.
It is time you leverage this "impulse buying" pattern of prospective buyers along with a couple of other factors and come up with profitable e-commerce business ideas.
In this article, we shall delve into the depths of the best e-commerce business ideas that will dominate.
Smart clothes: The union of fashion and technology
It would be wrong to call it a brand-new e-commerce business concept, but smart technology has carved out its unique niche in the fashion industry lately. Here are some of the products and accessories that have made this blend possible-
Theft-proof backpacks: These also serve as charging stations with Bluetooth and other essential gadgets. A close variant, known as a "programmable backpack" is also a potential e-commerce business concept
Beanie with headphones built as a woven fashion accessory
Smart leggings: These automatically check your measurements and suggest the best places where you will find leggings and pants that fit you
Phone-charger keychain
iPhone-charging bags
You may choose to promote these branded products or collaborate with a tech startup to push your own invention to the market.
iPhone repair kits
The use of iPhones will shoot up even further in the next few decades. As per the 2017 statistics by Forbes, more than 700 million iPhones are currently in use across the globe. Parallel to the initiatives of Apple to level up its sale to around 1 billion in the near future, the iPhone niche will grow in size. Not only that, it will evolve more as the perfect e-commerce honeypot.
E-commerce enthusiasts on a lookout for the best drop shipping products that businesses should definitely consider iPhone repair kits as an option.
Even the kit components that cost only $3 or less can turn out to be the perfect revenue generator if the sales are really high. It is also important to note that this existing iPhone niche can be converted to a massively extended niche that includes a whole array of diverse iPhone accessories that are always in high demand.
Kitchen amenities
Kitchen or cooking inventions have been and will remain the best-selling products, and can be the perfect money-minting commodity in the e-commerce confines. This neatly explains why you should consider kitchen inventions like multipurpose vegetable cutters, portable juice makers, modular coffee machines and a few more as your potential e-commerce business product ideas.
The main advantage with the consumers of kitchen utilities is that they do not chase brands. They only seek products that fit their purpose and mostly these are the small and handy kitchen tools. So, this reduces both your money and effort and boosts the ROI in very less time.
Online rental business
Today, every offline business initiative is being converted to an online equivalent. As a quick instance, the online clothing rental market is expected to reach $1856 million by 2023.
Irrespective of the product rented, online rental portals seem to have become the most popular among people who prefer renting a product over owning it. Therefore, the buyers can select products to use for a limited time period. The owners can equally benefit from these portals as they can easily rent out goods or products that are not frequently used.
It is therefore evident that online rental business is one incredible e-commerce business idea.
Numerous subscription-based products, services, websites, and apps have exploded in popularity in the recent past. The live-streaming giant Netflix, which has an exponentially rising subscriber base has inspired a number of similar subscribed products and services, which is generating an exceptionally high turnover. For instance, Dollar Shave Club has accumulated over $615 million in the last 5 years by shipping shaving kits to its subscribers.
As an aspiring e-commerce business owner, you can funnel your customers into a paid continuity program through different subscription mediums. This surely is an e-commerce product idea you cannot miss out!
Summing up
Stacked against your expectations for the future, the e-commerce businesses are already doing well. It is just a matter of ideating on the best business concepts that would let you take that giant leap in the e-commerce world.
Need help setting up your e-commerce business? Fiverr freelancers are here to help with everything from Shopify to SEO.
 Have a question about e-commerce? Ask us in the comments below!
AUTHOR BIO
I am a professional blogger, guest writer, Influencer & an eCommerce expert. Currently associated with ShopyGen as a content marketing strategist. I also report on the latest happenings and trends associated with the eCommerce industry. Follow me on Twitter @Jessicabruc