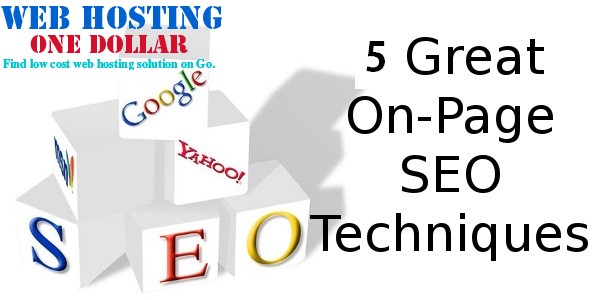 On-Page SEO is one of the most significant processes for online business. It helps you to achieve top ranking and to run effective SEO campaigns. The process allows you to optimize different parts of your website including content, titles, URLs, and description. The ultimate purpose of On-Page SEO is to provide a clear understanding of the context of your website.
Note that a website is the pivot point of all SEO practices. For this reason, it is important that you optimize your site to speak the language of Search Engines. Today, there are many techniques you can employ to optimize your site. However, to achieve the best results, it is essential that you implement these 5 awesome on page SEO strategies.
Content Optimization
Quality content is paramount when it comes to SEO. You can achieve top ranking and generate mammoth traffic to your website by creating unique and quality content. It is an On-Page feature you cannot afford to ignore. In this regard, carry out extensive research about what you want to post on your website. Avoid copying content from relevant competitors.
Google penalizes sites with copied content. Therefore, focus on every aspect of your page including comments, blogs, and content. Provide the right solutions to clients to increase traffic to your site.
What makes up good content?
Your website deserves good content that is:
Content published for the first time unless you clearly specify that it is borrowed or give the canonical tag as expected.
Your Content that has texts in the right place or texts that describe photos and videos well.
Content that is relevant and useful to users not just to fill up information.
Content that is highly researched and most importantly, long articles because they are proven to offer valuable information to web visitors.
Unbiased information: when covering a specific topic, provide only truthful and justifiable information. Give an insight to both sides of the story at all times.
Focus on Keyword Density
The other factor that Google uses to rank websites is Keyword density. Make the most of high search volume phrases, keywords and ensure they are relevant in your website. Most importantly, avoid keyword stuffing as you update your site. This is to prevent spamming as it is a black hat technique to avoid if you want top ranking in search engines.
It is highly recommended that you keep your keyword density at 2 percent. For this reason, check your keyword density and ensure it adheres to the Latent Semantic Indexing.
Optimize Titles and Meta tags
Meta tag and title optimization is another SEO technique to implement. A title and Meta tag that is well optimized provides a clear picture of what your page entails. Furthermore, it helps search engines to have a better understanding of what is on your landing page.
Take time to make your titles applicable and meaningful to your landing page. A good title is about 70 characters or less including space. Note that Google keeps changing its guidelines and a Meta description should be about 320 characters. As a result, ensure that you get a title and a Meta tag that is interesting and catchy. Such a title will give you the best Click through Rate in search engine ranking.
Tips for optimizing your titles
Include keywords at the beginning of your titles as it gives a clear picture of what to expect
Write descriptive, short and clear titles.
Include power words and numbers such as amazing, actionable, checklist, and ultimate among others makes your titles interesting.
Provide an accurate description and avoid including domains in your title. However, if you are sure that your brand is well known, you can have your own domain in your title.
Meta description optimization tips
Avoid the use of auto-generated details in your Meta tags.
To make your descriptions relevant and worthwhile, add target words.
Create high-quality backlinks
The other important Google ranking factor that is here to stay is backlinks. Effective links enhance brand visibility and builds trust amongst web visitors. Keep in mind that only the best backlinks offer quality results. Domain host authority only represents 23 percent of Google's ranking system.
Avoid unnecessary On Page upgrades
As mentioned earlier, only the right SEO techniques can help you achieve top ranking in search engines. When handling site optimization, it is imperative that you only make the necessary upgrades. Work with an expert or website developers to create a site that is appealing to the target audience and search engines.
An expert will focus more on key points and keep track of your site. What's more, a developer can spot certain mistakes before your website goes live. This is in terms of upgrades, maintenance, and other additional features you may want in your site. The most important features you should focus on when upgrading your site include;
Internal and external links.
Head tag optimization.
Use of catchy words especially in the first and last 100 words.
Go HTTPS to build trust amongst web visitors because it comes with a security feature that offers security to confidential information.
Alt tag upgrades.
Make the site mobile and user-friendly.
Note that when you are running a business online, On-Page optimization is actually all you need. It is a net that attracts and keeps clients visiting your page. It has a lot to do with usability as well as traffic generation in a website. In this regard, equip yourself with these awesome tips to fully optimize your site.
Once you have implemented these techniques, you can work with an SEO expert like serpbook.com will evaluate the On-Page optimization needs of your page and offer the needed services to improve its overall performance.